Image Credits: Sentosa
COVID-19 has had an impact on the lives of many people around the world. From making adjustments to working from home to adapting business models to survive, Singapore is now seeing a by-reservation-only visit to Sentosa's beaches during the peak periods.
Visitors required to book their slots online
The new rule will kick in from Oct 17. It is applicable to visits on peak periods such as the weekends and public holidays. Beachgoers to Sentosa's Tanjong, Palawan, and Siloso beaches can get a spot by heading to sentosa.com.sg/beachreservations to place a booking.
Booking officially starts from Oct 10 and you may place a reservation up to 7 days before your intended day of the visit.
Choose from these timeslots:
Morning: 8am – 1pm

Afternoon: 2pm – 7pm
Beaches divided into seven zones
Tanjong, Palawan, and Siloso beaches have been divided into seven zones. Each zone will have a capacity ranging between 100 to 350 people. Here's a look at the different beach zones at a glance.
Tanjong Beach Zones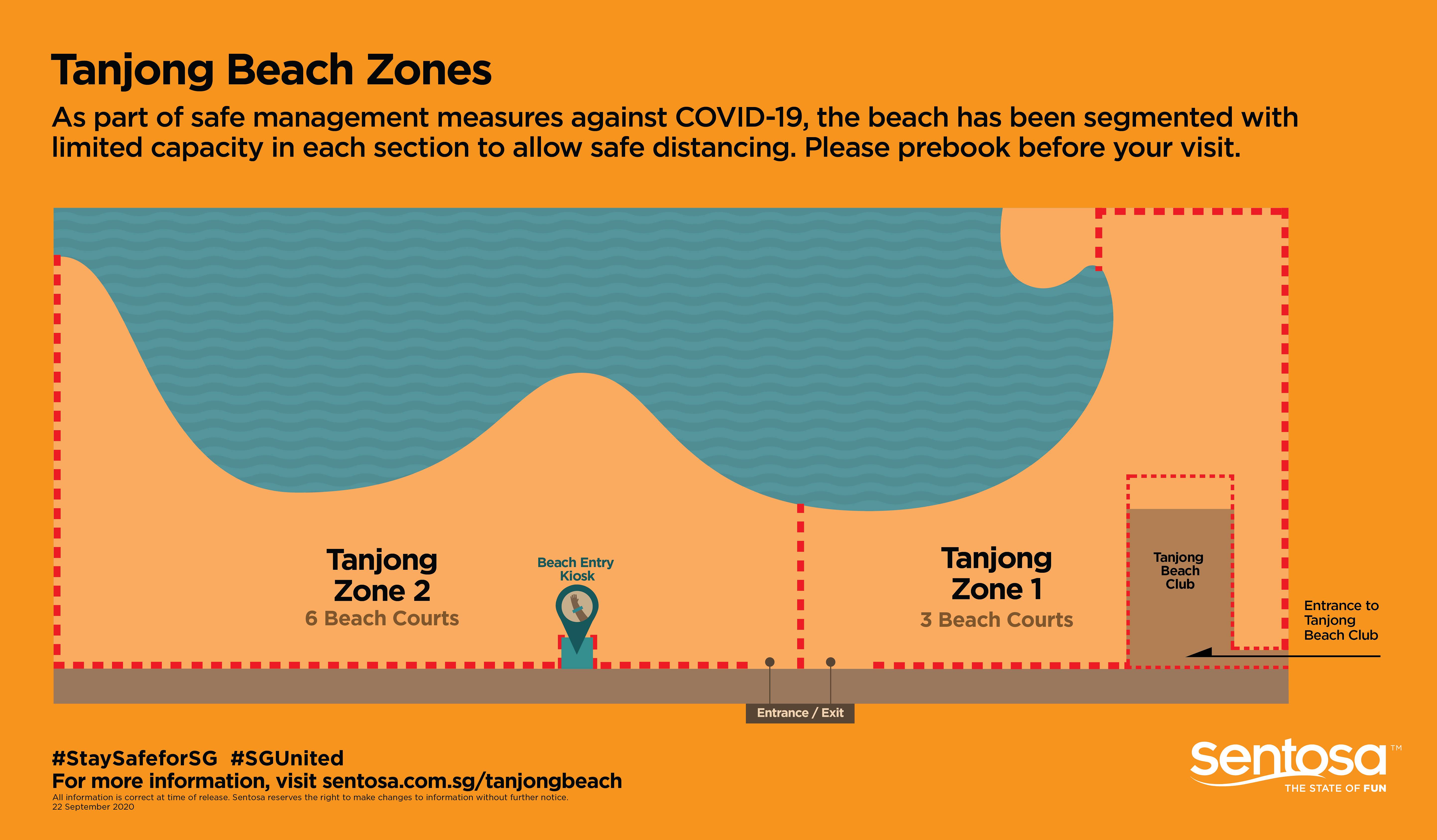 Palawan Beach Zones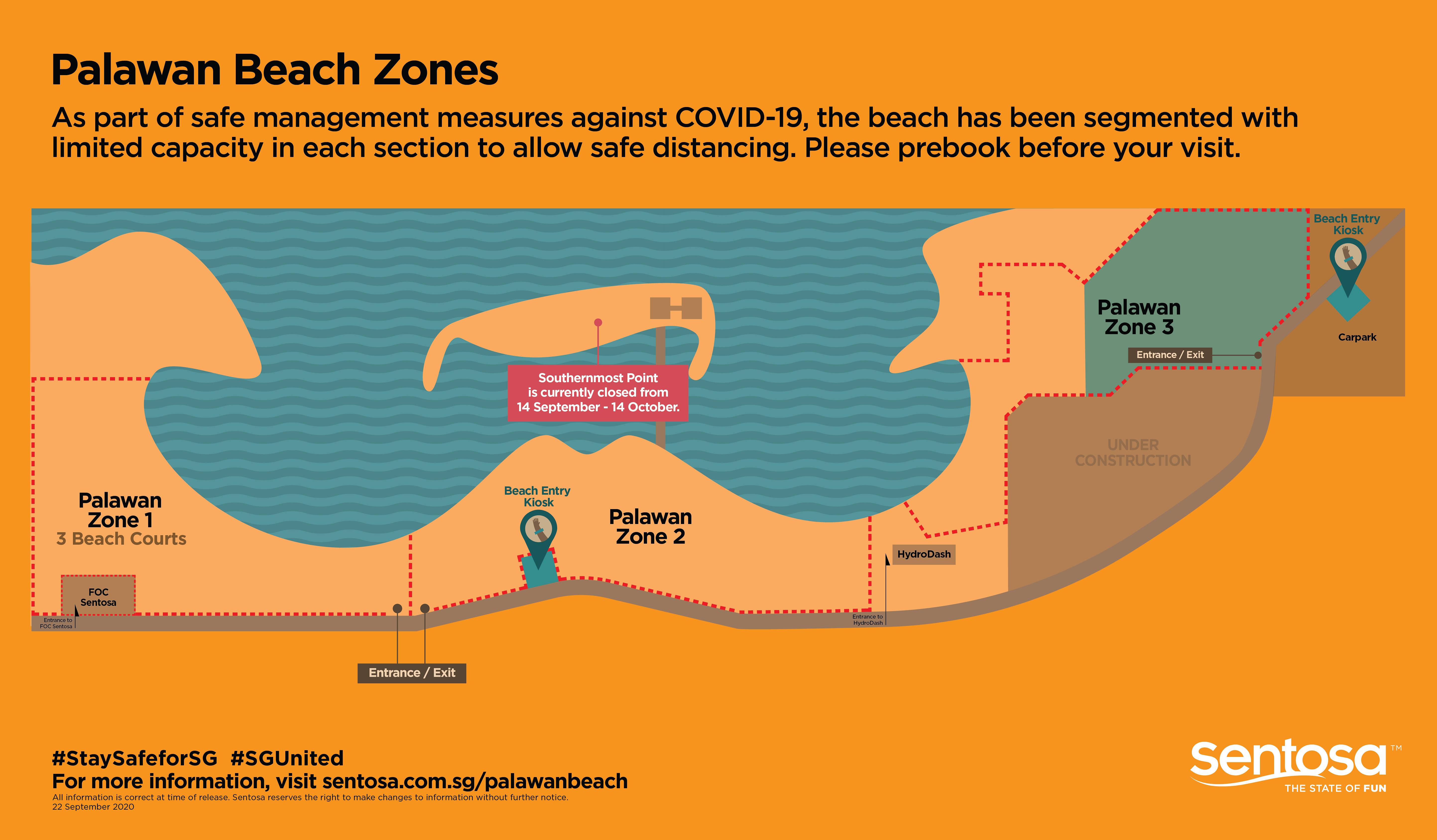 Siloso Beach Zones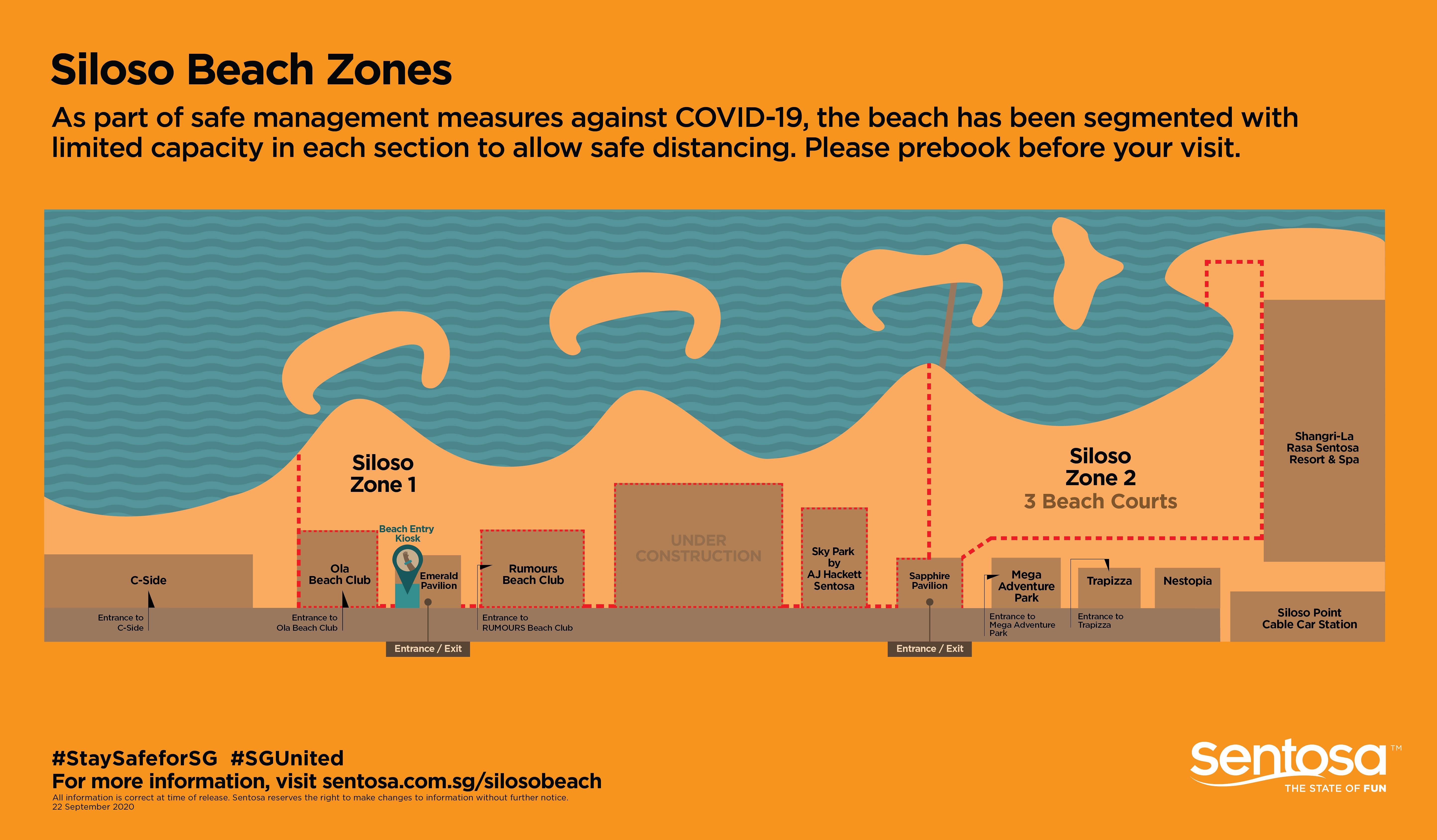 Those who are keen on playing at one of the 15 beach courts across Tanjong, Palawan, and Siloso beaches must place a reservation. If you've booked a beach court, you do not need to make another reservation for entry to the beach.
Follow these steps to make your booking
Choose your preferred Beach Zone or Beach Court.

Select your date and time slot.

Fill in your details and submit. You will need a valid email address, mobile number, and name (as per your NRIC or FIN).

Check your email for a confirmation mail.

Go to the designated Beach Entry Kiosk listed below and present your email to the staff:

Palawan Beach: Outside Beach Station Carpark (facing Palawan Green) | Rest stop along Palawan Beach service road
Siloso Beach: Emerald Pavilion
Tanjong Beach:

Family Pavilion along service road (after Tanjong Beach Club)

Collect your wristband and head to the Beach Zone entry point.
Part of COVID-19 safety and crowd management measures
Sentosa Development Corporation (SDC) shared that the new move came after crowds and queues were observed during peak periods.
As such, this new system will give the public peace of mind by reducing queues at the beaches. At the same time, allowing everyone to keep up with safe distancing.
"The launch of a reservation-only beach entry during peak periods will help us ensure that Sentosa remains safe for all guests and staff," said SDC CEO Thien Kwee Eng.
"We also seek the cooperation of our guests to continue being socially responsible so that Sentosa continues to be a place where all visitors will have an enjoyable experience."