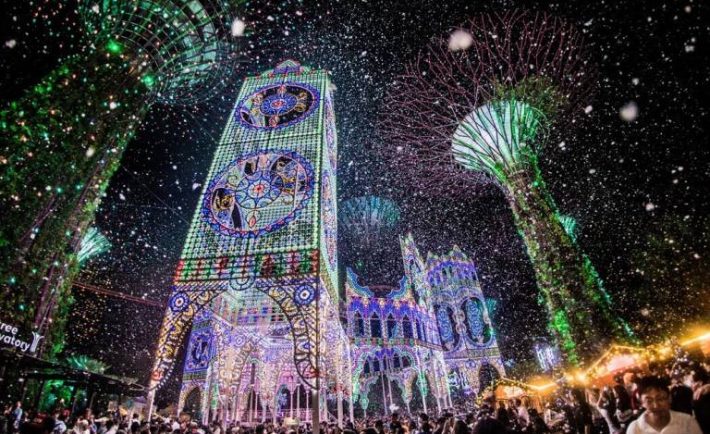 As the holiday season approaches, Gardens by the Bay is gearing up for the grand celebration of Christmas Wonderland, and this year marks its remarkable tenth edition. From December 1, 2023, to January 1, 2024, Gardens by the Bay will be transformed into a magical realm of lights, laughter, and festive cheer. Presented by Trip.com, this year's Christmas Wonderland promises an even more enchanting experience with a supersized fairground, new carnival rides, and a plethora of activities for the whole family.
Spalliera
Crafted with meticulous care by skilled Italian artisans, the focal point of Christmas Wonderland, the splendid Spalliera, commands attention at each edition of the festive event. This year's incarnation of the Spalliera is adorned with a dazzling array of 103,000 bulbs, casting a mesmerizing glow. Towering at an impressive height of 20 meters, its design draws inspiration from the historic Mesola Castle situated in the northern province of Ferrara in Italy.
Garden Rhapsody & Blizzard Time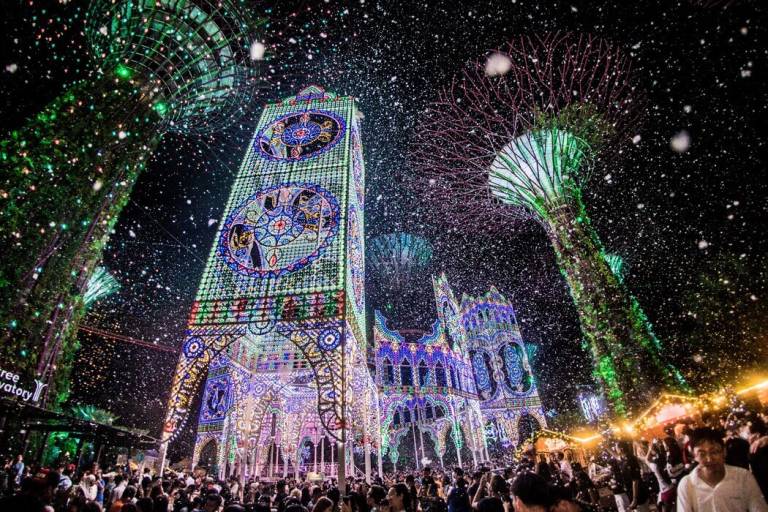 Set against the majestic Spalliera, spectators are in for a mesmerizing treat with the Garden Rhapsody light and sound show. The iconic Supertrees will come to life, seemingly dancing in harmony to beloved Christmas classics, creating a captivating visual symphony. Following this enchanting display, the audience is invited to immerse themselves in the wonder of Blizzard Time, a magical experience where 'snow' descends in the tropical setting.
These captivating performances unfold daily at 7:45 pm, 8:45 pm, and 9:35 pm, ensuring that visitors can indulge in the festive spectacle at multiple times throughout the evening. It's a rhythmic celebration of lights, sounds, and the magic of snowfall, making each show a delightful and unforgettable experience.
Walk of Lights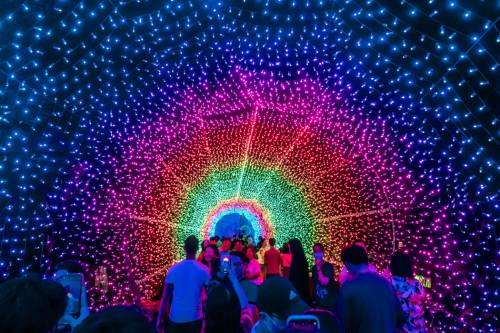 Sponsored by CDG Zig, the Walk of Lights takes center stage this year, adorned with an impressive 75,000 bulbs, making it the lengthiest ever at 65 meters. Prepare to be captivated by the kaleidoscope of colors emanating from its programmable LED lights, creating a mesmerizing display. Don't forget to have your camera at the ready, as this enchanting spectacle is sure to provide plenty of Instagram-worthy moments for you to capture and share.
Frosty's Fairground
Venture to Frosty's Fairground at The Meadow for an exciting array of activities. Take a spin on five thrilling amusement rides including Bumper Cars, Flying Dumbo, Hot Air Balloon, Carousel, and the festive Christmas Train. Test your skills at carnival games, savor the delights of festive dining, and be enchanted by the mesmerizing light displays. Additionally, don't miss the delightful Lumiland, an illuminated playground that promises a joyful experience for all.
Ride tickets start from S$8, ensuring affordable fun for everyone. Easily purchase your ride tickets on-site through convenient QR codes, streamlining the process for a hassle-free and enjoyable visit to Frosty's Fairground.
Light Displays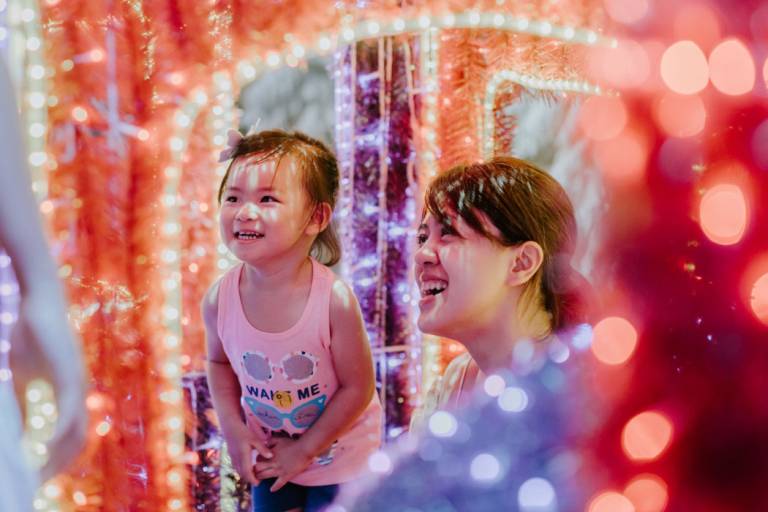 Adding to the festive magic this year is the introduction of the Holly Roger ship and its lively crew of elves. Before embarking on its magical journey, this 24-meter-long Christmas vessel invites visitors to join in the festivities. Illuminated by tens of thousands of lights, the Holly Roger ship is truly a spectacle to behold, adding an extra dose of holiday charm to Christmas Wonderland.
Gingerbread Grove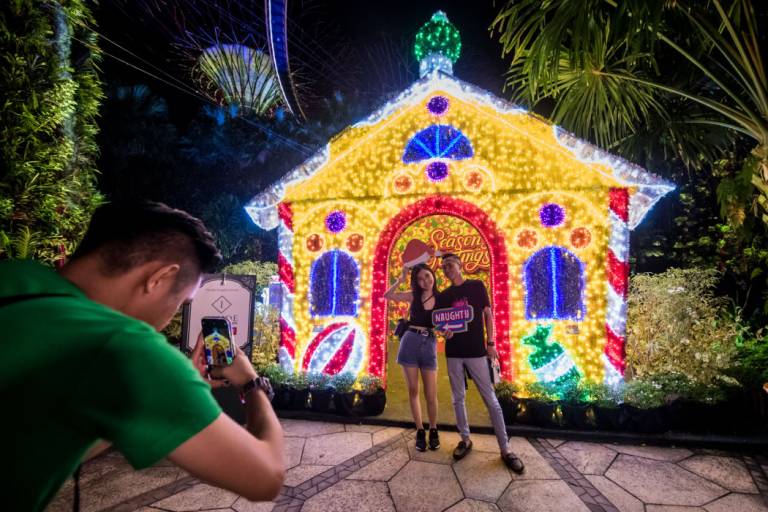 Immerse yourself in the whimsical charm of Gingerbread Grove, a delightful sugary-themed zone that is as visually captivating as it is delicious. Feast your eyes on the vibrantly illuminated Gingerbread House, set against a field of twinkling candy canes, creating a scene straight out of a festive fairy tale. As you stroll through this enchanting zone, tantalize your taste buds with sweet delights served at stalls dedicated to spreading the joy of the season through irresistible festive treats. Gingerbread Grove is a sensory celebration that promises to satisfy both the eyes and the palate.
Meet Santa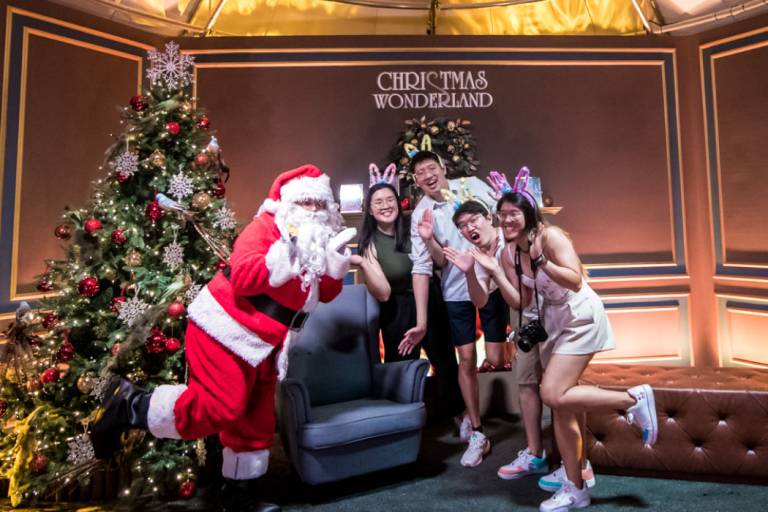 Santa Claus is eagerly waiting to discover whether you've made the naughty or nice list this year. Don't miss the chance to capture a memorable photo with him before he embarks on his journey to deliver presents! It's a festive opportunity to share a moment of joy and holiday cheer with the iconic Father Christmas.
Carnival Games & Rides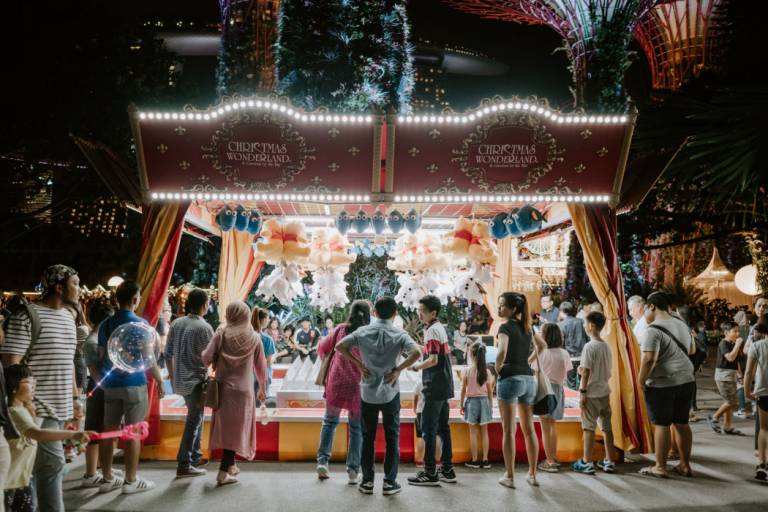 Challenge yourself and enjoy a heap of excitement at the carnival games situated in Supertree Grove and Frosty's Fairground. Test your aim at Ring Toss, try your luck at Fishy Fishy, and aim for a blockbuster victory at Blockbuster. Plus, the thrill doesn't end there – you might even score a prize to take home! Each game kicks off at an affordable S$6.
For a seamless transition to more fun, hop aboard the Christmas Train to reach Frosty's Fairground at The Meadow. Once there, dive into the amusement with rides like Bumper Cars, Flying Dumbo, Hot Air Balloon, and Carousel. If you're accompanied by little ones, don't miss the enchanting LumiLand, a playground aglow with illumination. Ride tickets start at S$8, ensuring an affordable adventure for all.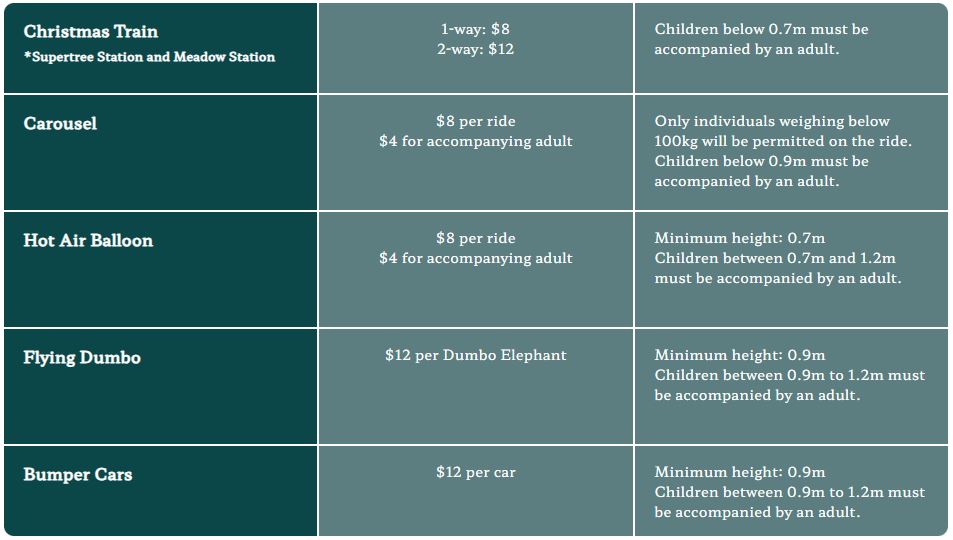 To make your experience even more convenient, simply use the QR codes available onsite to purchase tickets for the carnival games and rides. It's a hassle-free way to dive into the festive fun awaiting you at Christmas Wonderland.
For more information and ticketing details, visit https://christmaswonderland.sg/