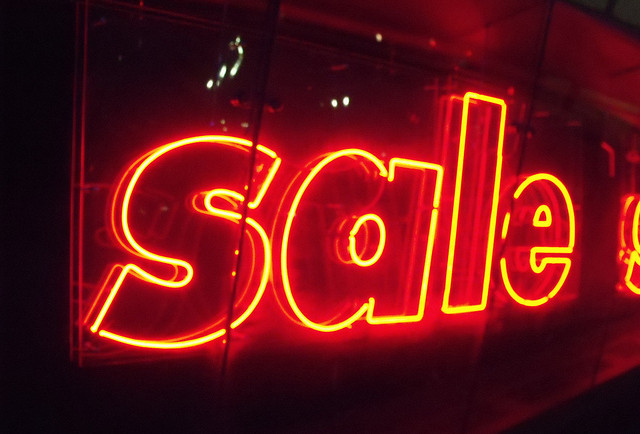 Image Credits: Elliott Brown Follow via Flickr
We had all been victims of impulsive purchase/s. And, this Great Singapore Sale (GSS) period where most shops have over 70% off, your power to resist may be tested! The good news is that, you can strengthen your power by following this simple ways:
1. NOTE DOWN A LIST
The oldest trick in the bag can just be the one that saves you! Making a list of the necessary gifts you to buy along with the names of the people you are wishing to give it to can help you avoid the temptation of overwhelming discounts. If you want, you can also dictate a budget per person (e.g., S$10 for a co-worker). No matter what, stick to this list.
2. SCORE GOOD DEALS BY SHOPPING ONLINE
To prevent the enticing visual stimulations, you can skip the malls all together and just shop online. By shopping online, you can not only compare price but also avoid the long queue. Who likes squeezing their way to the crowds anyway?
To get you started with your GSS shopping, here are the premier Singapore online shops you can browse: Lazada, Qoo10, and Zalora. Use coupon codes if applicable.
3. DO YOUR RESEARCH
As the glistening crimson sign of "GSS SALE" is parading across the country, it is good to do your research first before heading to the malls. This research requires you to browse the promotions of various shops and malls before you leave the house.
To get a comprehensive list of what is on sale, you may check out the Great Singapore Sale website at Greatsingaporesale.com.sg or browse the array of deals at Moneydigest.sg/category/deals.
4. PAY CASH
Having to pay with the money you already have is a wise decision that is accepted by most. Unless your credit card is rewarding you extra for shopping this GSS, you must shy away from it. A wallet full of your intended spending will force you to stay within the budget and prevent unnecessary buys.
5. BE HONEST WITH YOURSELF
Before buying anything, ask yourself several questions to help you evaluate if an item is worthy or not. Ask question such as: "Does the item simplify my life?" , "Am I going to feel better months after I buy this?", or "Do I really need this?". Be honest as honest with yourself as possible.
6. KNOW YOUR TRIGGERS
You must understand what brings about or triggers your impulse purchases. For instance, if your trigger is fragrant scents scattered in the malls then, shop online instead.
Also, it takes no Jedi mind trick to tell that shopping on an empty stomach will make you tempted for more snacks. So, be sure to shop on a satiated state during the Great Singapore Sale! 🙂