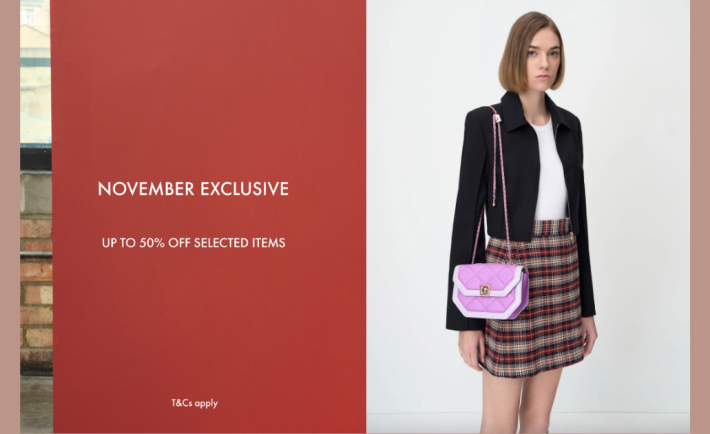 11.11 came early for Charles & Keith!
They are currently running an up to 50% sale on selected items up till 14 November 2023 so here's an excellent chance for you to bag home those items you've been eyeing for some time.
But for the purpose of this post, we will be looking at some online exclusive items you shouldn't miss.
And I promise you, only the 50% off ones are included here.
Tana Knotted Crossover Wedges – White / Fuchsia
Price: $34.90 (was $69.90)
To start us off, we have these wedges that will add a pop of color to your beach days and staycations. The knotted crossover straps in white or fuchsia create a stylish visual contrast atop stacked soles, while a complimentary beaded anklet lets you channel bohemian beach vibes.
Crafted from recycled polyester fiber from reusing discarded plastic items, they allow you to step out in style while doing your part for the planet. Whether you wear them to stroll the boardwalk or lounge poolside, these wedges will infuse your day with a playful sense of flair and comfort thanks to their easy, slip-on design.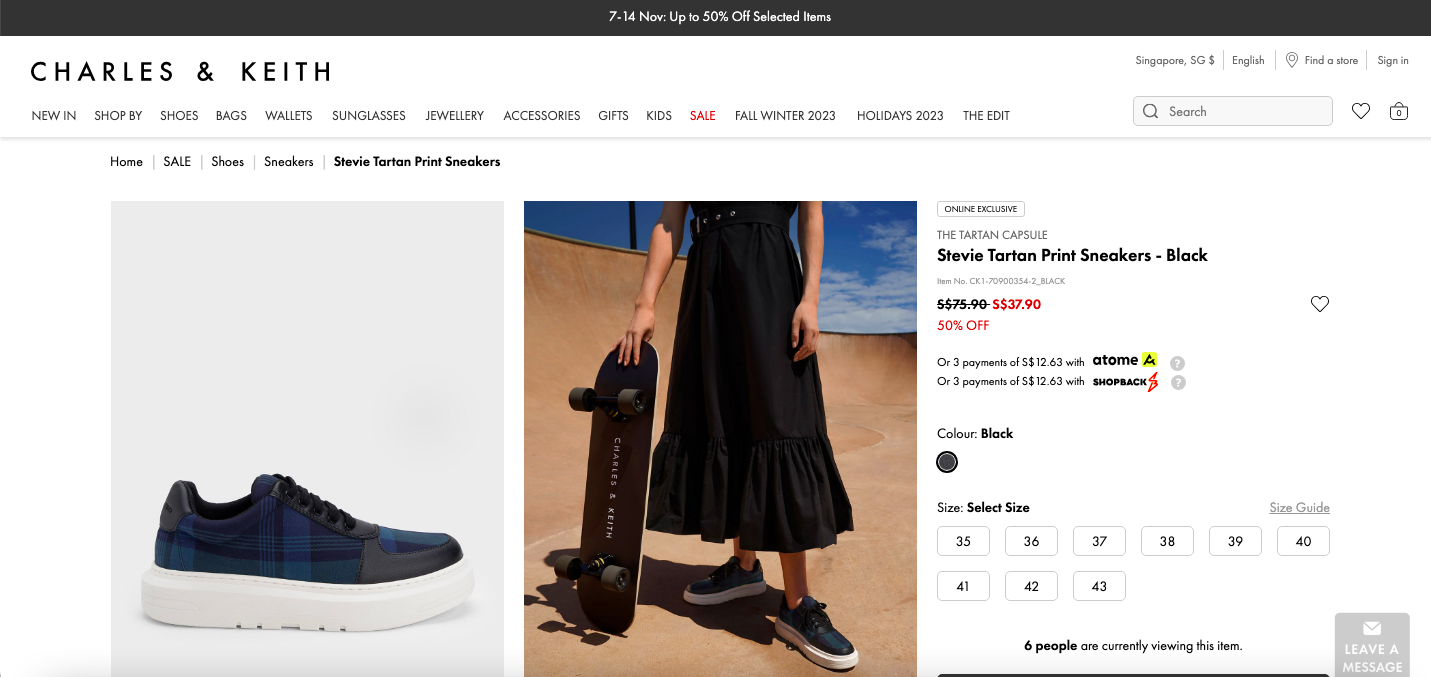 Price: $37.90 (was $75.90)
Make a statement with every step in these bold sneakers. The tartan print adds visual interest while the black trims and laces keep things cool and edgy. Towering white chunky soles offer a height boost and stylish contrast to the overall design.
Made from a faux leather and fabric blend, these sneakers are wonderfully versatile—they will style effortlessly with everything from jeans to dresses. Slip them on and watch as heads turn and fashion stars align.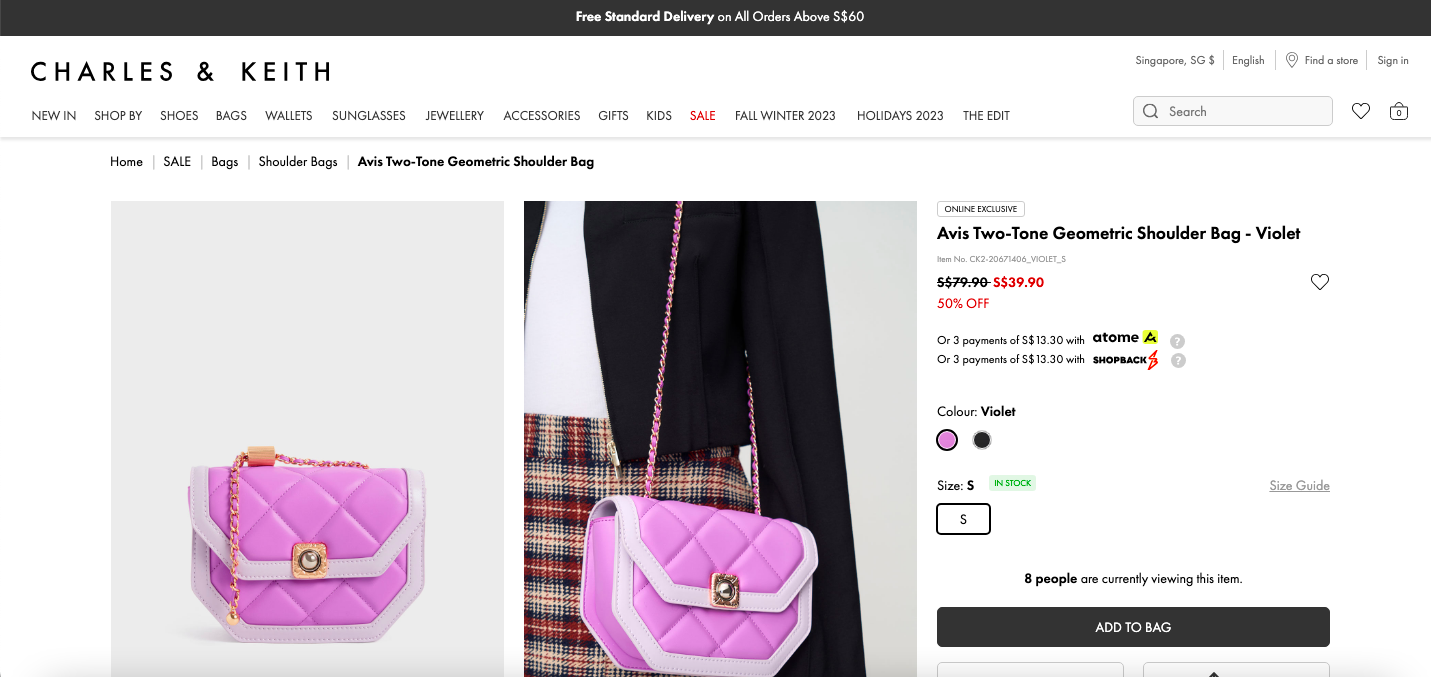 Price: $39.90 (was $79.90)
This striking shoulder bag makes a statement with its bold two-tone design and geometric silhouette. The violet color and quilted body give it a feminine yet modern feel that elevates any everyday outfit.
Keep the rest of your ensemble simple so all eyes are drawn to this show-stopping bag. The adjustable chain strap allows you to wear it however you would like—over the shoulder, crossbody, etc. Inside, you will have spaces just right for your daily essentials.
Whether you're heading for high tea or out for a date, the Avis bag brings stylish structure and an eye-catching design that's sure to delight.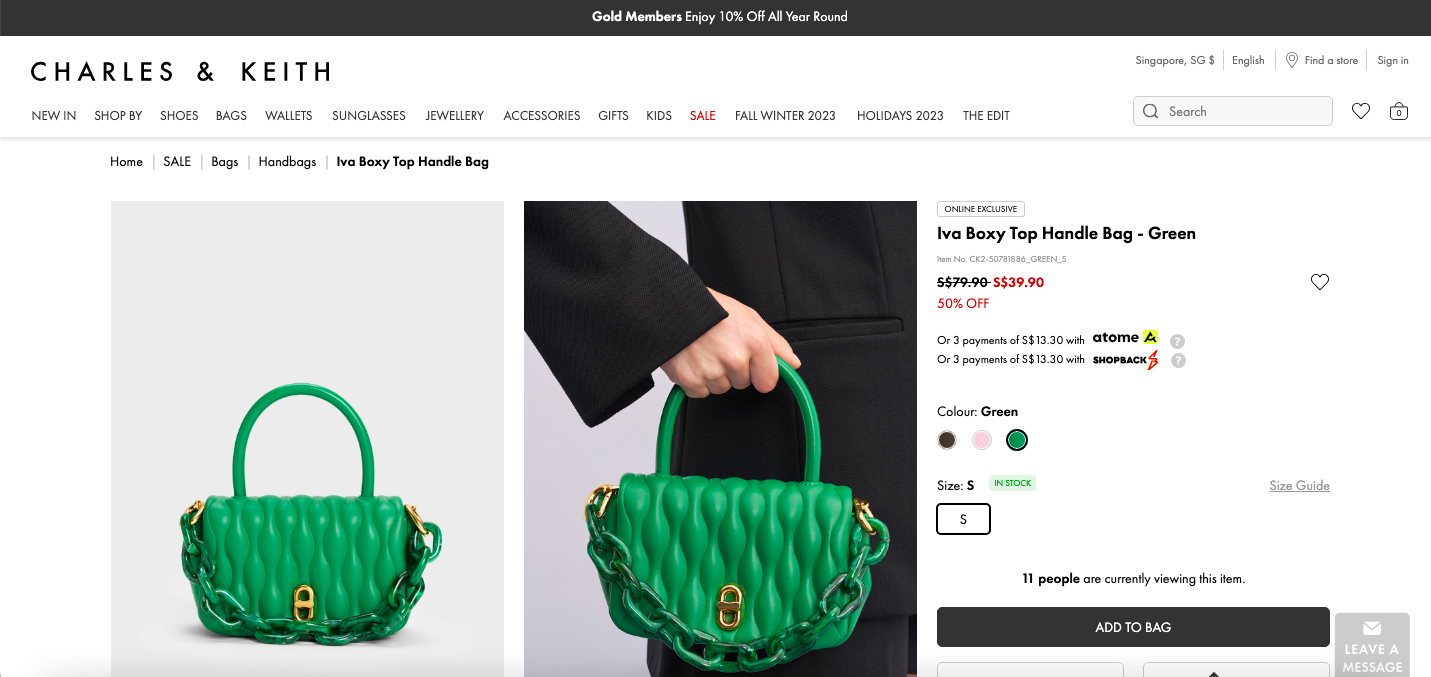 Price: $39.90 (was $79.90)
This energetic green Iva bag will lift your spirits with its cheerful hue.
The curved top handle silhouette and wavy stitched trims combine for a stylish look that will spice up your everyday outfits. Pair it with a monochrome outfit for a head-turning moment. Made from a blend of durable faux leather and Nappa, this bag has an adjustable detachable strap for versatile wear. A turn-lock closure ensures your essentials stay safe and secure inside. 
With its trendy yet timeless shape and mood-boosting color, this bag is sure to become your new go-to companion for everyday adventures.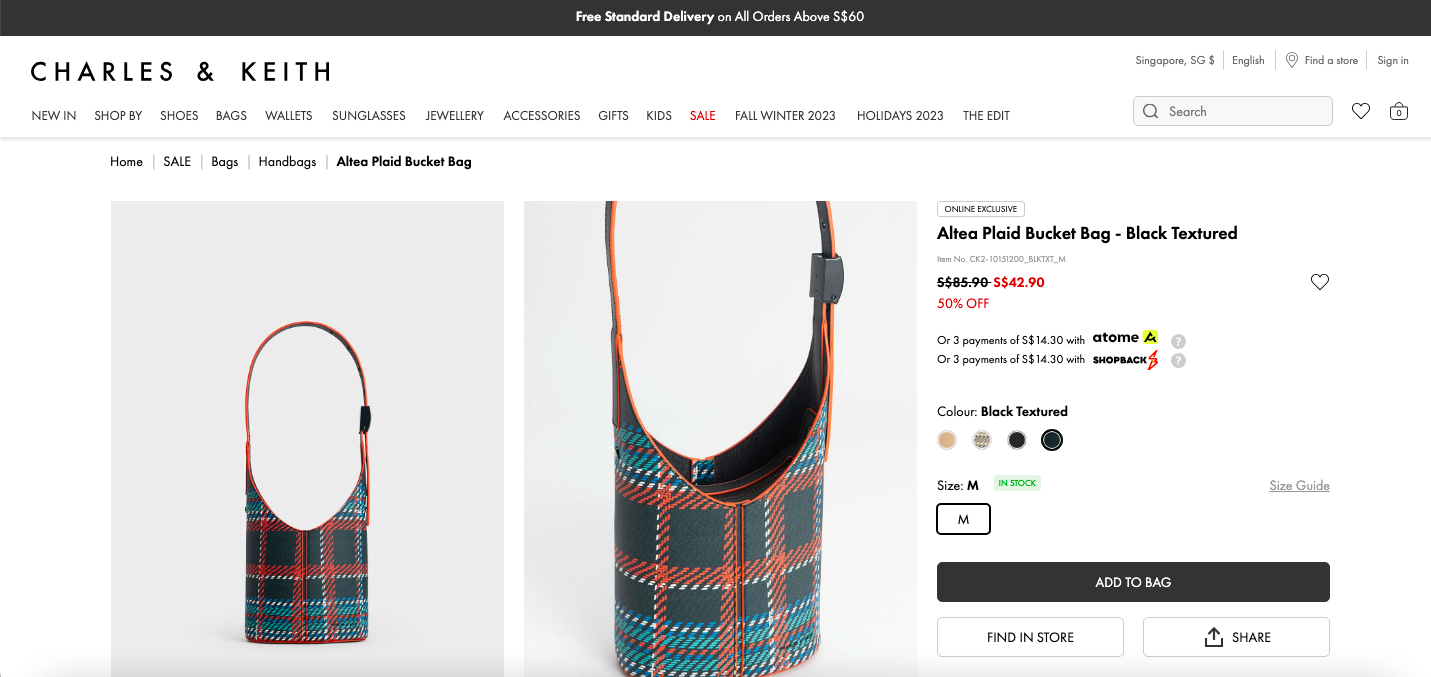 Price: $42.90 (was $85.90)
This compact yet roomy bucket bag unleashes your inner tartan lover. Crafted from durable faux leather in a distinctive plaid pattern with streaks of red and white, the Altea bag features a structured V-shaped top and an easy-carry handle.
Store all your essentials in the spacious main compartment and utilize the detachable inner pouch for organizing small items. Whether you're running errands or taking your OOTD overseas, this versatile bag adds a touch of Scottish flair to your everyday style.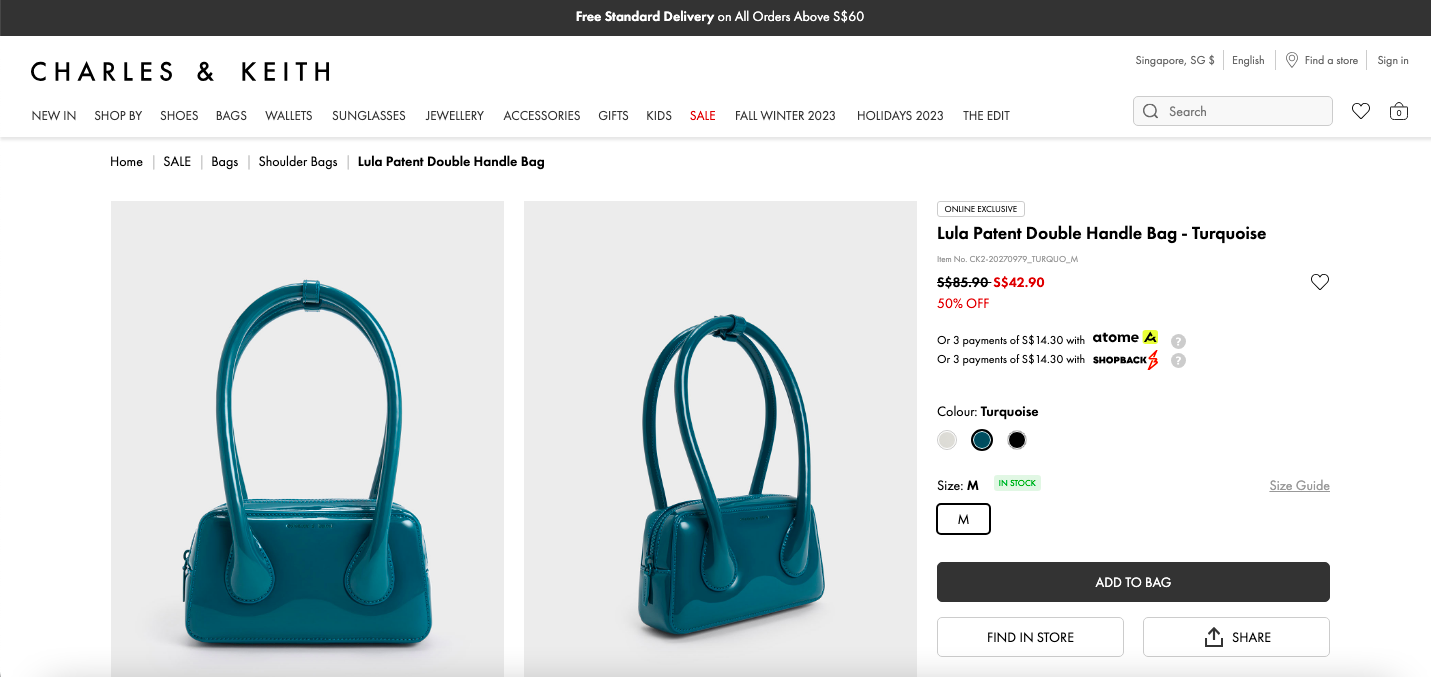 Price: $42.90 (was $85.90)
Want a throwback piece to bring the boxy, structured silhouettes of the early 2000s into your wardrobe? We've picked this for you.
The Lula bag features a squarish shape with crisp corners and double top handles. A zip closure securely fastens the roomy interior that measures 22 cm long and 11 cm deep, providing plenty of space for daily essentials and more.
Crafted from faux leather in a lovely turquoise hue, this vintage-inspired piece will add some retro flair to your day.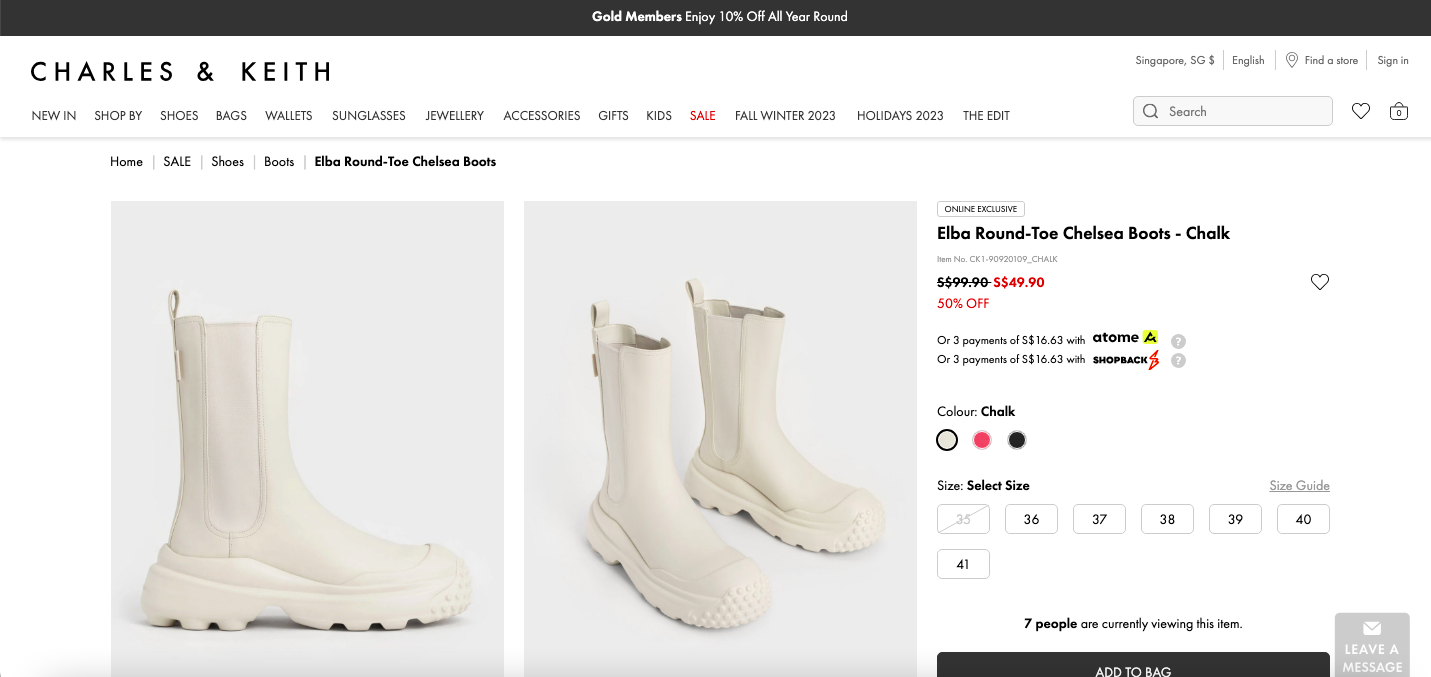 Price: $49.90 (was $99.90)
Lastly, we have these effortlessly stylish boots that were made for walking. The Elba Round-Toe Chelsea Boots in pristine chalk white instantly advance any casual ensemble with minimalist vibes.
Crafted from durable faux leather, these chic boots feature sturdy flat soles and a chunky rubber tread, offering reliable traction and support as you stride the city streets in comfort and ease. Slip on and go in seconds, perfectly pairing everything from jeans and leggings to midi skirts. 
Their no-fuss design belies their ability to instantly pull any simple outfit together, proving that a wardrobe workhorse doesn't have to shout for attention. Sometimes, a quiet, dependable style speaks the loudest of all.
And that's all from us, folks. As promised, the featured items you've just seen are all at 50%, and online exclusive only. There are more items on sale online and you can shop them here: charleskeith.com/sg/sale if you're keen. Or if you prefer to shop offline, head down to their outlets at IMM and City Square Mall to start your shopping spree. Just remember that the sale ends on 14 November 2023 so hurry if you don't want to face a sold-out situation. Happy shopping!