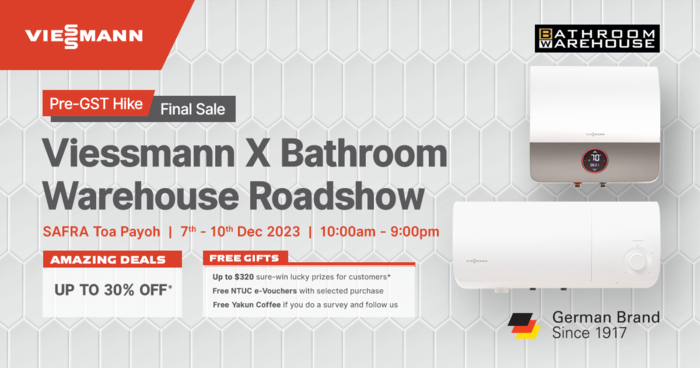 Hold on to your shower caps because we're about to turn your daily routine into a spa-worthy extravaganza!
Viessmann, a world-leading provider of comprehensive climate solutions, including water heating and purification, will collaborate with Bathroom Warehouse to host a Pre-GST Hike Final Sale roadshow. The Viessmann X Bathroom Warehouse Roadshow will feature an exceptional array of exclusive offers on Viessmann Vitowell storage water heaters, instant water heaters and enticing bathroom bundle deals from Bathroom warehouse, along with a sure-win lucky dip!
Date: 7th – 10th Dec
Time: 10am-9pm
Venue: SAFRA Toa Payoh
Why Viessmann?
With a legacy spanning four generations, Viessmann has perfected the art of creating premium quality and safe water heaters that have been a resounding success in Europe.
Since 2021, Viessmann has been enhancing Singaporean households' comfort and convenience with its state-of-the-art water heaters, bringing unparalleled practicality to the Singaporean family home.
Viessmann's Vitowell water heaters are designed and developed under the strictest quality standards, providing precise heating and temperature control that raises the bar on comfort, convenience, and safety! Furthermore, Viessmann's storage water heaters are all CE-marked, which means they have been assessed to meet the European Union (EU)'s high safety, health, and environmental protection requirements.
Vitowell Easy Instant Water Heaters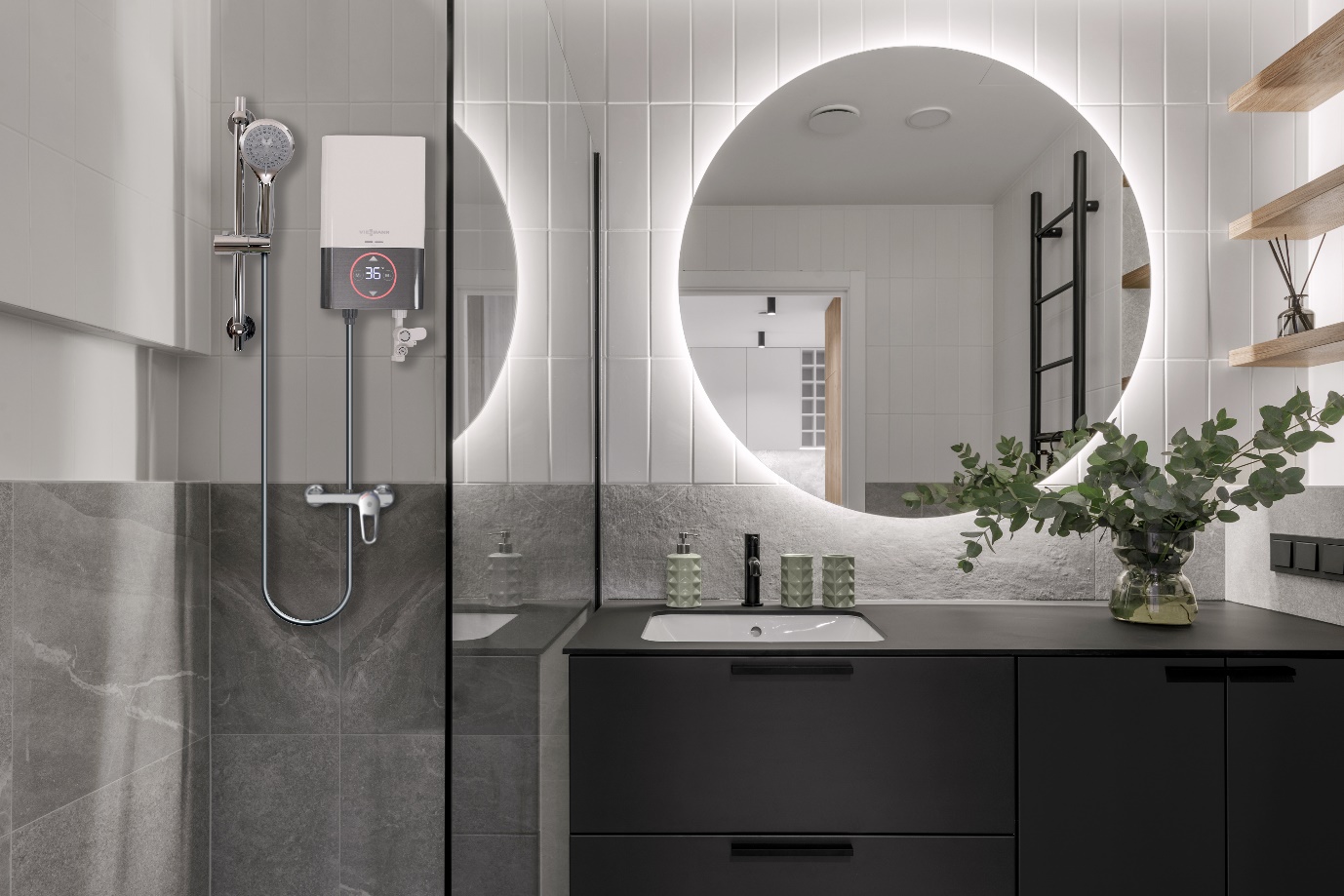 Picture Caption: Viessmann Vitowell easy Deluxe
Imagine this: Classic, Premium, and Deluxe instant water heaters that redefine convenience. Their sleek and minimalist design is certain to enhance and blend seamlessly with any bathroom.
The Vitowell easy Rainshower Premium set features a high-end duo shower system with a high-performance rain shower and classic multi-spray shower head.
But there's more! Viessmann's Vitowell easy instant water heaters are the masters of consistent temperature control, no matter how moody your water supply is. Safety is paramount, with built-in scalding protection and an automatic shutdown feature that activates when the water temperature reaches 55 degrees Celsius. The Deluxe model takes your shower experience up a notch with its advanced memory mode, providing the convenience of two temperature presets.
Vitowell Comfort Storage Water Heater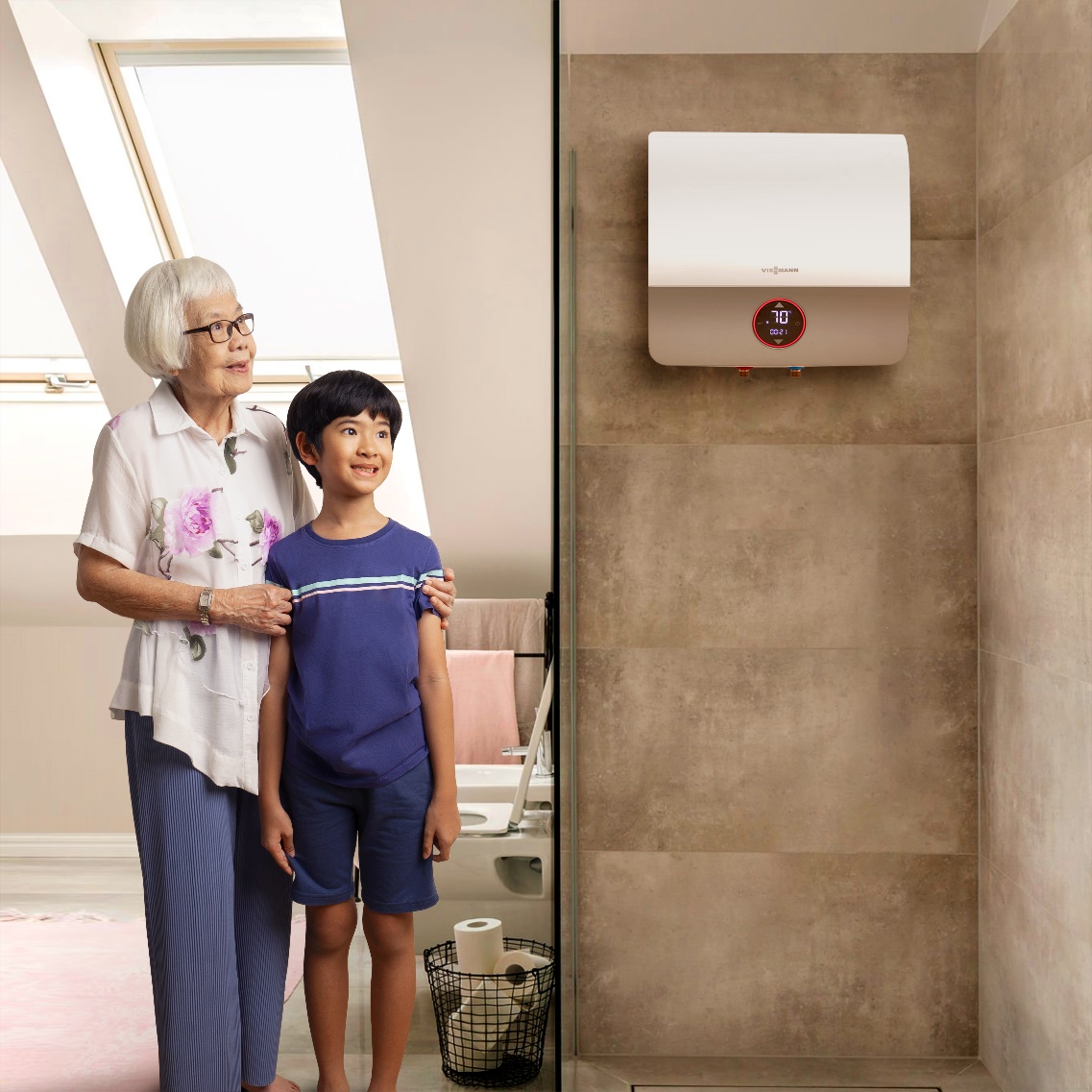 Picture Caption: Vitowell comfort Deluxe
If you're more of a storage water heater fan, the Vitowell comfort storage water heater range is your VIP ticket to hot water heaven. Classic, Premium, Deluxe – this range offers precise heating and temperature control, prioritising safety and durability. The designs? Oh, they're sleek, and there's even a slim variant for the minimalists.
These heaters feature an exclusive Ceratech Technology® enamel coating formula, ceramic heating elements, and high-quality ABS material, ensuring durability and minimal maintenance or repairs. Additionally, they come equipped with a dual safety thermostat for improved temperature control and overheating protection. They are also equipped with a thick layer of high-density PU insulation that helps to preserve heat for a long time even after the heater has been switched off.
For those who demand ultimate control of their shower experience, the Vitowell comfort Deluxe offers an Electronic Timer Mode, enabling you to schedule two daily heater activation times. During these scheduled periods, the stored water will be continuously monitored and heated to your desired temperature.
Key deals to look out for during the sale
Bathroom Bundle Essential Set: Redefine your bathroom experience with a Bathroom Bundle Essential Set from just $568 ($538 for SAFRA members) when you purchase any Viessmann instant water heater, or $828 ($728 for SAFRA members) with the purchase of any Viessmann storage water heater. Bathroom Sets include a toilet bowl, basin and taps, amongst others.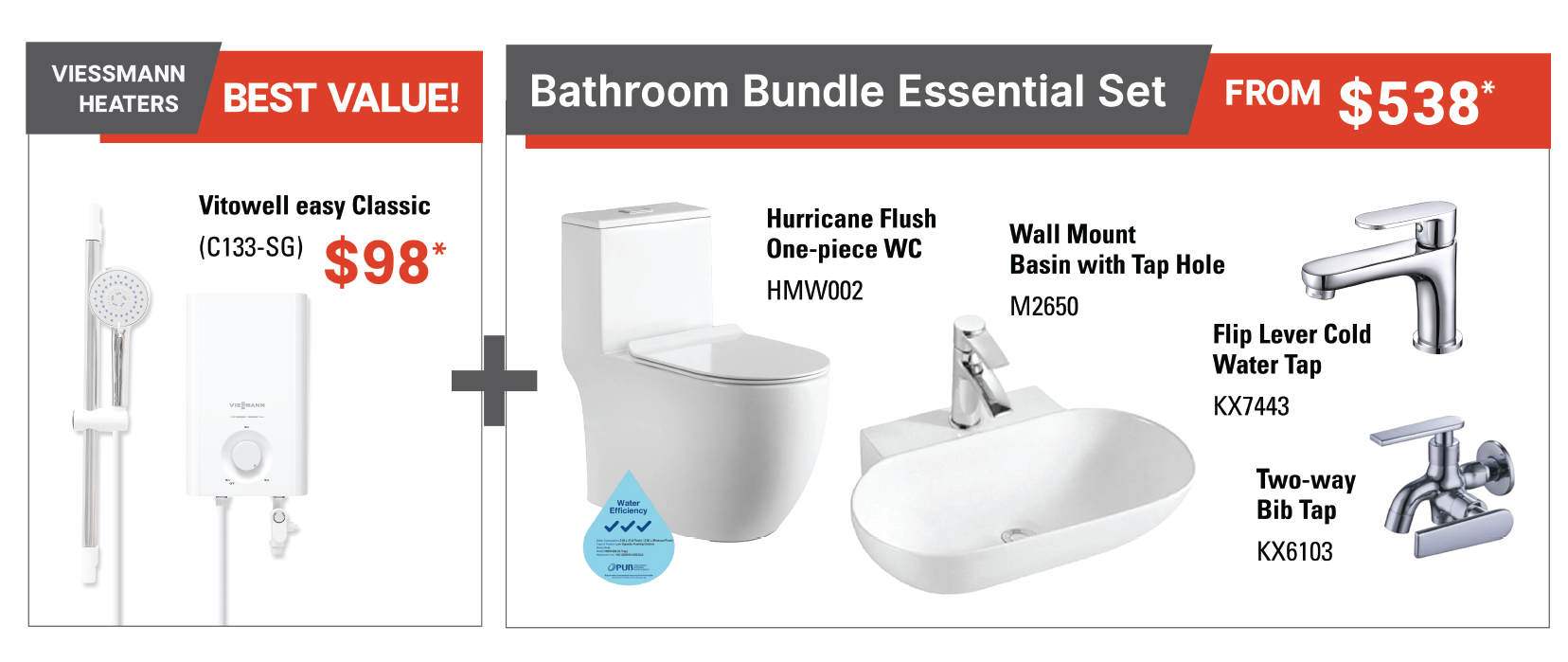 Sure Win Lucky Dip: With prizes worth up to $320, every purchase is a win! Don't miss your chance to grab amazing surprises while you shop.
Up to 30% Off for SAFRA Members: If you're a SAFRA member, you're in for a treat! Enjoy up to 30% off selected products during the sale.
Free NTUC vouchers with purchase of any Viessmann Water heaters.
Free limited Yakun coffee on us when you fill up a survey and follow Viessmann on Facebook and Instagram.
Viessmann are firm believers in personalisation. They recognise that your bathroom holds a special place as your sanctuary and will be on hand to answer your questions and assist you in selecting the best water heater for your unique preferences. Collaborating with Bathroom Warehouse, there is also a wide array of upgrade options such as Kohler water closet, gun metal rainshower, and basin cabinets.
So why wait? Viessmann is all set to transform your bathroom experience with the latest water heating technology. Join Viessmann at SAFRA Toa Payoh from the 7th to the 10th of December, from 10 am to 9 pm. Don't miss out on this fantastic opportunity to upgrade your bathroom and elevate your daily routine to a whole new level of comfort and sophistication!
TAGS: #BATHROOM #ViessmannSG #Viessmann #ImagineTomorrow #WaterHeaters #ShowerAppliances #SustainableShowers #HomeAppliances #Safetyfeatures #viessmannXbathroomwarehouse