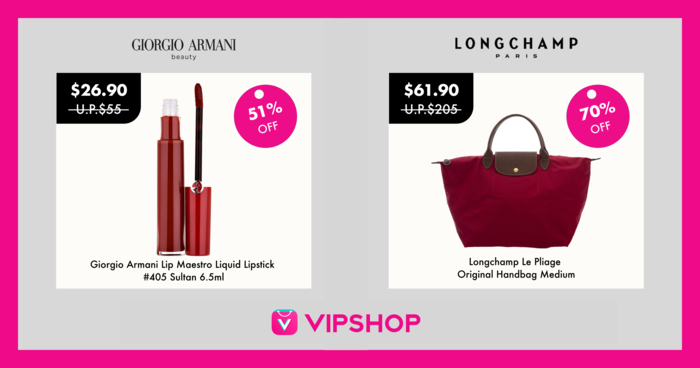 Chinese New Year is just two weeks away. Want to look your best when house hopping this festive season without feeling that much of a pinch on your purse strings? VIPSHOP has got you covered, Plus, get S$5 off your first purchase with each new signup!
VIPSHOP is Singapore's newest shopping app. Founded in 2008, VIP.com (唯品会) is a leading online flash sale retailer in China. In 2022, VIP.com (唯品会) introduced VIPSHOP Singapore Pte. Ltd. as their first market expansion in Southeast Asia.
With over 2,000 international buyers and long relationships with brands, those on the lookout for great deals can shop from a curated selection of products comprising fashion apparel, shoes & bags, cosmetics, mother & kids, home & living, and more –– TLDR, VIPSHOP brings consumers 100% authentic, high-quality products from exceptional brands for grabs at up to 70% off.
Having scrolled through the app numerous times, here are some of VIPSHOP's flash deals we think will make spending this CNY cost-effective:
1. Giorgio Armani
Giorgio Armani is a name that needs little introduction. Everyone loves a classic red lip; choose from an array of shades and finishes in this namesake beauty collection to top off your makeup look this CNY. For those vying for a pout with a velvety matte finish, the Giorgio Armani Lip Maestro Liquid Lipstick #405 Sultan (special price of S$26.90, 51% off is valid till 17Jan, 10am, while stocks last) is worth a try.
If liquid lipsticks do not sit well with you, the Giorgio Armani Lip Power Long-Lasting Lipstick #405 Sultan (S$38.90, 31% off) can spice up your look and give your lips a soft silky feel –– perfect for a luscious red lip that lasts all day.
Shop Giorgio Armani at up to 70% off now on VIPSHOP!
2. Adidas
This iconic brand is a perfect fusion of sports and style. Looking for a wardrobe upgrade this CNY? Adidas has everything you need. The Adidas NMD_R1 Shoes (up to 60% off, depending on style and colour) are great for staying comfortable while effortlessly looking stylish everywhere you go.
For those preferring something more minimal, the iconic Adidas Stan Smith Shoes (up to 30% off, depending on style and colour) offer a variety of patterns to choose from so they look great with any outfit. Alternatively, let your feet rest comfortably after a workout with the Adidas Adilette Comfort Adjustable Slides (special price of S$29.90, 50% off is valid till 17Jan, 10am, while stocks last).
Looking to rock the signature three stripes on your sleeves? The Adidas Adicolor Classics 3-Stripes T-shirt (S$39.90, 20% off) comes in both adult and kids sizes so everyone in the family can sport matching shirts.
Shop Adidas at up to 70% off now on VIPSHOP!
3. Puma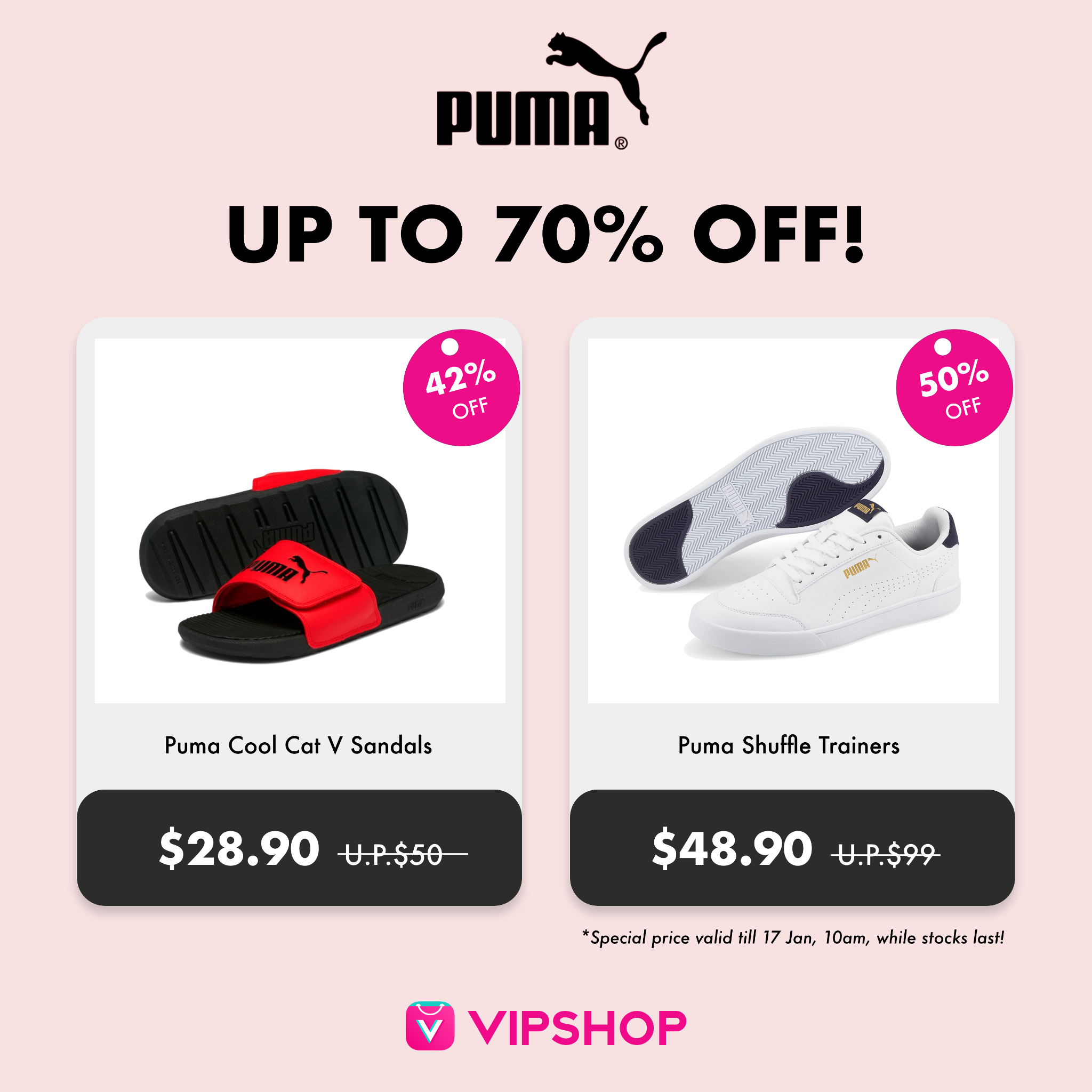 Is sporty-chic your new go-to aesthetic? Puma's high-quality and cost-friendly athletic apparel may be just the thing for you.
For those who are set on not compromising style for comfort, the Puma Shuffle Trainers (special price of S$48.90, 50% off is valid till 17Jan, 10am, while stocks last) or the Puma Cool Cat V Sandals (S$28.90, 42% off) may be just what you need.
Shop Puma at up to 70% off now on VIPSHOP!
4. Longchamp
When we hear Longchamp, we often think of their classic Le Pliage bags. Touted as one of the most affordable luxury handbags, the Longchamp Le Pliage Original Handbag Medium (S$60.90, 70% off) is made for everyday use; choose from 7 versatile colours and carry it to work, grocery shopping or even a brunch date.
For those that prefer longer straps, the Longchamp Le Pliage Original Tote Bag Large (S$140.90, 40% off) may be a good option with 6 distinct colours to match any outfit. If handbags and shoulder bags don't float your boat, the Longchamp Le Pliage Original Backpack (S$143.90, 29% off) offers a refreshing take on the classic Longchamp Le Pliage design.
We've also done our own research and price comparison; shopping Longchamp on VIPSHOP is cheaper than retail outlets in Paris 😉
Shop Longchamp at up to 70% off now on VIPSHOP!
5. Michael Kors
If you're looking for affordable designer bags of top-quality, Michael Kors is the brand for you. Available in 3 beautiful colours, the Michael Kors Colourblock Bradshaw Medium Leather Messenger Bag (S$277.90, 20% off) has multiple pockets to keep your belongings in check.
For those going for a polished look, the Michael Kors Greenwich Small Crossbody Bag (S$259.90, 66% off) with its sleek silhouette is a must have.
If you'd like to pack light when heading out, consider the Michael Kors Large Crossgrain Leather Smartphone Convertible Crossbody Bag (S$112.90, 70% off is valid till 17Jan, 10am, while stocks last); just the right size to keep your phone and cards securely with you.
Shop Michael Kors at up to 70% off now on VIPSHOP!
6. Tory Burch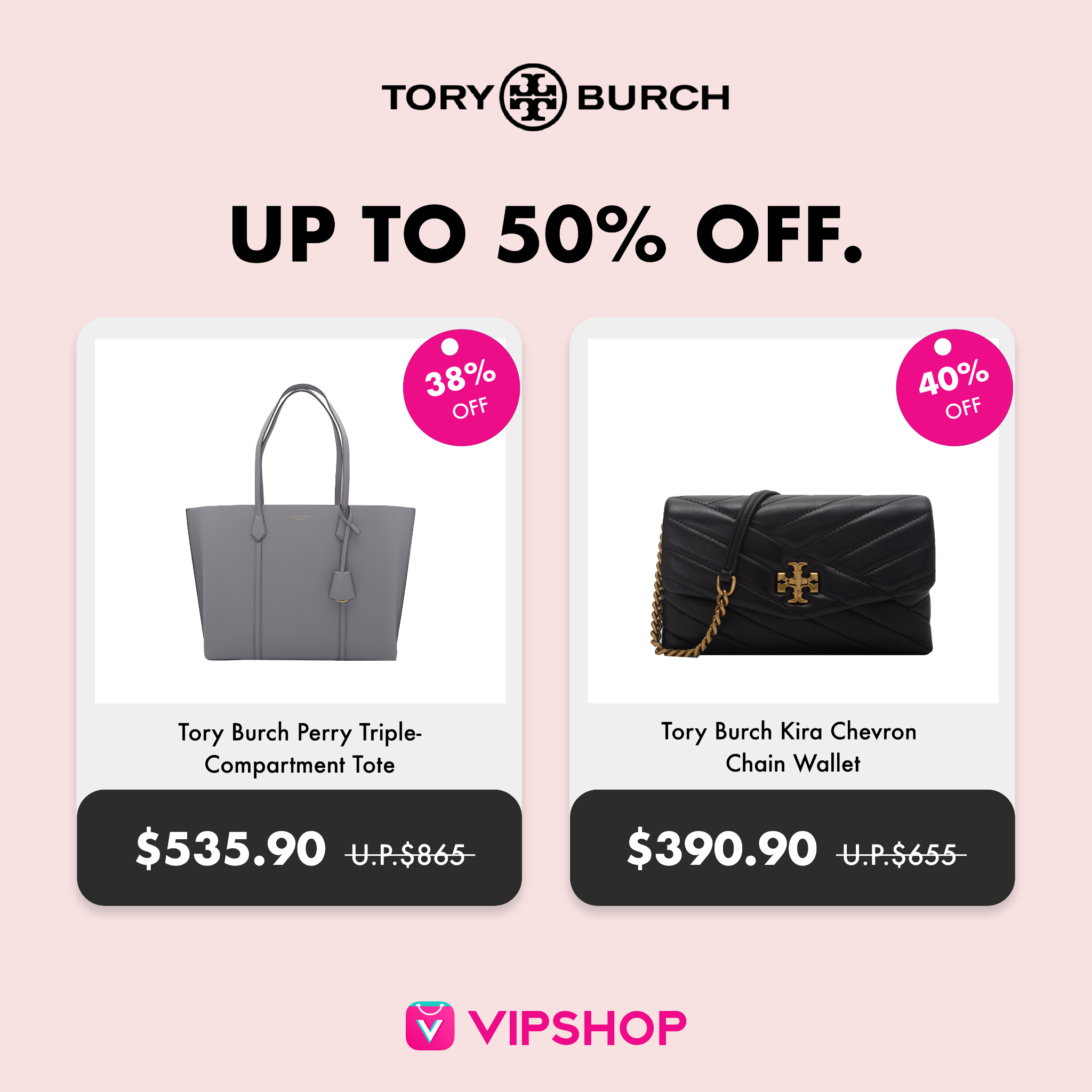 American luxury brand Tory Burch is popular for their top quality leather goods and handbags. If you are looking to get a luxury handbag to complement your get-up this CNY, consider the Tory Burch Perry Triple-Compartment Tote (S$535.90, 38% off). Serving up both looks and functionality, the tote's spacious interior comprises three compartments and wall pockets to keep your knick-knacks organized.
Those looking for something a little more compact can check out the Tory Burch Small Eleanor Convertible Shoulder Bag (S$750.90, 32% off) or the Tory Burch Kira Chevron Chain Wallet (S$390.90, 40% off). The gold logo hardware on these bags will definitely add some bling to your outfits.
You'd be happy to know we've also done our own price analysis and found that prices of Tory Burch on VIPSHOP are lower than some prices in American premium outlets.
Shop Tory Burch at up to 50% off now on VIPSHOP!
Amazed by VIPSHOP's wide selection of premium brands at the best price possible? Invite your friends to download the app and sign up with VIPSHOP; you and your friends will receive a S$5 voucher each with every successful sign up.
So, what are you waiting for? Grab your friends, download the VIPSHOP app, and discover other brands like SK-II, Kiehl's, Lancôme, Dior, Swarovski and more!