Uwe Schwarzbach via Flickr
Asian currencies have broadly declined against the buoyant US dollar, sliding to levels not seen since the Asian financial crisis.
Among the worst-hit currencies is the Korean won which extended losses this month, dragged down by the U.S. Federal Reserve's aggressive monetary tightening. South Korea which is export-dependant also comes under increasing pressure with higher oil prices and a deteriorating trade balance.
On the flip side, the Singapore's dollar has been resilient against the US dollar. To fight inflation – which is expected to keep rising – the Monetary Authority of Singapore (MAS) allows the Singapore dollar to appreciate against peer currencies. This helps to slow the inflation momentum and ensure price stability thereby driving down the cost of imported good in local currency terms.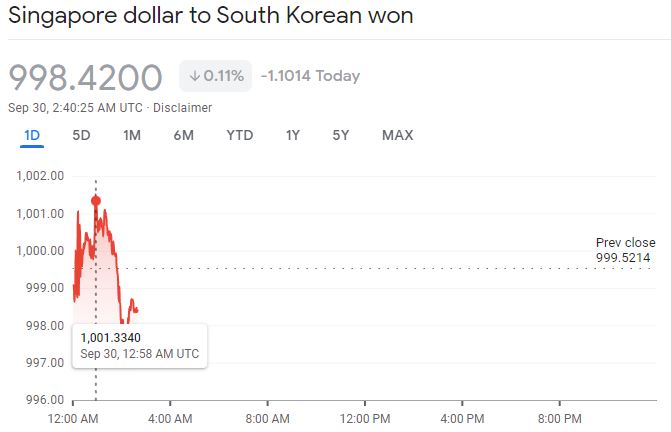 The SGD/KRW crossed the 1000 mark on Sep 30, 2022
On Friday, the SGD/KRW went above the 1000 support, a level not seen since March 2009.
According to the CashChanger's site, one can get a rate of approximately S$1 = 975 KRW at local money changers in Singapore on Friday, Sep, 30, 2022. That's a good rate if you are planning a travel to South Korea any time soon.