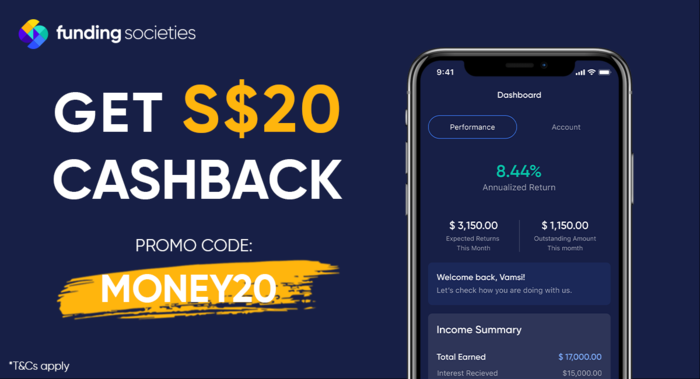 What are Guaranteed Returns on Investments
Have some idle money sitting around and hoping to invest and secure a rate of return that is higher than your usual bank interest rates? Well don't we all? Every investment comes with different levels of risk. A guaranteed return on your investments simply means that you are promised, with some levels of certainty, that you will receive a return on your investment in any circumstances.
To learn more about guaranteed returns investments, let's take a look at 2 effectively guaranteed returns products offered by Funding Societies, Southeast Asia's largest Peer to Peer lending platform. Peer to Peer Lending or P2P lending is an investment concept where individuals & institutions invest in loans to SMEs and earn returns in the form of interests. Investments on the Funding Societies platform starts from S$20 with a maximum tenor of 12 months and monthly/periodic repayments to investors.
For more information on investing with Funding Societies, join their upcoming webinar on 29th Sept 2020 at 7PM. Register for free here.
How does it work
An effectively guaranteed returns product offered by Funding Societies means that you as an investor are effectively guaranteed to receive both your principal & interests on the investments regardless of the SME's repayment status. There are currently 2 products available under this line, namely Guaranteed Returns Investments (GRI) and Guaranteed Property-backed Investments (GPI).
Guaranteed Property-backed Investments
Guaranteed Property-backed Investment (GPI) is an investment into a collateral-backed note with an additional guarantee of repayments to investors. Should the SME fail to fulfil their obligations, Funding Societies has the right to liquidate the property to recover the funds.
Key Investment Information
Minimum Investment Amount – $20 per investment

Interest rates: usually 3% – 8% per annum

Tenor: 6 to 12 months

Repayments: Monthly repayment of interest and principal at the end of tenor

Guarantee: Principal & interest repayments are both effectively guaranteed regardless of the SME's status

Collateralised property information: Only local Singapore properties owned by the SME or it's directors are accepted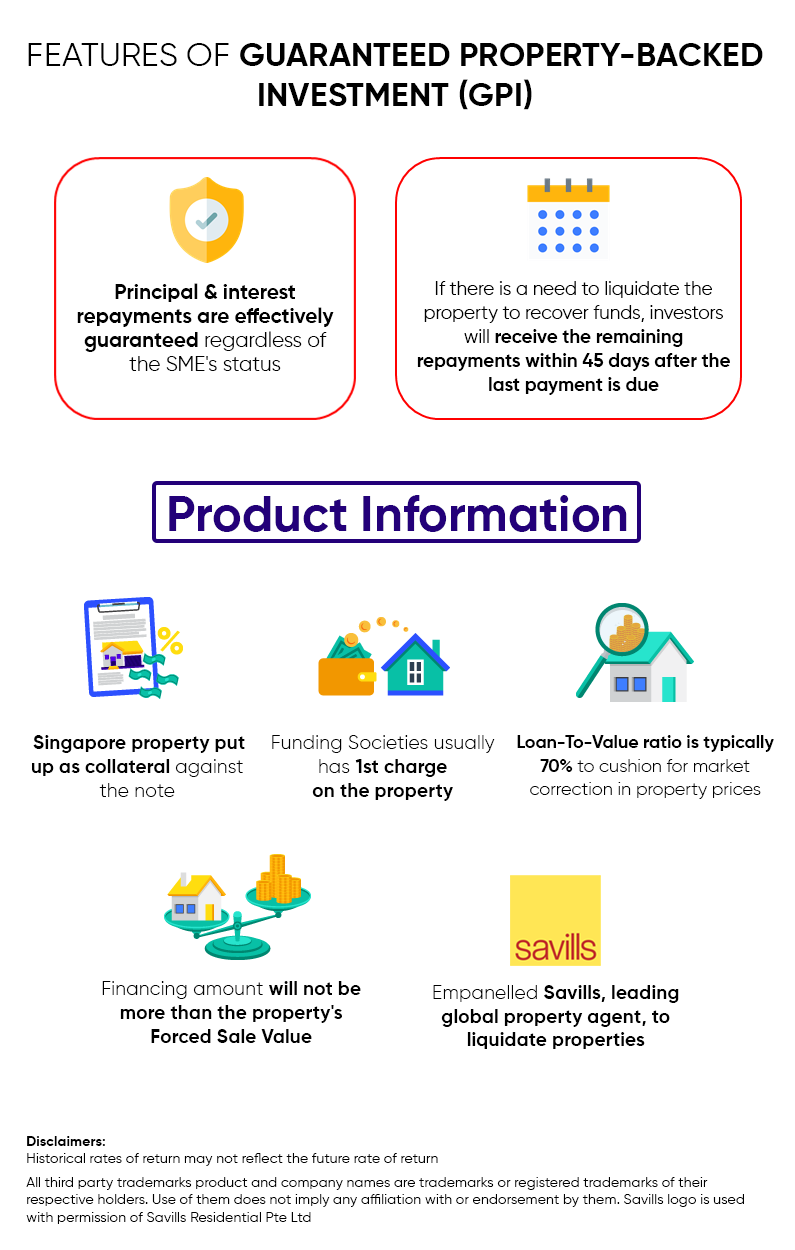 Sign up and start investing with Funding Societies here
Guaranteed Returns Investments
Guaranteed Returns Investment is an investment into a loan given to a small business in the form of a note with a layer of security whereby the repayments are effectively guaranteed even if the SME does not pay.
These small businesses come from all walks of life and Kaca Coffee House is one of them. See their story here:
Start investing with Funding Societies now and join them on their journey to help thousands of local businesses like KACA achieve their business goals.
Key Investment Information
Minimum Investment Amount – $20 per investment
Interest rates: usually 4% – 8% per annum
Tenor: 1 to 12 months
Repayments: Usually Monthly repayment of Principal & interest
Guarantee – Principal and Interest are both effectively guaranteed regardless of SME status
Please invest with the knowledge that while returns are effectively guaranteed by FS Capital Pte. Ltd., there may be a chance where they might not be able to fulfil the obligations under this arrangement. To mitigate this risk, a cash reserve buffer is maintained to allow for repayments to be made on time.
Importance of investment diversification
As the saying goes, do not put all your eggs into one basket. Just as how it is important to diversify across asset classes and business types, the same goes for varying risk return investments. Diversifying your investments with guaranteed returns products can be an option to consider to balance out your portfolio.
If you have done your own due diligence and decided to invest with Funding Societies, they currently have a promotion for new investors. Sign up with promo code MONEY20 and make a total investment of S$200 by 31st Oct 2020 to get a S$20 cashback.
Terms and Conditions apply
Investors must sign up with the aforementioned promo code and make a total investment of at least S$200 by 31st Oct 2020 to be eligible for the $20 cashback. Cashback will be credited into the eligible investors' accounts by the end of November 2020. Funding Societies' investor T&Cs apply.
Funding Societies is the largest SME digital financing platform in Southeast Asia. It is licensed in Singapore, Indonesia and Malaysia, and backed by Sequoia India and Softbank Ventures Asia Corp amongst many others. It provides business financing to small and medium-sized enterprises (SMEs), which is crowdfunded by individual and institutional investors. Investors can invest from as low as S$20 with a tenor of no more than 12 months. Depending on the investment product, interest rates can range between 2% to 18% per annum.