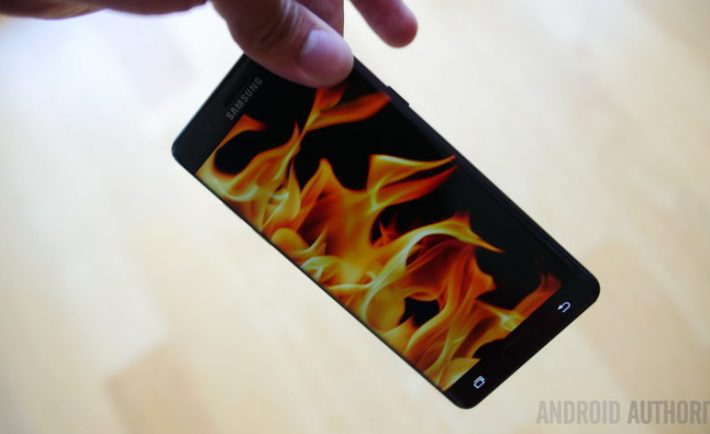 Image Credits: androidauthority.com
Considered as one of the biggest product failures of all time, Samsung Galaxy Note7 floats on the same boat as Apple Lisa (1983) and Ford Pinto (1971). It started off as a promising product with special features such as iris scanner, improved S-pen, expanded internal storage, and 5.70-inch touchscreen display. It was supposed to be Samsung's answer to its rival Apple's iPhone 7.
It quickly became a fiery disaster when a number of Note7 devices either emitted smoke or caught on fire. These reported cases resulted to injuries and property damage. In October 2016, Singapore Airlines announced that passengers were not allowed to bring their Note7 device on both carry-on and checked-in baggage due to fire hazard. Other international airlines (e.g., Virgin Australia and Air Berlin) followed suit.
Having massive companies ban the device only highlighted its cautionary tale. Samsung needed to clean up their act! They started replacing the first batch with a "less combustible" substitutes. However, that did not work too!
Samsung learned its lesson – the hard way. Recalling the Note7 was so costly that operating profit for the company fell 30 percent to about US$4.57 billion. Needless to say, Note7 wiped out 13.5% of its market share or about US$17 billion off the company's market value.
THE ROOT OF THE PROBLEM
Samsung conducted an in-depth study to investigate the downfall of Note7. Seven hundred dedicated staff were accompanied by three laboratories: UL, Exponent, and TUV Rheinland. These people tested 30,000 batteries and 200,000 devices before coming to its conclusions.
Firstly, there was a manufacturing defect in the corner of the batteries. A particular flaw made the electrodes prone to bending. This could lead to a short-circuit in the battery itself. It was responsible for some of the reported fires. This was the problem in the first batch of batteries, which Samsung reported that it would replace.
Secondly, it started switching production from one battery manufacturer to another. There may be some welding problems that occurred.
Lastly, some of the issues were possibly tied to the lack of insulation tape. These insulation tapes should have been shipped standard on the hardware, but were not.
THE ESSENCE OF THE STORY
This setback illustrates how complex it is to create a smartphone. The problem came down to a short-circuit flaw and to an ambitious pursuit to take a share from Samsung's primary competitor.
We learned that success takes time. It is important to carefully inspect every aspect of product development before setting a launch date. Otherwise, you will feel pressured to meet the deadlines and to rush through the vital steps. Same goes for other areas of your career.