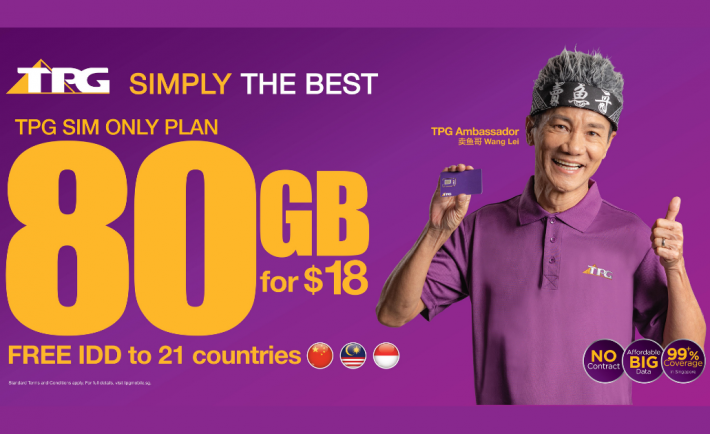 If you find yourself constantly streaming movies in high definition using data, then TPG Telecom's $18 for 80GB SIM-only monthly plan might be a great companion.
Mobile data provided under this plan is at 4G speeds. This puts it at a spotlight when contrasted to several other "unlimited" data plans in the market. We all know how there are plans out there that promise great numbers but is slapped with limits like slow surfing speeds once a user hits a period threshold.
Local outgoing calls & international direct dialling
TPG Telecom's $18 for 80GB SIM-only monthly plan provides 500 minutes of local outgoing calls to 21 countries, including Malaysia, Indonesia, Bangladesh, and China. You can also enjoy up to 300 minutes of international direct dialling.
"We constantly challenge ourselves to provide the best value to our customers," said TPG Singapore chief executive officer Richard Tan, recognising that in the immediate future, travelling abroad will likely be reduced.
Mr Tan noted the increasing demand for data. He adds that the company decided to launch this plan to provide its customers with more attractive options to stay in touch with their friends and family overseas, especially with the upcoming Chinese New Year approaching.
In 2019, when TPG's trial period plan was running, the company offered its users free, limitless roaming data in Malaysia and Indonesia. But the new scheme will only provide roaming data of 2GB free-of-charge for countries such as Malaysia, Indonesia, Japan, and Thailand.
TPG became Singapore's fourth telco in 2016
In April 2020, TPG started rolling out commercial services after acquiring a license in 2016 to become the fourth telco in Singapore.
But they lost the rights to Singtel, StarHub, and M1 to construct Singapore's two national 5G networks that same month. With that said, they still have the license to run smaller 5G networks that provide spot coverage using abundant airwaves.
When asked for more details on the coverage of the telco network, Mr Tan said TPG continuously complies with the in-building coverage audits of the Infocomm Media Development Authority.
"We already have full outdoor coverage and have recently achieved full coverage for road tunnels. Rail tunnel coverage retrofitting works are currently ongoing," he commented.
You may click through to access the TPG Telecom's $18 for 80GB SIM-only plan webpage for more details. Think you can afford a data cut to pay a lower monthly price? Check out the $10 for 50GB SIM-only plan here.
The telco is also offering a $5 for 20GB data plan (per 30 days) just for seniors. It's only available for a limited time with no upfront fees and lock-in contract. Click through the link to find out more!