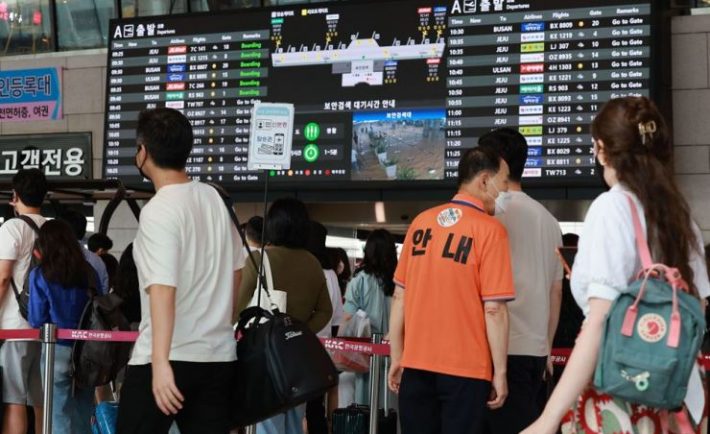 Image Credits: en.yna.co.kr
May witnessed a rise in trips abroad as a result of additional relaxing of immigration restrictions in several countries, with aviation traffic on certain international routes reaching pre-pandemic levels.
The amount of traffic on a global level in May was 68.7 percent of 2019's, which is the best comparison to traffic before COVID-19 thus far this year.
Amidst inflation, hefty jet fuel costs, and lacking consumer confidence, there is still a travel recovery, demonstrating that individuals continue to be quite keen to travel overseas. However, with many countries seeing an uptick in recent COVID-19 cases, including our sunny island, will we all be able to hop on board our next flight soon?
Stay on this page for COVID-19 updates for those planning a trip to Japan, Australia, South Korea, and New Zealand.
Japan
On 14 July, Japan issued a public health alert, advising people to take extra precautions in light of the upcoming summer holidays as a fresh wave of coronavirus infections looked to be spreading quickly.
The number of reported cases in Tokyo rose to 16,878 on 13 July, reaching levels not seen since early this year. This is the greatest number of cases since February. On 14 July, the capital reported 16,662 new cases and increased its alertness to the maximum level. More than 50% of the cases recently are caused by the BA.5 mutation.
Australia
The health system in Australia is also on high alert as a result of a recent uptick in cases caused by the BA.4 and BA.5 subvariants, which has brought COVID-19 numbers to levels that are not far off from records set earlier in 2022.
After achieving world-beating immunization rates, Australia ended stringent social distancing regulations and emergency lockdowns at the beginning of this year. Authorities have warned that there might be millions of new infections in the nation over the next few weeks while ruling out any stringent limitations to stop the spread despite the fast-moving subvariants.
South Korea
As infections decreased after reaching a peak of more than 600,000 per day in mid-March, South Korea abandoned the majority of its pandemic-related restrictions in May, including a requirement that people wear outside masks. But for the first time in two months, the number of COVID-19 infections in South Korea has risen beyond 40,000, and the government has issued a warning about a probable five-fold increase in the following months.
The government does not currently have any intentions to reinstate limitations, but it does not completely rule them out if the COVID-19 scenario undergoes a major shift. They are likely to increase quarantine checks at major airports as the volume of travelers is anticipated to increase significantly over the summer vacation period amid a new wave of viral recurrence, according to the most recent news on 15 July.
To strengthen quarantine inspection, an extra 200 quarantine employees will eventually be sent to Incheon International Airport, the main entry point into the nation, and seven other regional airports. Separately, the government will deploy roughly 2,500 employees to the nation's busiest tourist destinations to monitor adherence to antivirus regulations and hygienic measures.
New Zealand
As we come to a close, the most recent updates for New Zealand have it that the number of new COVID-19 cases has significantly increased over the last few weeks, and experts are predicting that this wave of Omicron seems worse than the first.
To stop the spread of COVID-19 and ease pressure on the nation's healthcare system, which is grappling with an inflow of flu and COVID-19 patients, the New Zealand government introduced free masks and fast antigen tests on 14 July.
People are currently compelled to wear masks in public indoor areas, such as in stores, libraries, and public transportation under New Zealand's current "orange light" rules. A switch to "red" constraints would impose a 200-person indoor gathering cap, but there is currently no political support for such an interruption, and the majority of infectious disease specialists do not believe it would have a substantial effect.
Updates from the World Health Organization (WHO)
On 12 July, the head of WHO issued a warning that recent COVID-19 infection waves indicate the epidemic is far from finished. Early in July, the COVID-19 emergency committee of the WHO convened by video conference and declared that the pandemic continues to be a Public Health Emergency of International Concern, the most serious alert the WHO can issue.
The committee concluded that the course of viral evolution and the attributes of newly emerging variants continues to remain largely unpredictable and that the probability of new, more adaptable variants springing up with varying degrees of infectivity and immune escape ability increased in the apparent lack of actions to minimize transmission.
And true enough, as we've learned over the years, the changes brought about by COVID-19 are not to be taken lightly. For those who are traveling, it would be wise to keep checking back on the news on the latest restrictions or refer to the specific embassy's news on any possible update on travel restrictions. We hope everyone will get to vacation with minimal disruptions but stay safe even while treading within the boundaries of Singapore.
Editor's note: All information published at the time of writing is accurate.