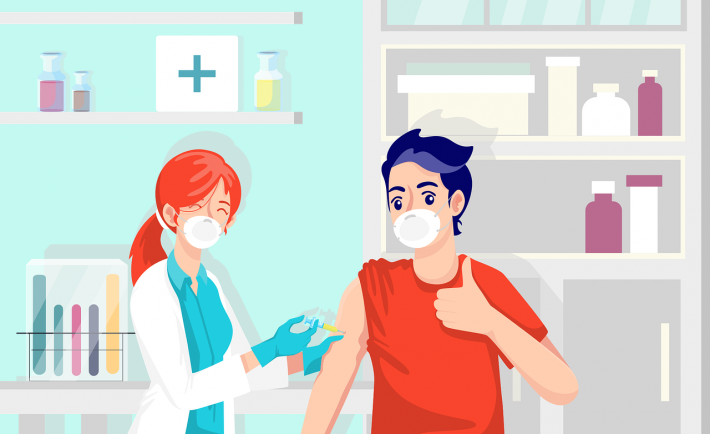 Image credits: pixabay.com
It is normal to feel nervous or worried about getting your COVID-19 shots. However, public health officials regard these COVID-19 vaccines as safe and as a means to end the novel coronavirus pandemic.
Reduce your worries by being prepared. Start by reading through the following vaccination aftercare tips.
#1: DO NOT GET A TATTOO RIGHT AWAY
A tattoo is a form of body art where the design is created by inserting ink, dyes, or pigments into a person's skin. Because your body does not want these foreign pigments, it initiates an immune response by sending off specialized cells to the tattoo site. COVID-19 shots also trigger an immune response. Moreover, similar side effects such as arm soreness, pain, and redness can be felt soon after getting vaccinated or tattooed.
Dr. Abisola Olulade, a San-Diego based physician, recommends waiting at least a few days between your vaccination and tattoo to rule out any possible side effects. She adds that some people may find it challenging to manage "two different areas of the body that are painful at the same time". Consult your doctor if you are planning to get your tattoo after getting your COVID-19 jab.
#2: DO NOT PUSH YOURSELF TO EXERCISE
Forcing yourself to workout after getting vaccinated will likely make you feel worse. Recently, there was a 16-year-old male who suffered a suspected cardiac arrest after getting his COVID-19 shot. He performed strenuous activity such as carrying heavy weights above his own body weight, days after getting the vaccine.
According to the expert committee, people should avoid strenuous activity after either the first or second dose of mRNA vaccines. The committee advised against strenuous activities for a week after each dose.
#3: DO NOT HESITATE TO REPORT THE VACCINE ADVERSE EVENTS
Like all drugs, no vaccine is 100% effective. Vaccines are generally given to healthy people for disease prevention. Thus, the tolerance to vaccine adverse events is substantially lower than that for the drugs for disease management. It is vital that the country has a robust vaccine safety monitoring system that can effectively detect early safety signals of concerns and mitigate them.
Healthcare professionals are encouraged to report serious adverse events suspected to be associated with vaccines. They need to report it to the Health Sciences Authority.
If you experience symptoms after getting jabbed, do not hesitate to report them. This information helps them to track side effects and monitor severe adverse events. Tracking these side effects or adverse events will also help with future vaccine development.
#4: DO NOT FORGET TO DRINK PLENTY OF WATER
Stay hydrated after getting your vaccine. Water aids your body process its immune response to the vaccine. If you experience fever as a result of the vaccine, staying hydrated can help your body to fight it off. Aside from fever, there are other side effects that you can expect.
Common side effects observed with the COVID-19 vaccines include:
a. Pain, swelling, and redness on the arm where you received the vaccine
b. Chills or fever
c. Tiredness
d. Headaches
e. Joint pain or muscle ache
Experts stated that these side effects typically go away within a few days. Continue to stay vigilant!