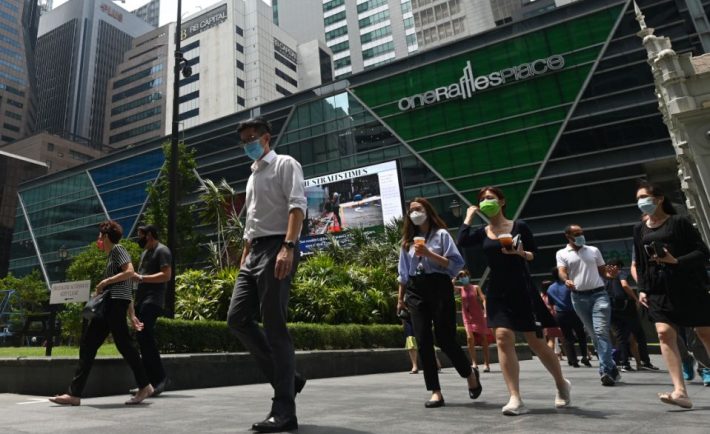 Image Credits: Yahoo News Singapore
We hope everyone had a blessed Good Friday and a well-rested Easter weekend.
It's time to face reality. For those who haven't caught up with the news just yet, our government has made known last month of a shift in the style of working.
The co-chair of the COVID-19 multi-ministry task force Lawrence Wong said that instead of working from home as the default, Singapore would welcome a more "flexible and hybrid way" of working.
From tomorrow (5 April) onwards, more employees can return to the workplace and split team arrangements will not be compulsory. Here are some other points to note as we head back to the office from Monday.
#1: Different start times & flexibility in working hours
For those called back to the office, make sure that your boss is aware of the staggered start time requirements.
This is to make sure that there is no crowding at the office entrances or building lobbies before entry. The different start times will also ensure lesser jam-packed buses and trains.
In addition, your employer should be open to varied working hours, and as an employee, you hold the right to split your hours between working from home and clocking hours at the office.
#2: Working from home still recommended
At the moment, only 50% of employees are allowed to return to the workplace. From 5 April, the percentage will increase to 75% instead.
As the virus still lurks in the community, employers are encouraged to allow their employees to work from home as much as possible. Unless certain business operations demand in-person meetings or collaborations, working from home is still recommended.
To that, the Ministry of Manpower (MOM) added that companies should continue to keep to online meetings instead. The decision will minimise the number of people exposed at the workplace and avoid overcrowding in areas like the pantry.
#3: Vulnerable employees to be given extra notice
Folks who are 60 years old and above, be sure that your superiors are giving you special attention to lower your transmission risk at the workplace. This also applies to patients who are immunocompromised or suffering from other medical conditions.
If your job position allows you to work from home, then reporting to the office should not take priority. But for those who need to be at the workplace physically, you should be allowed to commute during off-peak periods.
Where necessary, you may also seek redeployment to another role within the company for the time being.
#4: 50's the limit at work-related events
Work gatherings can only allow up to 50 people to guarantee the low risk of exposure to the virus. Attendees should also keep up with the 1m safe distancing measures when interacting with other individuals.
Sorry to disappoint, but food should not be served unless the occasion calls for it, for example, due to extended periods past lunch hour or dinner time. If there's a need to provide food, each participant must be served while seated.
Mealtimes should also be watched such that people are masked up immediately after eating.
#5: Huat number 8's still the limit for social meetings
Please note that work events are different from social meetings. Yes, that farewell lunch for an exceptional colleague is regarded as a "social and recreational gathering", not a work-related affair. Our tiny red dot is still in the midst of phase 3, and only up to 8 people are allowed to gather.
Even for plans like team bonding, the rule still applies. This is regardless of it being in or out of the workplace's boundaries. For a refresher, households can only welcome up to eight visitors at any one time as well.
#6: Face masks and disinfectants must be provided
Peeps who've already been reporting to the office at alternate weeks or staggered schedules, we understand the pains of wearing a mask the entire workday. Especially those slogging without air-conditioners in humid conditions may find it necessary to change their masks more often.
Your employer should secure enough face masks for everyone in the company. "Where possible, employers should consider improving the working environment for employees to enable them to sustain wearing the masks," said MOM.
There must also be sufficient handwashing soap and disinfectants such as sprays, cleansing wipes, hand sanitisers, and paper towels.
Final thoughts
For those who don't have to return to the workplace from tomorrow (5 April), or at least not immediately, good for you if you're enjoying it! With that said, you may be keen to check out our recently published article on "WFH tips to help you stay motivated".
Working from home should not be a nightmare. Your boss ought to not take this as a chance to push you past your limits. Set boundaries between work and rest, so the lines are not blurred.
For both employers and employees reading this, you may want to heed the tripartite advisory on mental well-being formed by MOM, the National Trades Union Congress (NTUC) and the Singapore National Employers Federation (SNEF), together with HR professionals:
Health is wealth, so learn how to work when you need to and take that break when your body needs it.