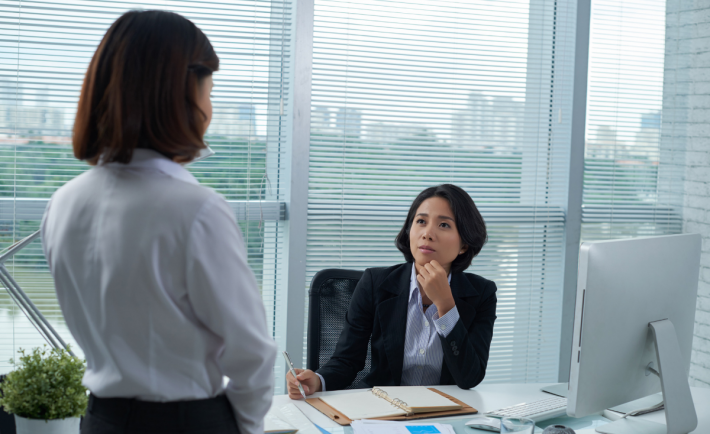 Image Credits: sparkpeople.com
Giving feedback to your manager or supervisor can be immensely nerve-wracking.
You want to give them feedback so they can change, but the power imbalances in your workplace might make an already complex task appear laden with more complications. Furthermore, there are so many examples of feedback gone bad that it's difficult to know where to begin.
That's why we've written this article so that we can all learn how to give feedback to our bosses.
Practice
When it comes to giving a face-to-face evaluation to your boss, rehearse your speech first. Request that a buddy or a trustworthy coworker observe you giving feedback. Pay attention to their comments and make changes to your speech depending on their suggestions.
Be impartial
If you want to reap the most out of the feedback session, you must be unbiased when offering suggestions to your superior. Detailed and direct observation, not your prejudiced conviction, can impact your assessment of their performance. Maintaining objectivity might also help you avoid emotional conflict if your boss rejects your statements.
Ask before you dive
If you're going to give your employer some constructive comments, ask if you can do so first. This is a standard courtesy that alerts your boss of the possibility of unfavorable comments. Prep a harsh comment with two sides of acknowledgments once they've agreed to receive input.
That is, expressing gratitude first to make managers feel you are appreciating their initiatives. Then, get down to business with the nature of the problem. Don't pretend to know everything about the matter or discuss what you would do if you were the boss; this can make any individual feel defensive. Rather, think of feedback as a reflection of your perspectives.
During a performance review
Performance appraisals are an awesome chance to provide constructive criticism to your boss. In a performance evaluation, your boss will ask for your input on specific areas. Although you may be the topic of an assessment at times, addressing your connection with your boss is an integral part of it.
Your manager may also ask you to send an email rather than initiate conversations directly. You can take the next steps knowing that your manager desires honest reviews to keep tabs on overall workplace dynamics. As part of the performance evaluation, some companies may also provide employees the option to provide feedback through a staff survey so take advantage of that avenue to express your views.
Partnering with someone allows you to gain valuable insight into their abilities. This is particularly true with your supervisor, whom you are likely to encounter in a variety of contexts, including group briefings and one-on-one discussions. Giving your employer feedback, also known as upward feedback, is a difficult skill to learn. But your insight can not only aid your boss but also strengthen your professional relationship if delivered correctly and mindfully. Consider the abovementioned tips as you navigate uncharted waters.