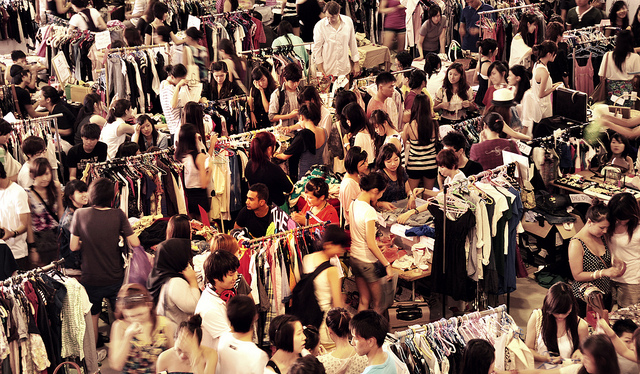 Image Credits: nasrul ekram via Flickr
1. NARROW DOWN WHAT YOU WANT
Know what you want to buy before coming in to the flea markets. A whole area of second hand and budget-friendly items can be overwhelming so it is best to come prepared. The more focused you are, the easier it is to avoid impulse purchases.
2. MEASURE AND RE-MEASURE
To avoid buying furniture that does not fit your home, measure the room dimensions accurately by using a tape measure and a ruler. If you want to match an item with the room then take a picture or bring a fabric piece with you as you buy.
3. TIME IS ESSENTIAL
You will get the best selection in the first few hours of sale but vendors are reluctant to negotiate early one. So, if you want to save more then wait until the final day. But, expect your selection to be slimmer.
4. DO RESEARCH
Be sure to do your online research before shopping in the flea markets. This way you will be able to spot if the item is overpriced. Then if it is, use your bargain powers to sway the price.
5. GET CREATIVE
The items for sale may be multi-purposed. For example you are looking for a sideboard to put your dishes in, but a dresser/drawer has a better price. Grab the gorgeous dresser instead since you may use it as a sideboard.
BONUS! Here are some of the recommended and unique flea markets you shall visit…
A. MAAD (Market of Artists and Designers)
MAAD houses pet-friendly and budget-friendly items for the whole family. Their innovative creators are from independent and are known for artsy fashion and artisan stationary pieces. Here you will find a wide array of crafts, plush toys, handmade jewelry, and paintings. The price range starts from S$10 to S$50. Visit museum.red-dot.sg/maad/ for more information.
B. ZOUK FLEA & EASY
Zouk, one of the famous clubs in Singapore, organizes a flea once every three months. From trendy pre-loved threads to hipster rags at bargain prices, Zouk Flea & Easy offers an eclectic flea experience.Blogshops are welcome to participate! Visit zoukclub.com for more.
C. CHINA SQUARE CENTRAL (CSC)
CSC has a Sunday flea market that offers DVDs, souvenirs, and electronics for less. Aside from that, comic book junkies can grab the later issues and action figures at CSC's Level 2. Price range starts from S$5 to S$30.