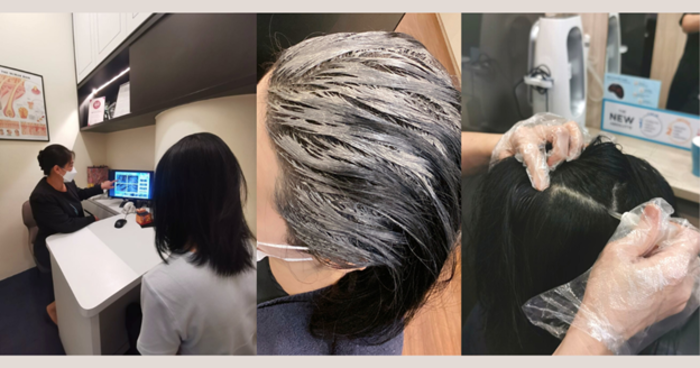 You only live once, do whatever you want.
I heeded the above advice for my hair when I was young(er) so you can imagine all the crazy things I've done to my hair— colouring, perming, bleaching, and rebonding. You name it, I've probably done it.
It's only when I started noticing significant hair loss that I stopped those hair "adventures". And what I'm referring to is spotting a wider hairline and overall thinning over the years. The worst part was seeing an increasing bunch of hair strands on the floor when I cleaned my room at the end of the day. Certainly not a good feeling.
And that's why when Topp Care Hair Solutions offered me to try out their customised hair treatment, I jumped on the opportunity with a million thanks.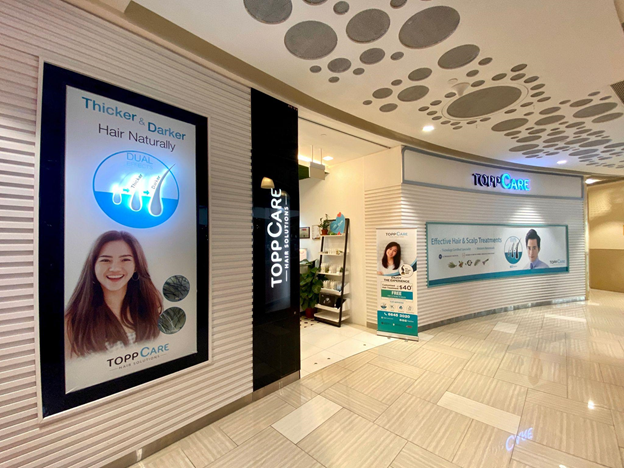 Topp Care is located within Eastpoint Mall and it's right beside Simei MRT station. I took the escalator up to the 3rd floor, walked a little, and spotted the outlet almost immediately.
About Topp Care Hair Solutions
Topp Care holds a US Trichology Institute certification and is a member of the British Herbal Medicine Association. Each step of every treatment uses products created from premium Western Botanicals (plant-derived) that can encourage hair growth and improve scalp health.
They offer solutions that cater to all ages, so whether it's premature hair thinning or age-related greying concerns, Topp Care can help. All of their treatments are delivered by US Trichology Institute Certified Specialists as well as well-trained and experienced therapists, and they contain hair-friendly herbs including thyme, burdock, and aloe vera.
The Moment Of Revelation
The truth hurts, but to know the condition of my scalp, I had to brace myself for the 1-to-1 consultation. After I was asked to fill up a short questionnaire, my hair & scalp specialist, Helen, greeted me with a smile.
She explained that she would be using a scanning machine that can zoom in up to 200x to take a closer look at my scalp. I was nervous but also curious to see the condition of my scalp. As much as my hair looks okay on the outside, it isn't that pretty on the inside.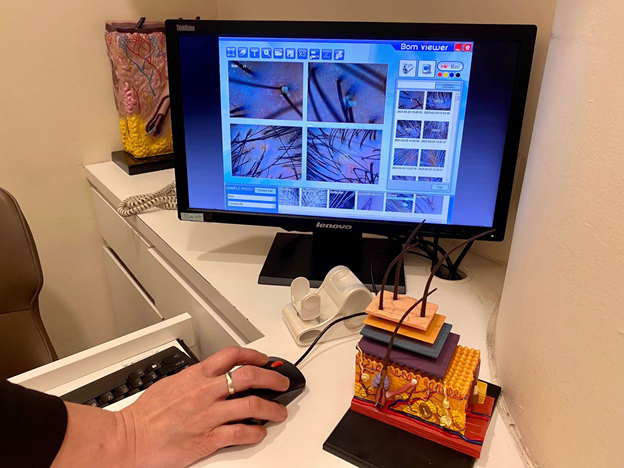 While looking at the scans generated, Helen asked if I had sensitive skin. And yes, she was spot on. She then explained that the reddish spots noted on my scans are a clear indication, since our scalps are part of our skin as well. I had a scalp scan done years ago but don't recall having these red-looking bumps so I immediately knew things had gotten quite bad.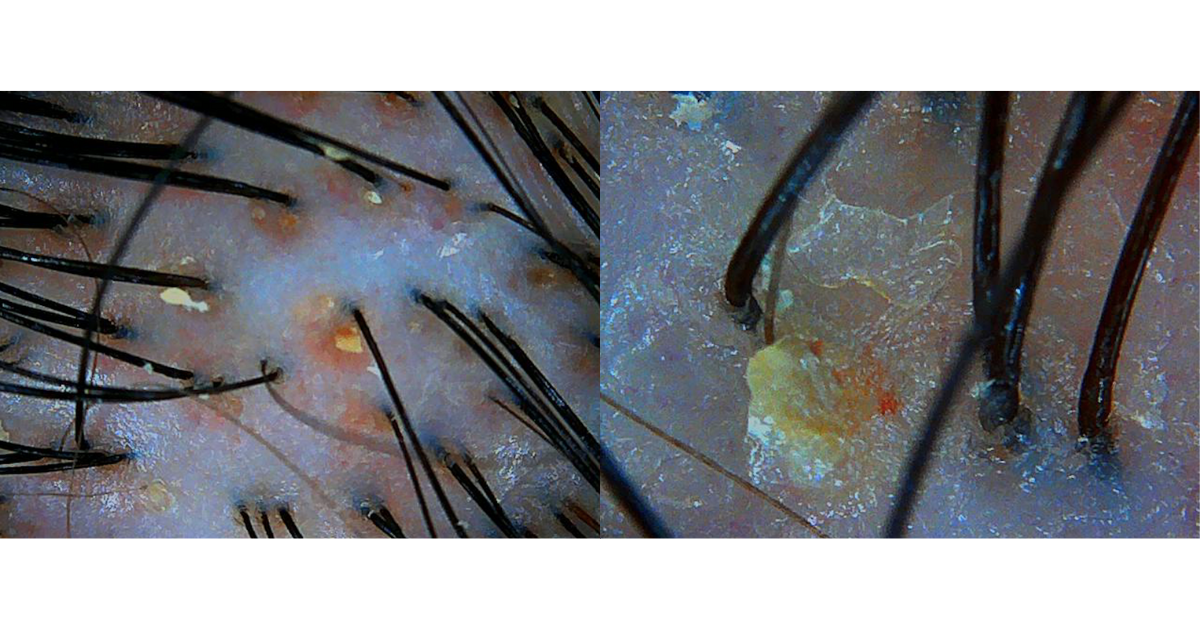 Helen also explained that there was an excessive sebum build-up on my scalp, clogging up my hair follicles. The white-yellowish stuff surrounding it isn't dandruff (to my surprise), but a combination of oil and the residues left from my hair dye.
And mind you, I've already cut down on hair colouring from once a month to once every 2 to 3 months due to the fear of aggravating my hair loss condition. Who would have thought that the residues left are causing problems too?
I was also enlightened that a healthy hair follicle should have 2 to 3 strands of hair growing out of it, but a close look at the scans revealed that many of my follicles only had a pathetic strand. And that's why when that precious strand falls and no new ones grow from it, there goes my follicle — it goes into a resting phase and might never grow back. It's upsetting but I guess that explains the increasing little bald spots on my head.
Do I feel bad? Yes, you bet. But thankfully, all is not too late.
Helen recommended that I do a Dead Sea Masque which can:
Control and optimise sebum production
Eliminate excess oil and dead skin from pores and follicles
Detoxify by soaking up impurities via thorough scalp cleansing
Just perfect for my oily scalp concern. Note: Depending on your scalp condition, a different treatment could be recommended.
My Actual Treatment Process
My customised treatment started with a deep scalp cleanse followed by a generous amount of Dead Sea Masque application to my roots. I was left to rest for 20 minutes and let the masque work its magic in softening the accumulated sebum and effectively removing oil clogs, so that my follicles can "breathe" again.
Before I knew it, time was up and I was ushered to the hair-washing area for a revitalising rinse.
The therapist who attended to me told me to always use my fingertips and never my nails when washing my hair, which I think is a good tip for all of us to note.
I loved how thorough she was, making sure to leave no masque residue during the process. I was also treated to a little massage during shampooing before a conditioner was applied to the ends of my hair to conclude the wash.
Back at my station, the staff applied a moisturising hair spray before blow-drying my hair and applying a hair ampoule directly to my roots.
This regenerating ampoule is able to:
Stimulate hair growth
Boost immunity of the scalp
Strengthen hair follicles to enhance anchoring of hair
And here comes my favourite part of the hair treatment—a soothing massage. The massage was not just for my scalp but for my neck and shoulders too. It felt really good and I secretly wished the massage would last forever.
But nope, onward to the next!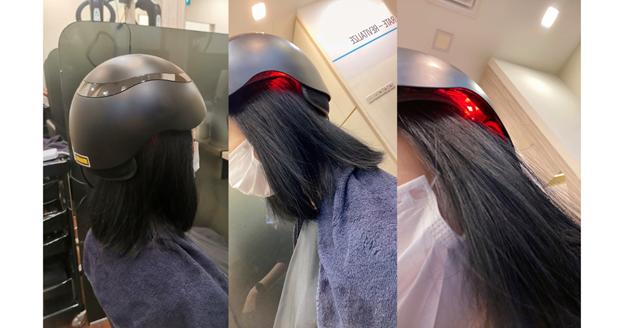 I was treated to a Hair Growth Laser that emits non-invasive lasers to awaken my hair follicles and speed up regeneration, which definitely helps with stimulating hair growth and reversing thinning. It was slightly warm, which I enjoyed. After 20 minutes, Helen came back to check on me before removing the laser and leading me back into the consultation room.
Post-Treatment Consultation
My head felt lighter and though I was wearing a surgical mask, I could smell the pleasant scent of all the products used on my tresses. Compared to the revelations during pre-treatment an hour ago, I was also a lot more confident to see the condition of my scalp post-treatment.
My scalp scan machine was back at work and voila! Take a look at my before and after shots: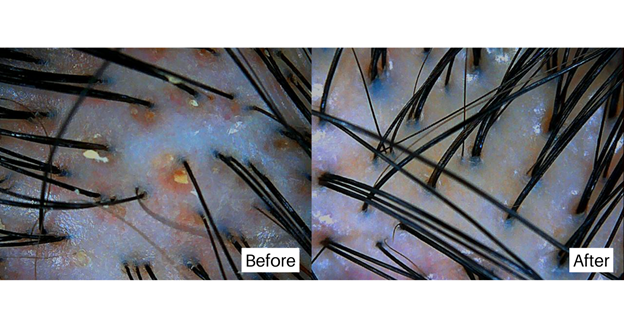 If one session could get me results like that, how much improvement in my hair loss would I see in a few more sessions? Topp Care's customised treatment works! Hands down.
I was also slightly amazed at how I woke up with a less greasy scalp the next morning and a lasting herbal fragrance from my treatment. Somehow or rather, my hair looks thicker and fuller too!
A Special Offer For You
You may have a different hair or scalp concern but there's nothing Topp Care Hair Solutions can't solve. If you want to see results for yourself, I suggest you book a customised hair treatment appointment with Topp Care at just $40 today.
You will get to enjoy a 75- to 90-minute reinvigorating session with Topp Care's in-house specialists.
Click here to book your customised hair treatment @ $40 (U.P $309) now!
Topp Care Hair Solutions
Address: 3 Simei Street 6, #03-24, Eastpoint Mall, Singapore 528833
Operating Hours: Monday – Friday: 11 am – 9 pm; Weekend & PH: 10 am – 7 pm
Follow them on Facebook and Instagram for the latest news and promotions. You can also call them via 6645 3020 for booking or email [email protected] for more inquiries.
Enjoy your session!