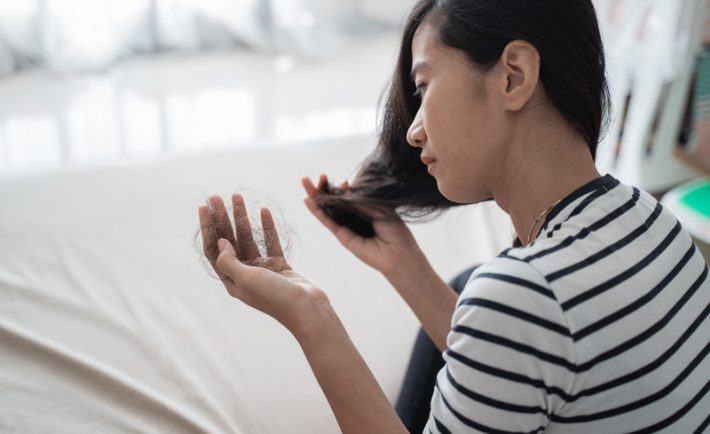 Photo 169813027 © Odua | Dreamstime.com
Compared to other countries, Singapore generally has a pretty stable weather forecast all year round. But that doesn't mean we're better off since we have to endure the hot and humid temperatures and its effects on our scalp and hair.
During cold or dry climates, our scalps tend to produce less sebum so the chances of clogged pores are kept to a minimum. But on our sunny island, the hot and humid climate causes our scalp to release more sebum. If it's not properly cleaned, it will result in clogged pores, dandruff, and eventually hair loss.
Luckily, we have ways to put a stop to hair loss! Here's how.
1. Shampoo daily
For those you've heard sayings about how washing your hair daily might strip the scalp of its natural oils, you're not alone. However, considering Singapore's hot and humid temperatures, daily shampooing is necessary. In fact, it's recommended that you wash your hair daily to get rid of excess sebum or impurities that might build up on the scalp and lead to hair loss in the long-term.
According to Pooja Chhabra, a certified trichologist from TK TrichoKare, it's wise to always opt for shampoos that do not contain any harsh ingredients. If necessary, make the switch to chemical-free shampoos without paragon and silicone. Opt for those that contain ingredients such as argan oil, rosemary, lavender, and chamomile that nourish your hair and help restore its moisture balance.
2. Use a moisturizing hair mask
Similar to how you've been investing money and time on face masks, your hair needs some tender loving care too. This applies especially to individuals who have their air-conditioners turned on for the most part of the day to counter Singapore's humidity.
We're not sure about you but we've personally encountered dry and itchy skin after long periods in an air-conditioned room. This is because while the air-conditioning keeps us cool, it snaps away moisture from our body too. The same applies to our scalp and hair as well. To avoid the damaging effects on our hair, be sure to treat it with a moisturizing mask at least once a week.
3. Take care of your hair & scalp with TK TrichoKare's award-winning treatment
While DIY routines are important, it's also essential to let the professionals handle it at times. If you've tried various hair care products but to no avail, then it's probably wise to seek a second opinion. We recommend taking care of your hair & scalp with TK TrichoKare before your condition worsens.
About TK TrichoKare
TK TrichoKare has been around in the market for a long time. With a history that dates back to 2004, they are the first and leading brand that provides customised European herbal hair remedies that are validated by certified trichologists.
If you're not aware, trichology is the scientific study relating to scalp and hair health. It covers the anatomy, chemistry, physiology, nutrition, genetics and microbiology. With that said, trichologists are professionals who specialize in hair and scalp care. Coupled with advanced technology used in TK TrichoKare's treatment process, you know you're a step closer to better hair and scalp health.
Here's what to expect during your treatment process.
Step 1: Hair & Scalp Analysis
To tackle the problem, a hair and scalp analysis is needed. Using a lens tool that magnifies up to 200 times, you will be able to see for yourself your scalp condition before the treatment.
Step 2: Customised Premium European Herbal Scalp Masque
After the analysis is done, your trichologist/hair consultant will explain to you more about the hair problems you're facing based on the scan results. Thereafter, receive a recommendation on a customised premium European herbal scalp masque to detox the scalp and remove impurities and excess sebum.
Step 3: 3-Step TriOxy Treatment
You will then be ushered into the treatment area to begin your treatment process with TK TrichoKare's 3-step triOxy treatment. The 3-step triOxy treatment consists of OxyPeel, OxyJet, and OxyNutrient.
Think of OxyPeel as an exfoliation procedure that clears up your congested hair follicles. This is followed up by OxyJet, a spray that helps to accelerate your scalp's cell metabolism and improve blood circulation.
Once that is done, there will be a 15-minute waiting time to allow the goodness from OxyPeel and OxyJet to set in. You will then be guided to the hair bath area for a revitalizing hair bath to aid your scalp in restoring its sebum balance. Get ready to feel completely refreshed after the wash!
As you head back to your dedicated seating area, a hot pad will be placed over your shoulders. Relax and feel the tension fade away as your trichologist/hair consultant works on the last step – OxyNutrient. This provides the necessary nutrients and hydration your scalp needs to thrive.
Step 4: Photodynamic Therapy
To wrap things up, sit under the Photodynamic Therapy machine that uses laser light technology to support your hair regeneration. This final step will greatly accelerate the healing process.
Book an appointment at TK TrichoKare
Liked what you just saw? The award-winning Advanced Scalp Detox & Care Treatment is now priced at just $40 nett with a free HairGRO ampoule and hair care kit (total worth up to $745). On top of that, stand a chance to win the all-new iPad 10.2-inch (worth $499) after the trial treatment.
Book yourself an appointment today!
This article is sponsored by TK TrichoKare.