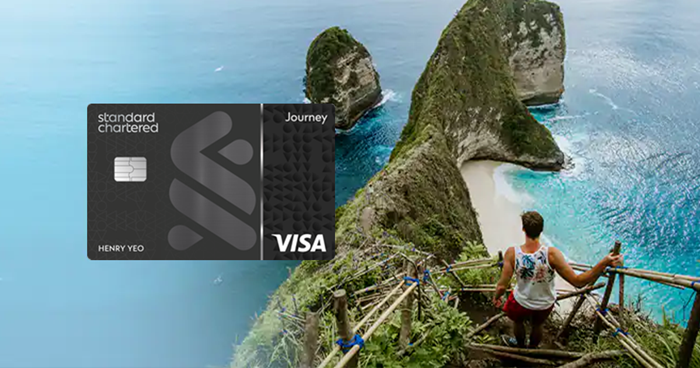 The 'X Credit Card' is rebranded to the new 'Journey Credit Card' with enhanced benefits
Are you ready to embark on an incredible journey? Look no further than the Standard Chartered Journey Credit Card, the ultimate companion for all your travel aspirations. Packed with fantastic benefits and unmatched rewards, this card will take you places you've only dreamed of. Let's dive into the incredible features that make this card a must-have for avid travelers.
First and foremost, the Standard Chartered Journey Credit Card offers an amazing welcome gift of up to 45,000 miles for new cardmembers! Yes, you read that right—just for joining the Standard Chartered family, you'll receive a generous welcome gift that will kickstart your travel goals in the most extraordinary way possible. Imagine the possibilities as you jet off to your dream destinations, all thanks to this exceptional welcome offer.
Here's how can you pick up the bonus miles:
Up to 25,000 miles: Earn additional 5 miles per dollar from eligible spends within 30 days of card approval, capped at S$5,000
10,000 miles: From annual fee payment of S$194.40
10,000 miles: From S$5,000 eligible foreign currency spends
This limited-time offer is is valid until 30 June 2023. T&Cs apply.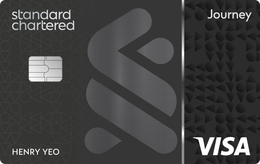 But the journey doesn't end there. With the Standard Chartered Journey Credit Card, you'll earn up to 3 miles for every dollar spent, ensuring that every purchase you make brings you closer to your next adventure. This is the only card where you can earn 3 miles for every S$1 spent on online transactions from transportation, grocery and food delivery merchants. On top of that, you can earn 2 miles per S$1 for foreign spends and 1.2 miles for every S$1 spent locally.

Whether it's booking flights, accommodation, dining at your favorite restaurants, or indulging in retail therapy, your spending will be rewarded with miles that can be redeemed for flights, hotel stays, and a variety of other travel experiences. With this card, every dollar spent is an opportunity to unlock remarkable rewards.
But that's not all. The Standard Chartered Journey Credit Card comes with a host of other enticing benefits designed to enhance your travel experiences. Enjoy exclusive access to airport lounges, where you can relax and unwind before your flight. Take advantage of complimentary travel insurance that provides coverage for you and your loved ones, giving you peace of mind wherever you go. Additionally, the card offers attractive dining and lifestyle privileges, allowing you to enjoy discounts and special offers at a wide range of partner establishments.
Applying for the Standard Chartered Journey Credit Card is quick and easy. Simply fill out the online application form on SingSaver to get started. As part of an ongoing offer till 31 May 2023, you will also receive an additional $20 Cash via PayNow plus 1x ReboundTag, on top of the 45,000 miles!
For more information about the Journey Credit Card, click here.