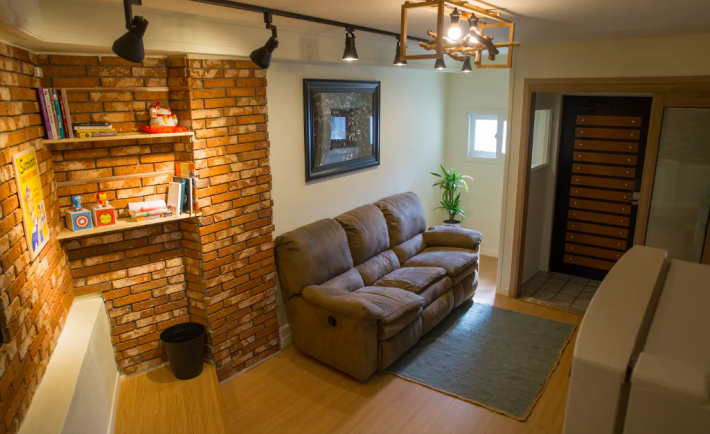 Have your flight tickets booked for Seoul, South Korea already?
Now, planning the trip is an exciting task, and we all know that finding the right accommodation is key to ensuring an unforgettable stay.
If you're considering staying in and around the tourist hotspot, Myeong-dong, you're in luck! We've picked out three fantastic accommodations with good ratings, all under $99/night.
Let's start the ball rolling!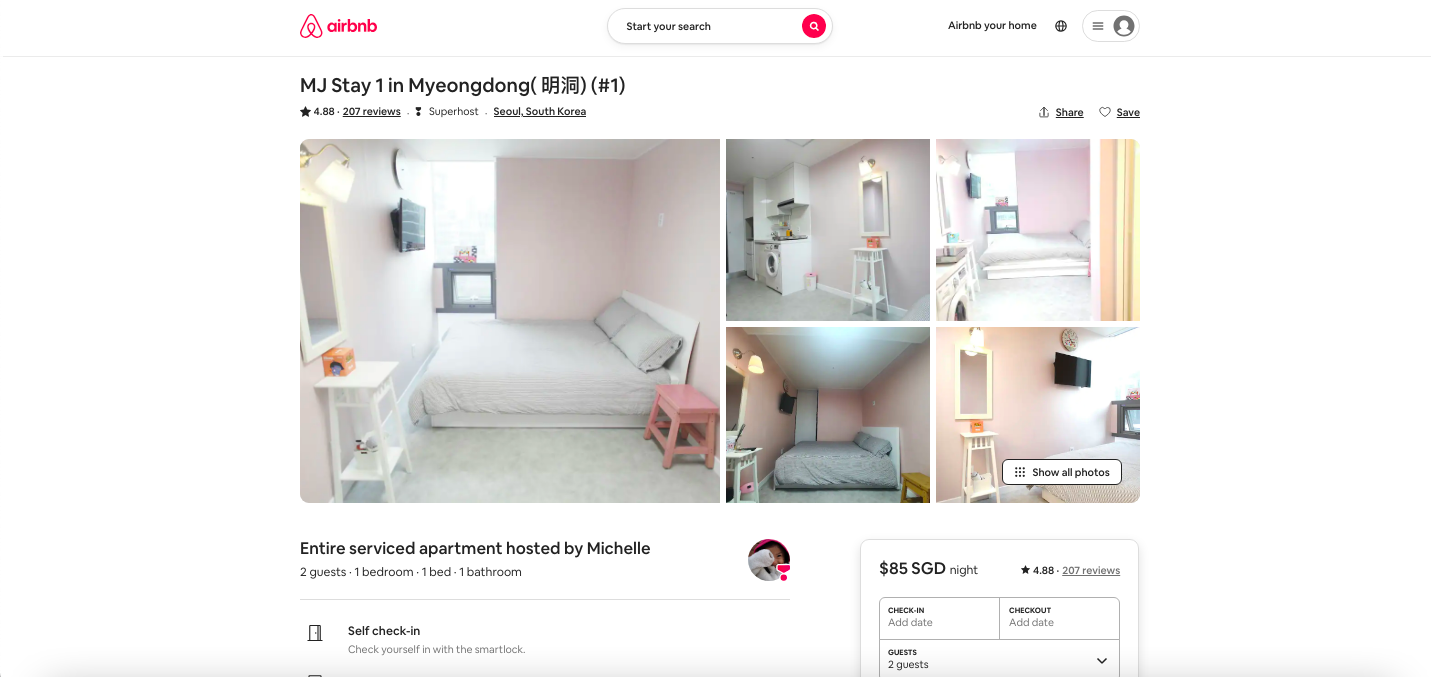 Price: $85/night
A minimalist traveler's dream, this serviced studio room is just a short walk from both Jonggak Station and Myeong-dong's shopping and nightlife.
The queen bed makes it perfect for solo travelers/buddies/couples looking for a convenient stay in the heart of the city. The mini kitchenette has everything needed for light meals, with an induction cooktop, a small refrigerator, basic pots and pans, and tableware. The washer sits right beneath the cooktop for easy laundry.
While seasonings are not provided for hygiene reasons, the location and nearby food options mean you may not need to cook much. After a day of exploring the nearby sights, relax in the shower and climb into that comfy queen bed for a good night's snooze.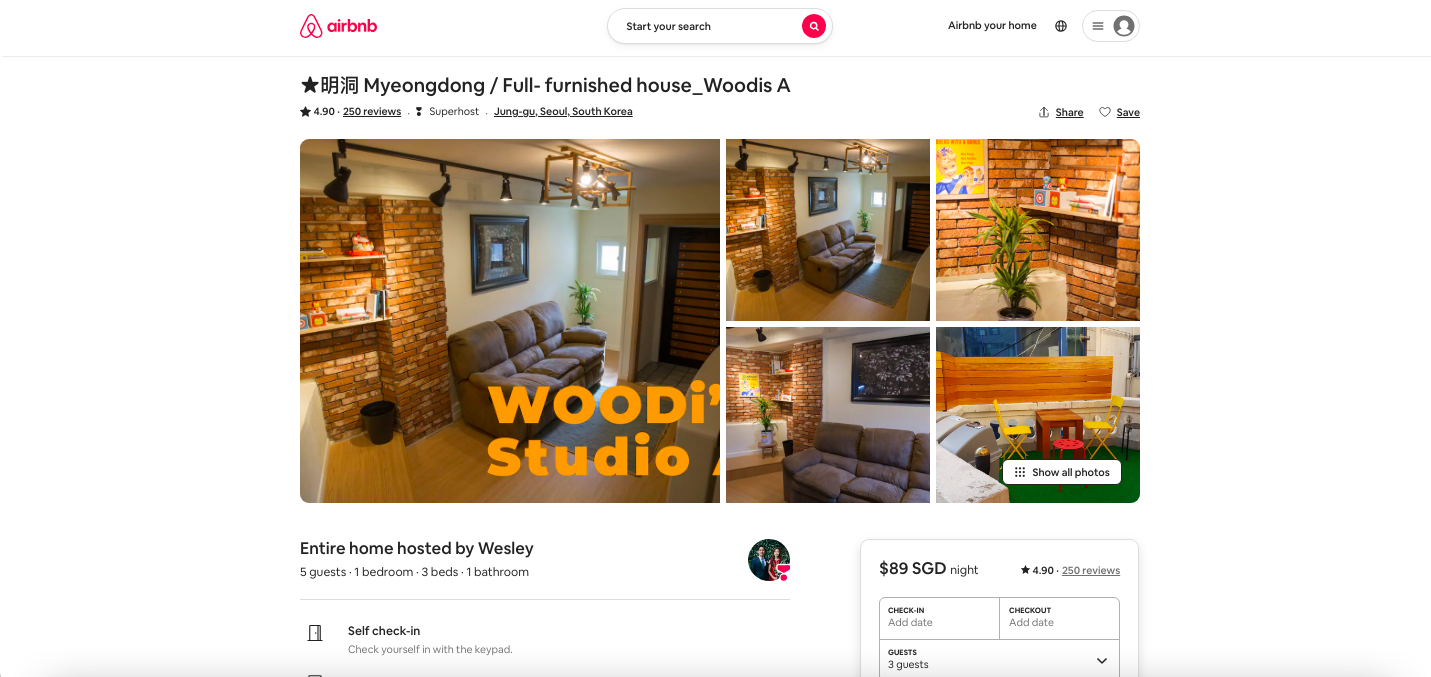 Price: $89/night (for 3 persons)
Nestled in the heart of bustling Myeong-dong lies this one-bedroom home, just steps from the subway and the neighborhood's countless shops and restaurants.
The open layout gives this abode an airy feel, with a full kitchenette and all the essentials for your stay. The bedroom comes with 3 beds–a double and two single beds, just right for 3 guests. Laundry essentials like detergent and an in-unit washing machine mean you can travel light.
The host who is an ex-hotel manager has thought of everything to make your stay easy and enjoyable.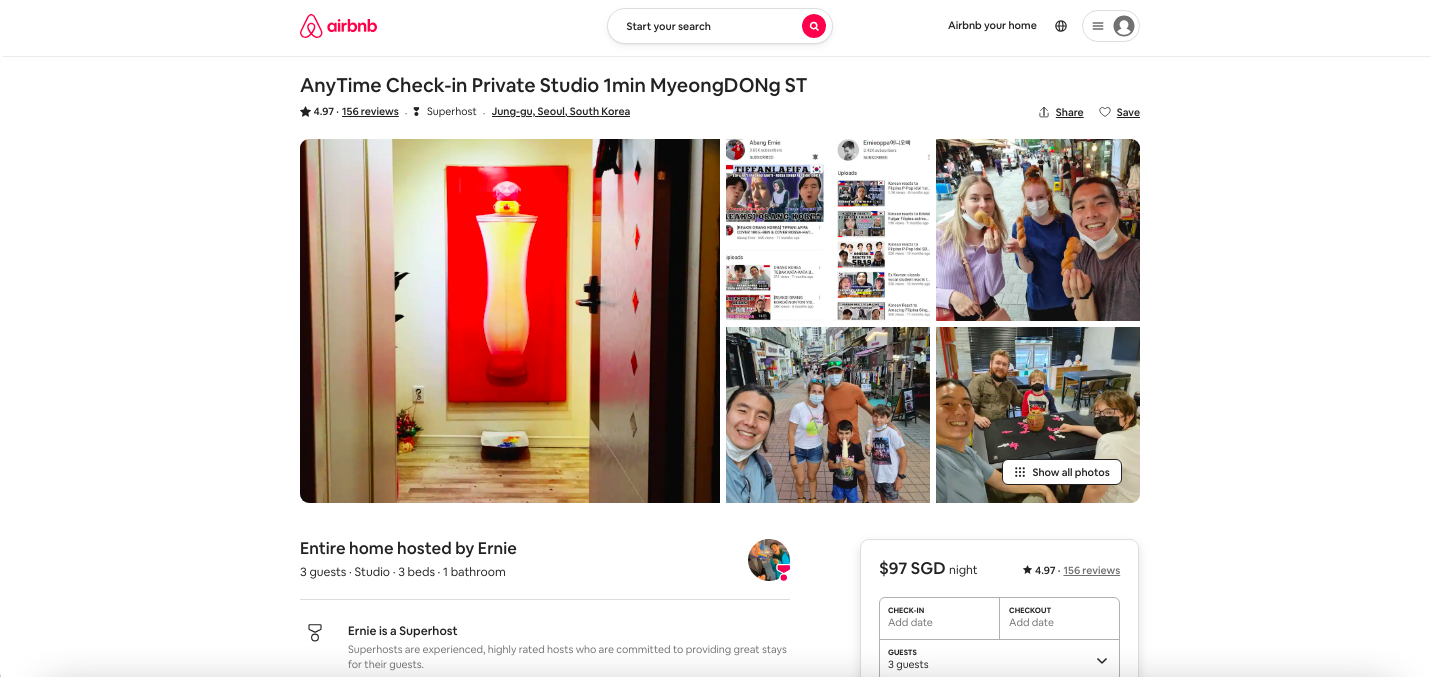 Price: $97/night
Last but not least, we have this cozy studio home perfect for up to three guests just steps from Myeong-dong Station.
Behind the private front door awaits comfort, from the three single beds to the kitchenette stocked with essentials and a full bathroom. Your Airbnb host lives on the ground floor and will be available to assist with anything necessary to make your Seoul stay a breeze.
Located in the city's heart, you will be just minutes from the shopping, dining, and nightlife that draws tourists to Myeong-dong. But once back "home," snuggle up in the comfort of this studio sanctuary—your home base for exploring everything this city has to offer.
These three accommodations in and around Myeong-dong provide excellent value for your money, ensuring a pleasant and wallet-friendly stay. Book your accommodation today if you want to be guaranteed a spot when it's time for you to check-in. Have a lovely time to come!