Experience a getaway to Malacca, Malaysia, without breaking the bank!
This post is your ultimate guide to the top accommodations with breathtaking views, all available for under $70/night.
We've curated a list of budget-friendly options that don't compromise on the view so stay on this page and discover where you can wake up to awe-inspiring Malaysian vistas.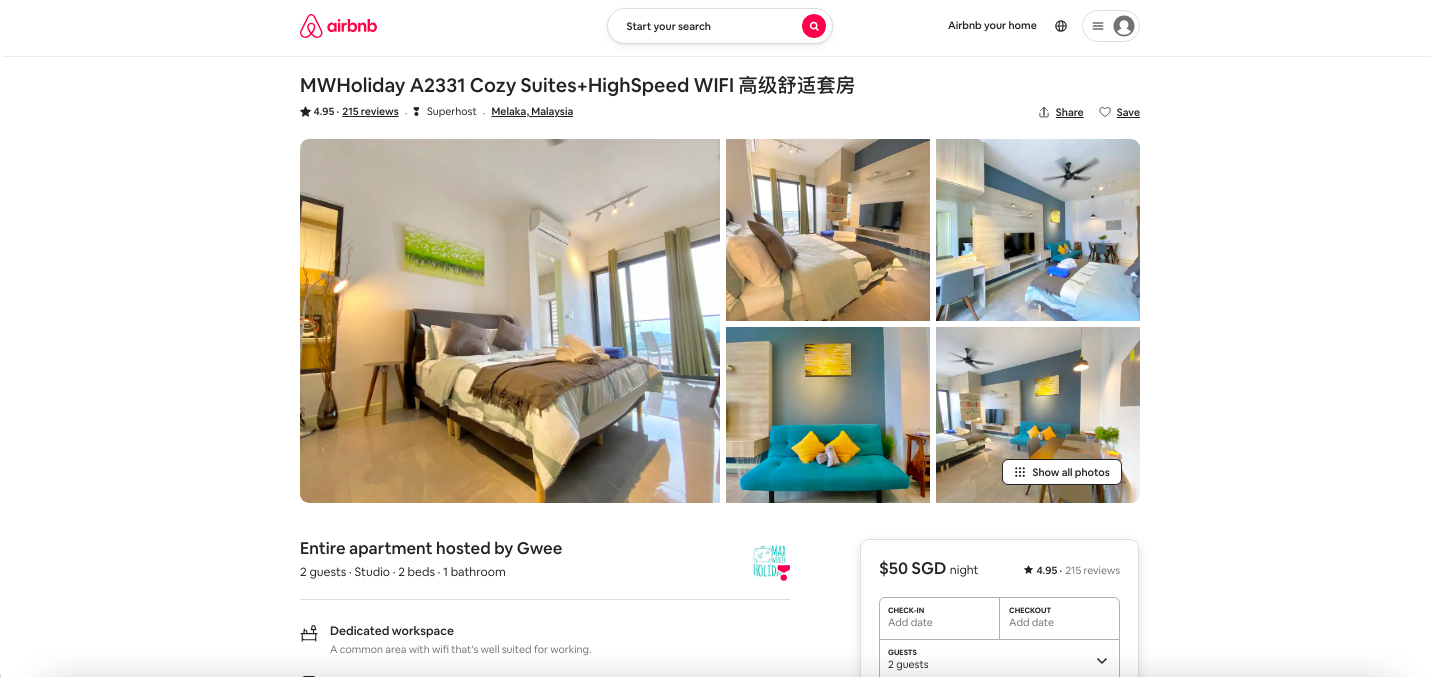 Price: $50/night
Escape to your own oasis in this cozy 450 sqft studio suite that comes with a balcony and sweeping city views.
Perfect for two, this intimate space features an open-concept kitchen and living area, as well as a separate shower and soaking tub in the bathroom for relaxing after a long day exploring the city streets.
Nestled within a condominium, this suite offers a perfect blend of homey comforts and upscale amenities. When you're not out and about exploring, take advantage of the building's gym, swimming pool, and facilities.
Whether you're in town for business or pleasure, this studio sanctuary in the heart of the city provides a stylish place to lay your head at night and recharge for the days ahead. Come discover your new pied-à-terre in the heart of the action.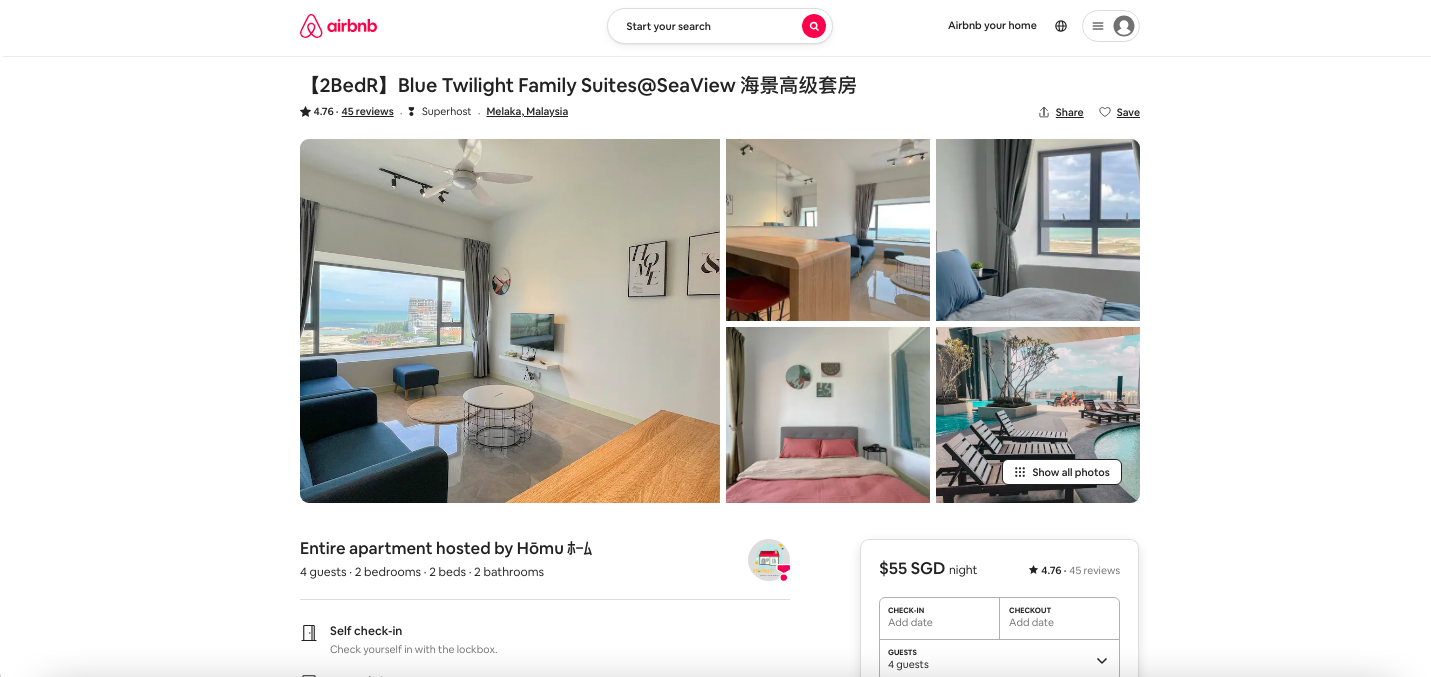 Price: $55/night
This minimalist apartment proves that less (deco) is more. At 876 sqft, its two bedrooms and two bathrooms are designed for maximum zen. Clean lines, neutral colors, and clutter-free decor create a sense of calm and spaciousness.
The equipped kitchenette and plush seating area with a smart TV are great for relaxing or entertainment while wide windows in the living room maximize the panoramic sea views. When it's time to unwind, the beds guarantee a restful night's slumber.
For families seeking a retreat in the heart of the city, this neat-looking apartment is a sanctuary that has everything you need and nothing you don't. Late check-outs are available for a fee, so you can make the most of your vacation time.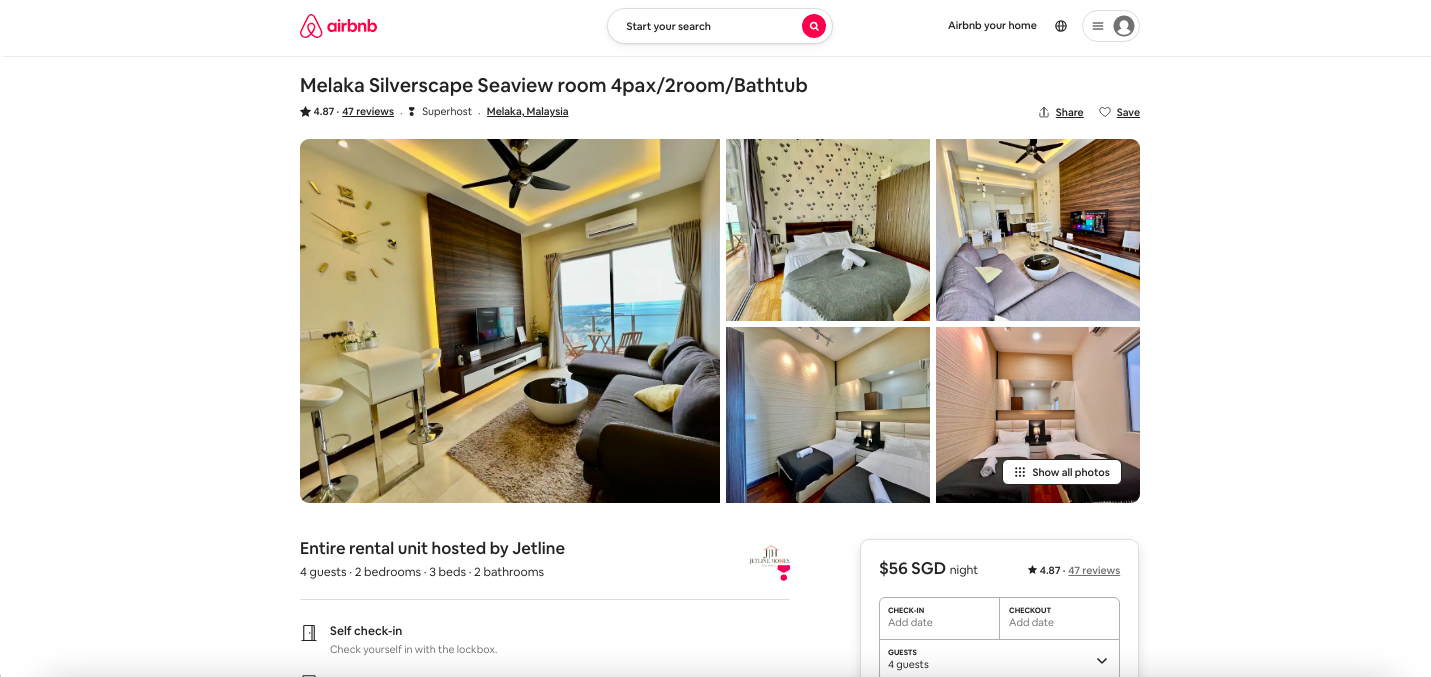 Price: $56/night
This two-bedroom apartment is a city escape for sea-view seekers. Wake up to panoramic views of the ocean from the king bedroom's balcony or the living room with a cup of tea or coffee.
Two full bathrooms mean no waiting in line to wash up at any point in time. An open-concept living area is ideal for lounging around, and a kitchenette with a fridge and microwave lets you snack in between the hours.
Free parking is included for one vehicle.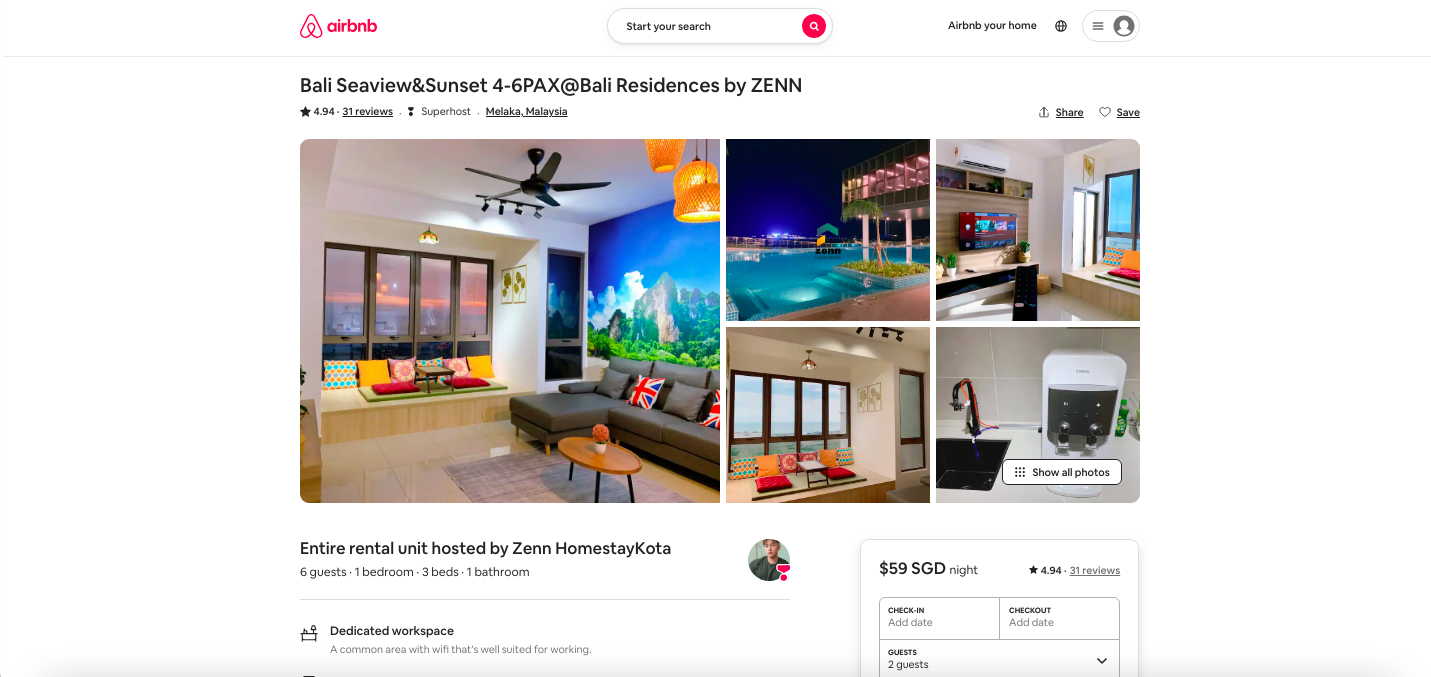 Price: $59/night
Escape the mundane every day at this seaside unit in Malacca. Part of the family-friendly Bali Residences, this roomy retreat offers views of the Straits of Malacca and vivid sunsets that will take your breath away.
The living room is the ultimate spot to soak in the scenery, while the simple kitchenette provides a place to prepare snacks and warm-up meals. Two beds in the bedroom and available floor mattresses mean you can travel with extended family or friends.
Little ones will love making a splash at the on-site water park, a superb way to beat the heat after exploring the shops at Jonker Walk. At the end of a long day soaking in the city's rich culture, pull up a chair, pour a drink, and watch the sun slip into the sea. This is what vacations are made of.
Price: $66/night
Get ready to live it up in this sprawling 3-bed, 2-bath vacation house for just $66 a night!
This high-floor stunner in Atlantis Residences offers jaw-dropping city vistas from nearly every room. With space for up to 10 guests, it's suitable for families, friend groups, and even bachelor and bachelorette parties looking to save big without sacrificing luxury (editor's note: to host events, do enquire with the host in advance first).
When you're not gazing out at the skyline, rack up a game on the full-size pool table, whip up a meal in the kitchenette, or just lounge by the spa room. At this rate, you might never want to leave. But if adventure calls, you're just minutes from the nearby shopping and famous places.
For the budget-savvy traveler seeking a memorable getaway, it doesn't get better than this place.
And there you have it, folks: incredible accommodations in Malacca, all with stunning views and all for under $70/night. These hidden gems prove that you don't have to splurge to enjoy a space with a view. Whether you're looking to shop and eat till you drop or simply stay indoors and take in the beauty of the Malacca Strait, these options offer something for every kind of traveler. So, the next time you plan a trip to Malaysia's historic city, remember this list and have a lovely stay in Malacca while you're there!