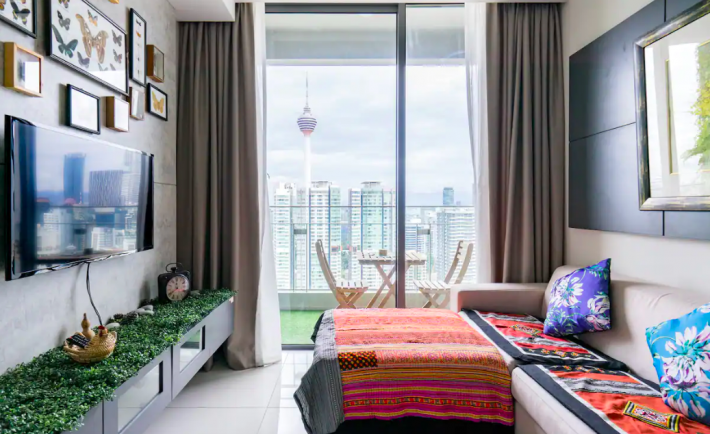 Your Hari Raya Haji getaway with these spectacular Airbnb finds in KL, Malaysia is ready for viewing.
Featuring breathtaking views of the city's skyline, these 5 affordable Airbnbs, starting from just $44/night, promise an unforgettable staycation experience.
So, gather your buddies and loved ones, pack your bags, and prepare to immerse yourself in the atmosphere (and foods, heh) of KL while enjoying the comforts of your home away from home during this upcoming public holiday.
Prices reflected are based on dates selected from 29 June to 2 July 2023.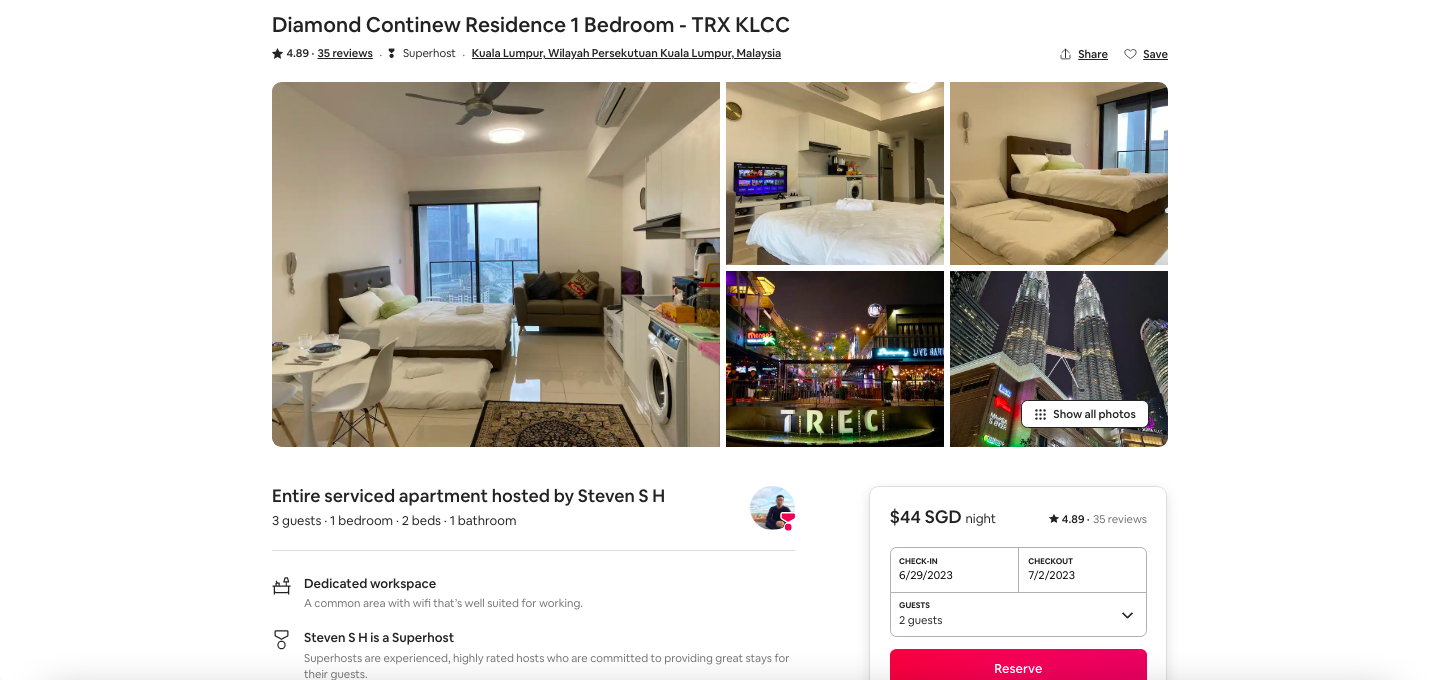 Price: $44/night
To start us off, here's a fuss-free sanctuary in the heart of KL, perfect for your Hari Raya Haji getaway. This home, designed for 3 adults or 2 adults and 1 child, offers brand-new furnishings and modern amenities, including reliable wifi, a TV with the latest entertainment options, and an equipped kitchen. Enjoy round-the-clock customer service, ensuring a seamless staycation experience. Whether you're a couple or a small family seeking a city-view escape, this inviting place promises a memorable retreat enveloped in convenience.
Price: $55/night
Experience unparalleled comfort at this premium serviced apartment, nestled in the vibrant heart of KL's Pudu. The apartment is within proximity to iconic attractions such as Sunway Velocity Shopping Mall, KLCC, Pavilion Shopping Mall, and KL Tower. Revel in picturesque KL city vistas from the balcony of this fully air-conditioned apartment. This home is perfect for your short stay and is outfitted with essentials, including quality bedding, linens, kitchenware, toiletries, and cleaning supplies. Enjoy peace of mind with a robust security system and round-the-clock surveillance, ensuring a safe retreat during the upcoming holiday.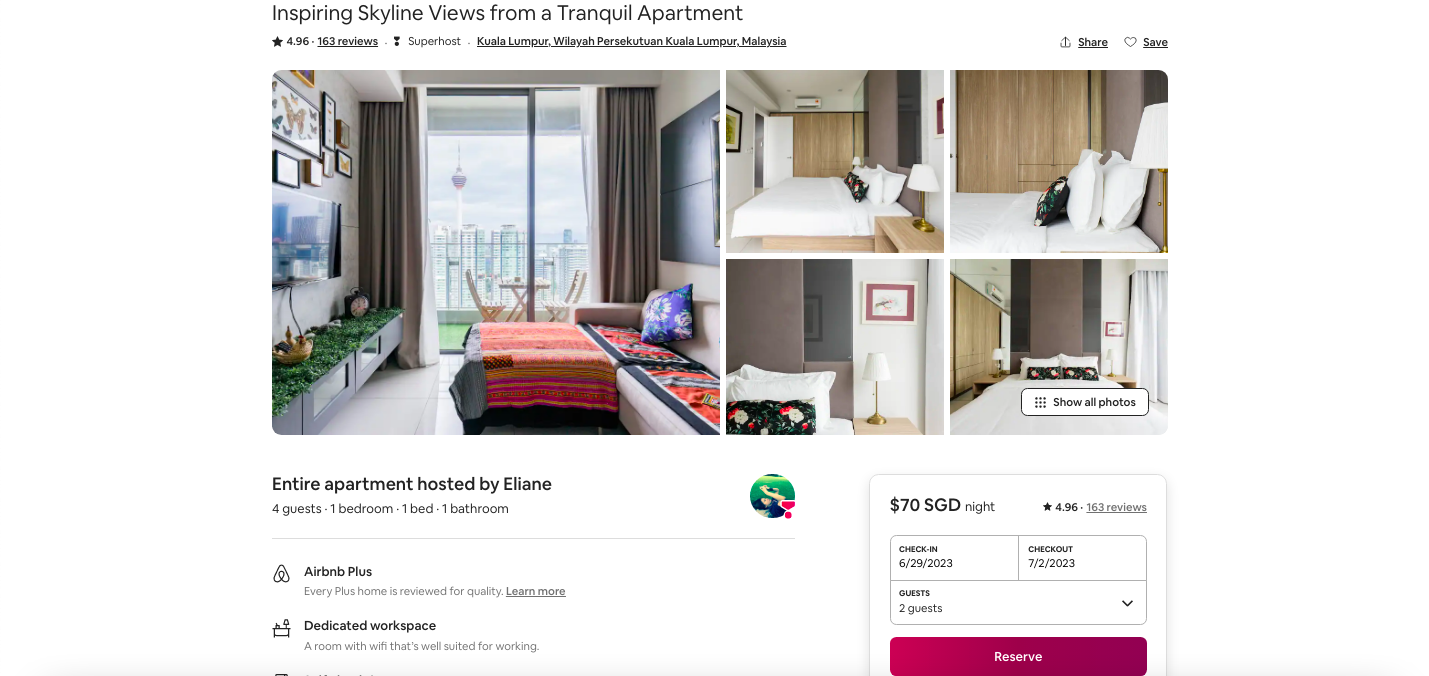 Price: $70/night
Unwind in this chic 1-bedroom sky suite, boasting awe-inspiring KL city skyline views from its charming balcony and featuring an en suite bathroom. Savor a warm cup of coffee on the plush sofa, indulge in a Netflix night, or explore nearby culinary delights at Jalan Alor and shopping attractions such as Chinatown, Bukit Bintang, Pavillion, and KLCC. This premium abode accommodates up to 4 guests, blending style and comfort with a spacious living room, modern bathroom, and kitchen area. Wind down with a mesmerizing sunset from the infinity pool, set against the historical backdrop of St. Anthony's Church.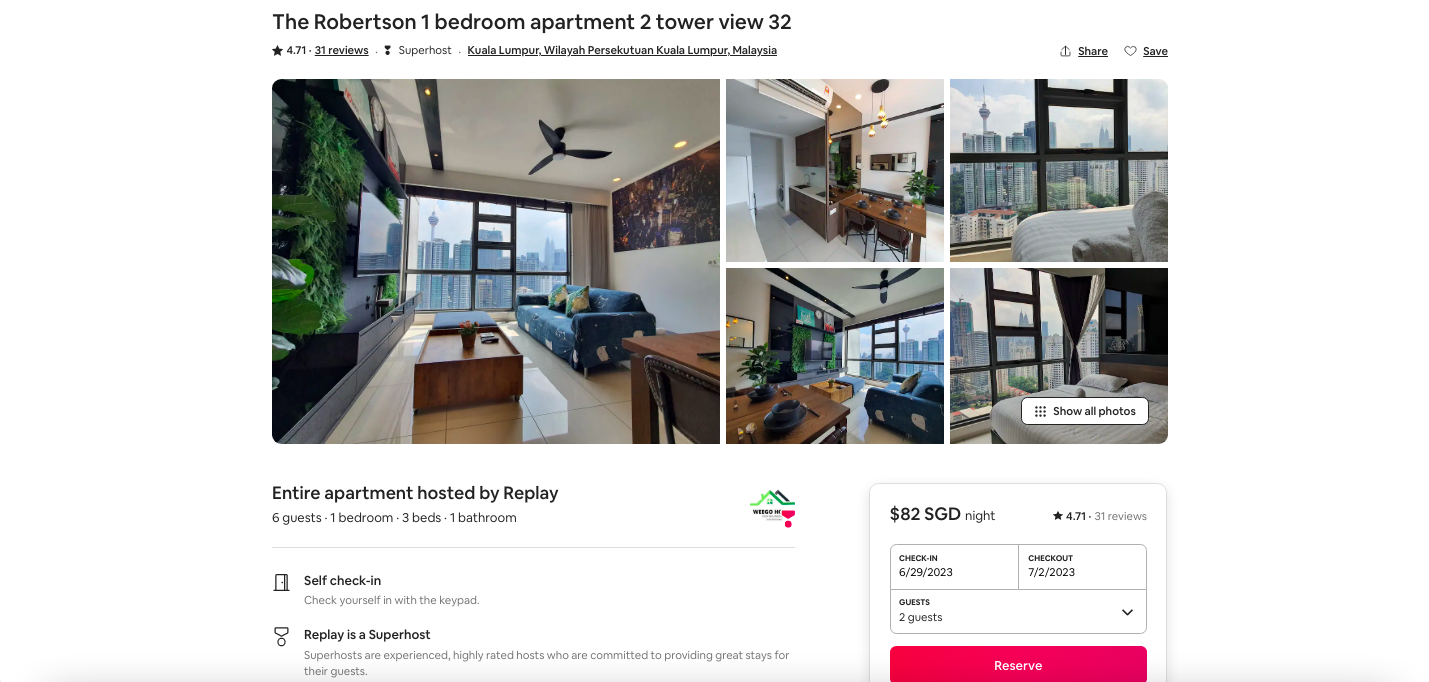 Price: $82/night
Experience the epitome of urban living with The Robertson Bukit Bintang, a remarkable serviced suite nestled right at the core of KL. Positioned within the renowned Golden Triangle, this accommodation offers a prime location that puts you within reach of an array of attractions. Immerse yourself in the pulsating energy of the city as you find yourself surrounded by a myriad of shopping malls and tourist hotspots, all within a convenient 10-minute radius.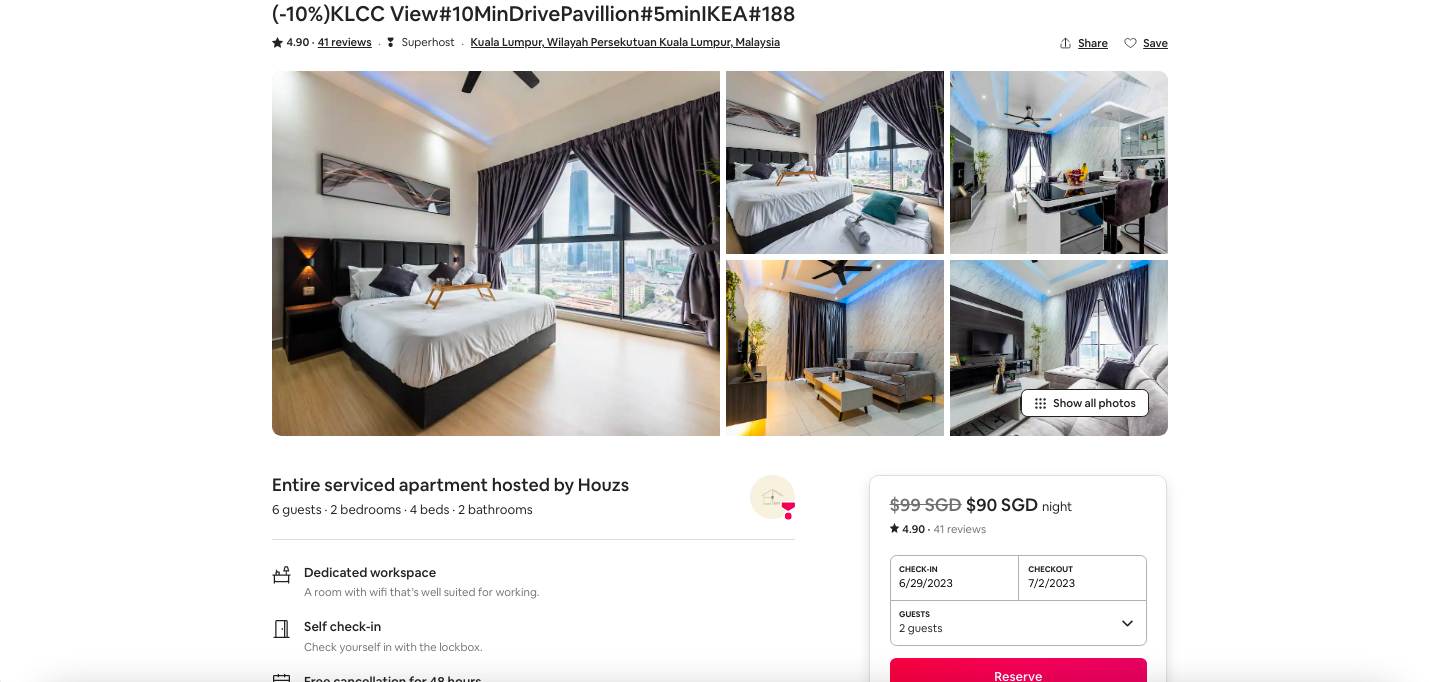 Price: $90/night
This is the ultimate staycation you've been longing for, where relaxation meets breathtaking vistas, in the idyllic setting of KL. Indulge in the epitome of luxury as you lepak in the rooftop infinity pool, surrounded by the panorama of the cityscape. This suite caters to those seeking a retreat paired with the warmth of a cozy home. Whether you're a duo in search of a getaway, a group of friends craving an unforgettable adventure, or a family yearning for quality time together, this sanctuary caters to all. Enjoy unrestricted access to the shared facilities, available from 7 am to 10 pm daily (some spaces may require prior booking).
And that's all from me. Your Hari Raya Haji getaway awaits with these magnificent Airbnbs offering gorgeous views in KL at less than $100/night. Immerse yourself in the lively cityscape, bask in the opulence of each homely abode, and create unforgettable moments that will linger in your heart long after you've checked out on 2 July. Chope your accommodation early before it gets sold out!