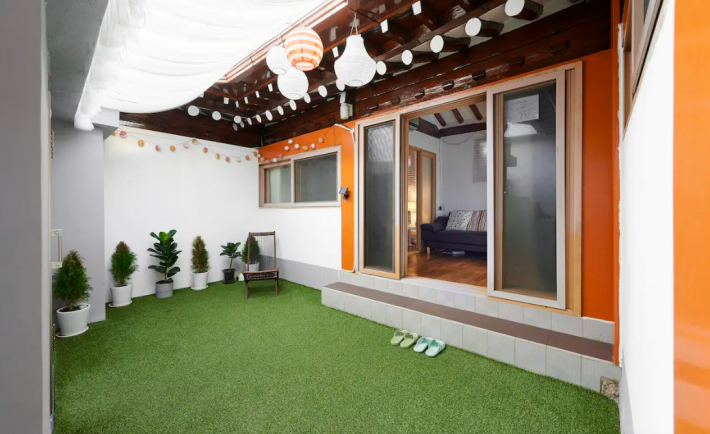 Want a travel experience where tradition meets comfort? Then join us as we guide you through a selection of hanok houses in Seoul, South Korea, that are pretty affordable.
These architectural gems, steeped in history, offer a unique blend of age-old Korean culture and modern amenities, delivering an unparalleled stay experience.
From their quaint tiled roofs to their warming ondol floors, these hanoks under $205/night are not just accommodations, but a journey into the heart of Korea's heritage.
Let's roll with the list!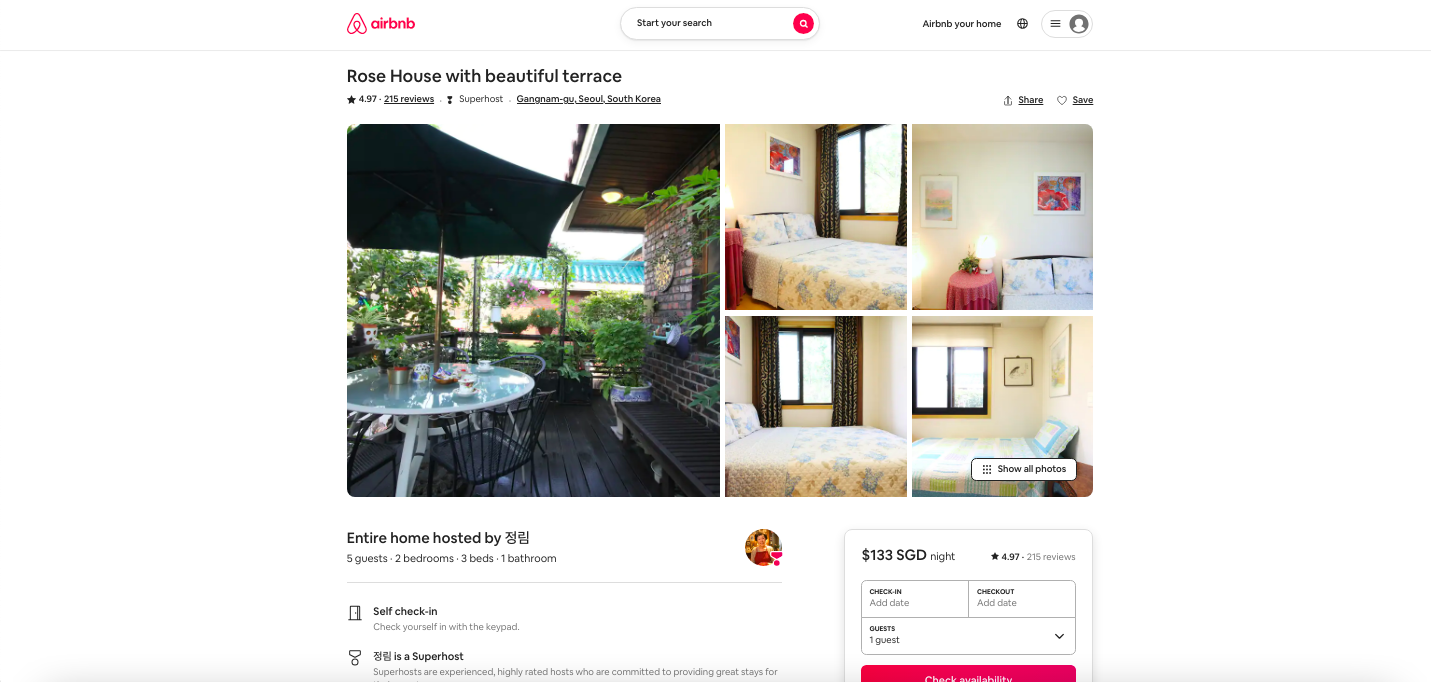 Price: $133/night
This tranquil retreat offers easy access to Seoul's central area, with the nearest train station, Daechong Station, just 10 minutes away.
If you book a stay here, you will enjoy exclusive use of the entire second floor, accessible via a separate entrance, ensuring utmost privacy. This space features two bedrooms, a living room for you to unwind in, and a spacious terrace that offers fresh air. A bathroom equipped with a bathtub offers the ideal space for a soothing soak or bubble bath after a long day out exploring.
To sweeten your stay, the host also provides a complimentary breakfast for the first 5 days. This isn't just a place to rest your head, it's a doorway into the soul of Seoul. Embrace a unique blend of tradition and modernity in one of the city's most sought-after districts, in Gangnam style 😉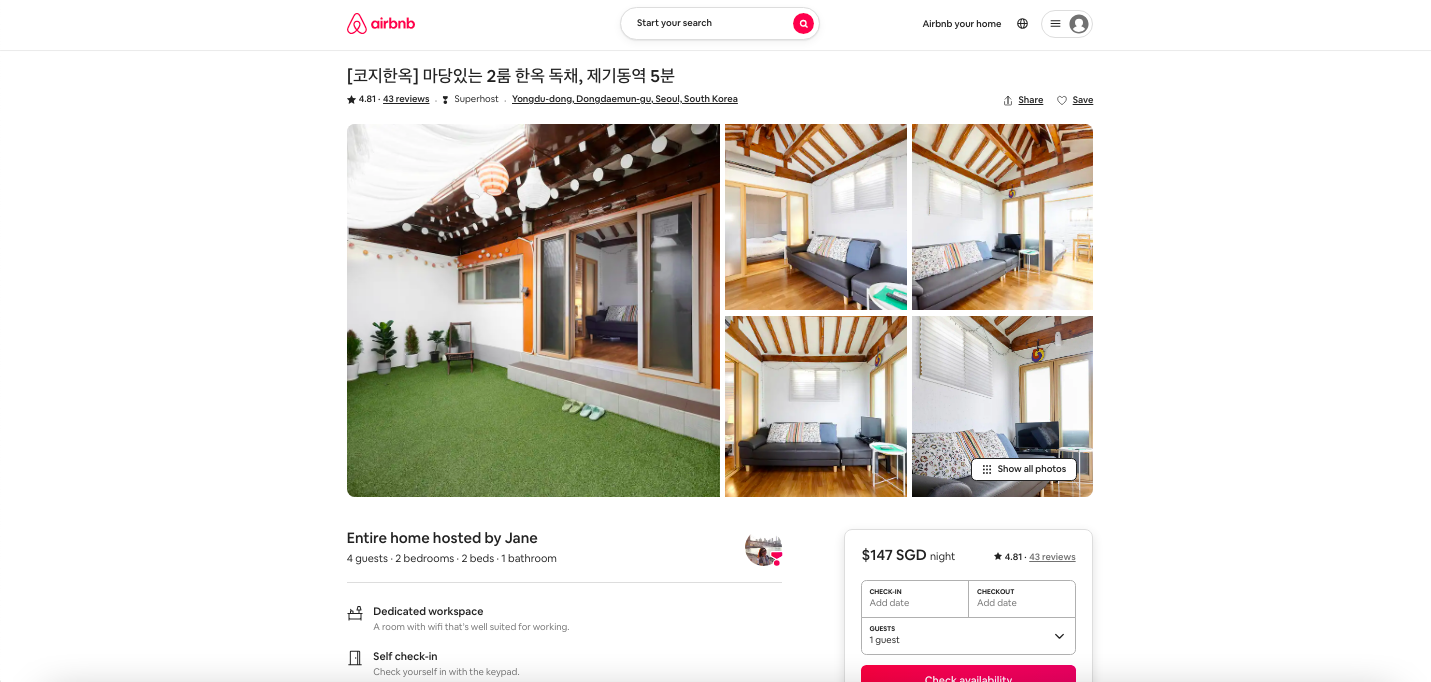 Price: $147/night
Delve into a blend of tradition and modernity at Koji Hanok, a beautifully remodeled private house complete with a welcoming yard. While this accommodation retains its historical charm, it has been renovated to meet contemporary standards.
You get two bedrooms, a comfortable living room, a modern kitchen, and a practical bathroom. The house, despite its age, is well-equipped with a floor heating system, ensuring warmth even on the chilliest days of winter. The kitchen, fitted with modern appliances, allows for simple cooking, offering you the opportunity to whip up a quick snack or meal when you need it.
Experience the essence of Seoul at Koji Hanok, where your stay is a rare encounter with Korean culture.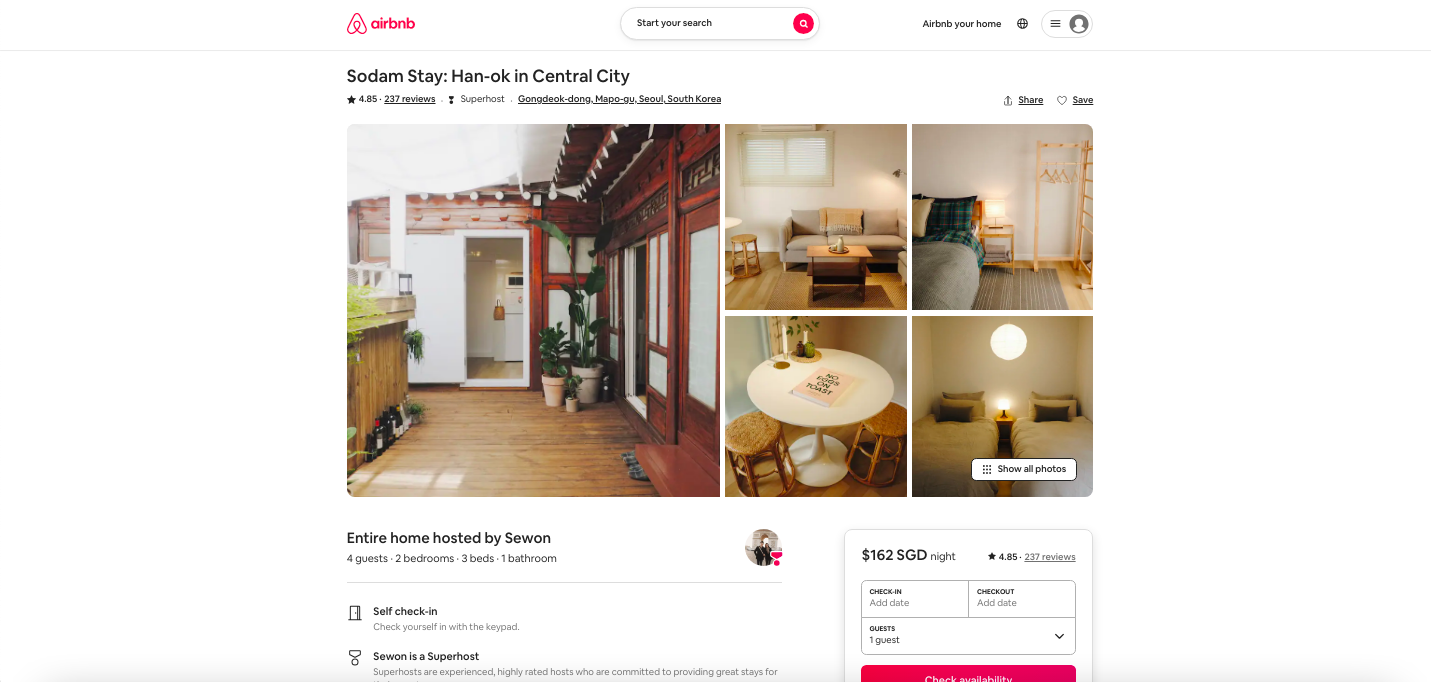 Price: $162/night
Sodam Stay is a delightful hanok tucked away in the residential area of Gongdeok-dong. It's a hideaway, strategically positioned and a testament to the timeless allure of traditional Korean architecture.
Start your day basking in the golden sun rays as they dance across the quaint yard, or enjoy the rhythmic patter of the rain from the comfort of your hanok on a rainy day. Sodam Stay is your perfect retreat for a serene and rejuvenating stay.
The hanok features two bedrooms, giving you the choice between a double bed or two single beds, catering to your travel squad and preferences. Indulge in the simplicity of traditional Korean living coupled with modern comforts at Sodam Stay on your next visit to the land of kimchi.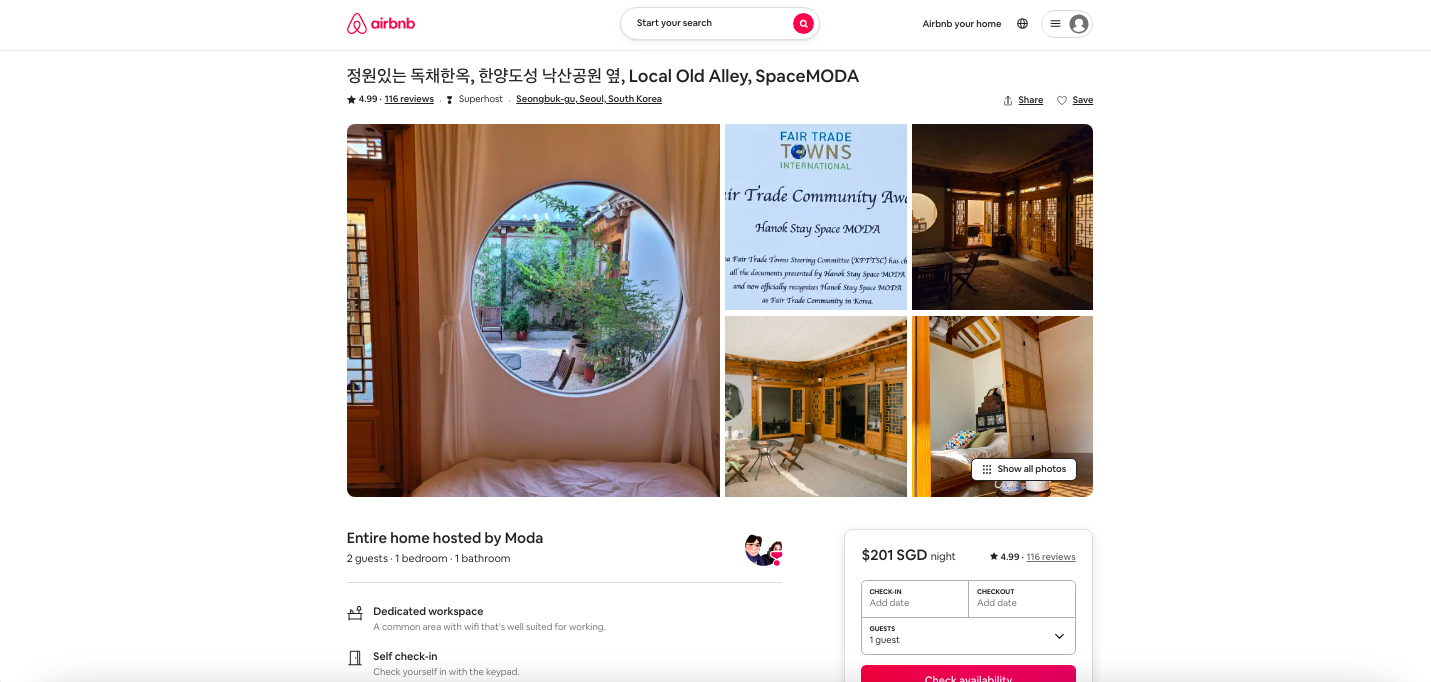 Price: $201/night
Nestled in the heart of an old neighborhood that blossomed in 1936, Space MODA is a petite yet private hanok house exuding charisma.
As a testament to its heritage, this standalone hanok has been tastefully refurbished over time, blending the old with the new for an amazing stay experience.
Accommodating two guests, this property boasts a small garden, providing a serene sanctuary amidst the bustling city. The bedroom features classic Korean bedding for an authentic feel.
While the kitchen is well-appointed, full-scale cooking is not permitted. However, you are welcome to whip up a quick toast or brew a warm cup of coffee or tea.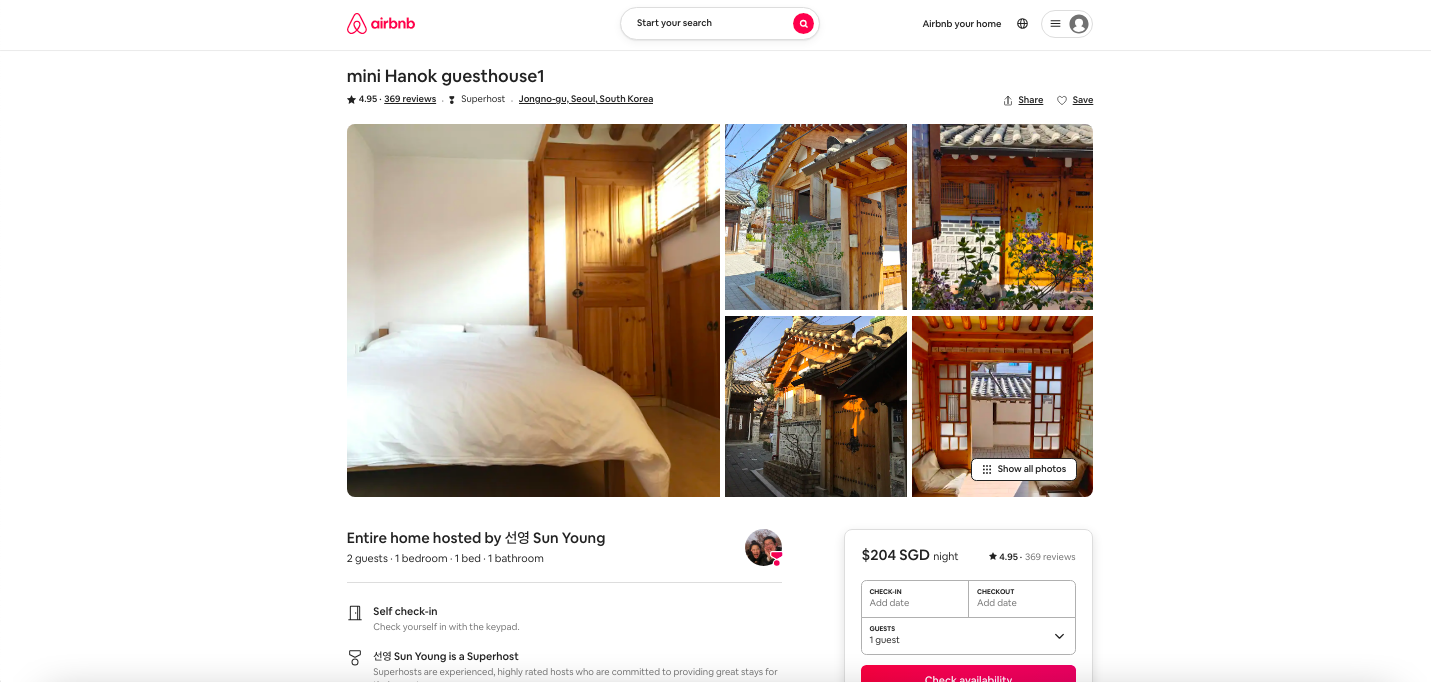 Price: $204/night
This mini hanok is a modernized treasure that brings the 1920s back to life, located within the captivating lanes of Bukchon Gedong Road.
This unique property, one of the few in Bukchon that retains its original wooden structure from the 1920s, has been thoughtfully remodeled to exude a contemporary flair while still honoring its history.
Stepping into the home, you will be welcomed by an interior adorned minimalist-style, creating a harmonious blend of the past and present. This Airbnb space has been designed with relaxation in mind, right in a residential area, so it will sit very well for folks looking for a quiet stay.
These hanok houses, each under $205/night, offer an opportunity to immerse in Seoul's rich history and culture without breaking the bank. Each place combines the charm of traditional Korean architecture with the comforts of modern living, ensuring a stay like no other. Whether you want to soak in the morning sun in a tranquil yard or listen to the rain pitter-patter on traditional roof tiles, secure your stay today, and get ready to step into an abode where the past and present coexist in harmony.