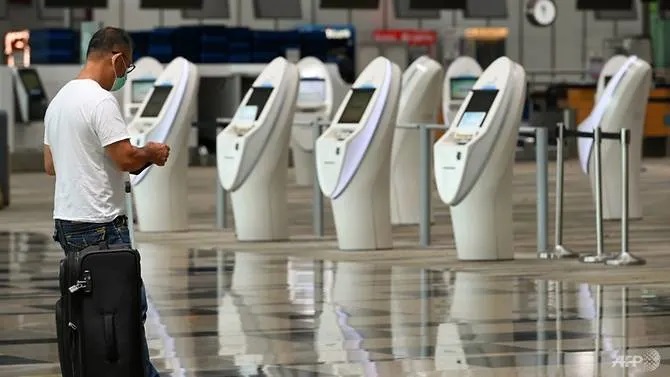 Image Credits: AFP/Roslan Rahman
The Ministry of Health (MOH) announced on Wednesday (Sep 23) that Singapore will trial a new business travel pass for senior executives with regional or international responsibilities. The pass is specifically for senior executives who need to travel regularly for official and business purposes.
Here's what you need to know about the new business travel pass.
#1: It's not open for applications
As it's still in its pilot phase, applications are not open. Senior executives who meet the criteria set by the government and economic agencies will be given the green light.
#2: Individuals must comply with the rules
The chosen ones must follow strict public health safeguards set by the authorities.
They will keep to a controlled itinerary. Speaking of which, individuals will have to submit an itinerary of their meetings and activities, including a list of places they will visit and information on the people they will be interacting with.
#3: The travel pass does not replace any international restrictions
Though these travel pass holders are able to travel to a range of countries, they must stick to the measures set by the countries they are visiting. Reciprocal bilateral green lane conditions would also apply.
Singapore currently has cross-border travel arrangements with China, Malaysia, Brunei, Japan, and South Korea. Discussions on a reciprocal green lane with Indonesia is on its way.
#4: A health declaration to be completed
Before their return to Singapore, these business travellers must fill in a health declaration form to pledge that they are symptoms-free and have not come into close contact with any COVID-19 patients.
#5: Undergo a polymerase chain reaction (PCR) test upon arrival
Upon arriving in Singapore, individuals must take a PCR test in lieu of serving a stay-home notice. Until the test results are out, they must self-isolate from the public.
#6: Avoid all forms of public transport within 14 days of return
According to GoBusiness, these senior executives should avoid all forms of public transport within 14 days of their return. In addition to that, they must use TraceTogether. Those who do not keep to the rules will have their travel pass cancelled.
#7: Authorities will consider expanding the scheme
While there is no fixed timeline for the business travel pass pilot scheme at the moment, the authorities will consider expanding the scheme should the pilot prove to be successful.
With that said, GoBusiness states that public health remains a priority. Before any further plans can be made, the relevant parties will carefully monitor this pilot program.