Stretch your grocery expenses at FairPrice with these super shiok deals that are 50% off and more! There are green tea, coconut, wines, noodles, ferrero rocher and more at unbelievable prices! Read on for the insider news we got on where to get these good lobangs!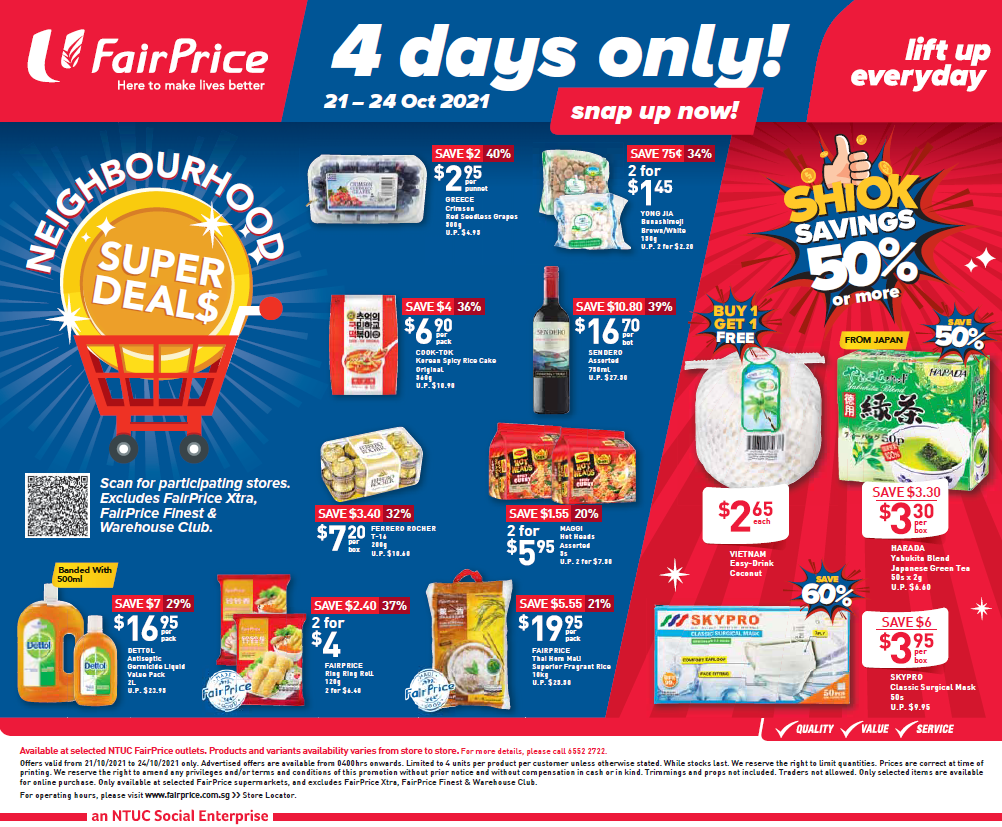 So tip number one: In case you are unaware, FairPrice Supermarkets has been offering 4-Day Only Neighbourhood Value Deals weekly every Thursday to Sunday at 111 selected FairPrice stores. Around 7- 9 items are on additional discounts and thousands of shoppers have enjoyed great savings and you cannot miss out!
Here is the 101:
There are 3 types of FairPrice stores for your grocery shopping – there is FairPrice Supermarkets, FairPrice Xtra and FairPrice Finest. The 4-Days Only Neighbourhood Value are only available at FairPrice Supermarkets and not the other 2 types. There are 111 FairPrice Supermarket Stores across Singapore so there is bound to be a store that is located within your vicinity. In case you are not sure if there is a FairPrice Supermarket near you, click on this link. To let you in on an even bigger secret, they JUST launched a SHIOK Savings program, which means that any products under the Shiok Deals promises savings of 50% or more – talk about stretching your dollar, now I can double my dollar!
4-days promo is too short ? We know you can't get enough of that shiok feeling so here's good news for you. These 16 selected FairPrice Supermarket stores will offer only the shiok deals for another 3 days, every week! If you are staying around the area, don't forget to go for another round of crazy shopping.
16 selected FairPrice Supermarket stores , with only shiok saving items extended for 3 more days!
Bedok North Blk 89, Bedok North  Blk 212, Bedok Reservoir Rd Blk 745, Bukit Batok MRT, Bukit Batok West Blk 166, Clementi Blk 352, Dawson Place Blk 57, Geylang East  Blk 114, Ghim Moh Link Blk 29A, Hillion Mall, Jalan Kayu Blk 447A, Jalan Teck Whye Blk 140, Khatib Blk 849, Marsiling MRT Station, POIZ, Punggol Oasis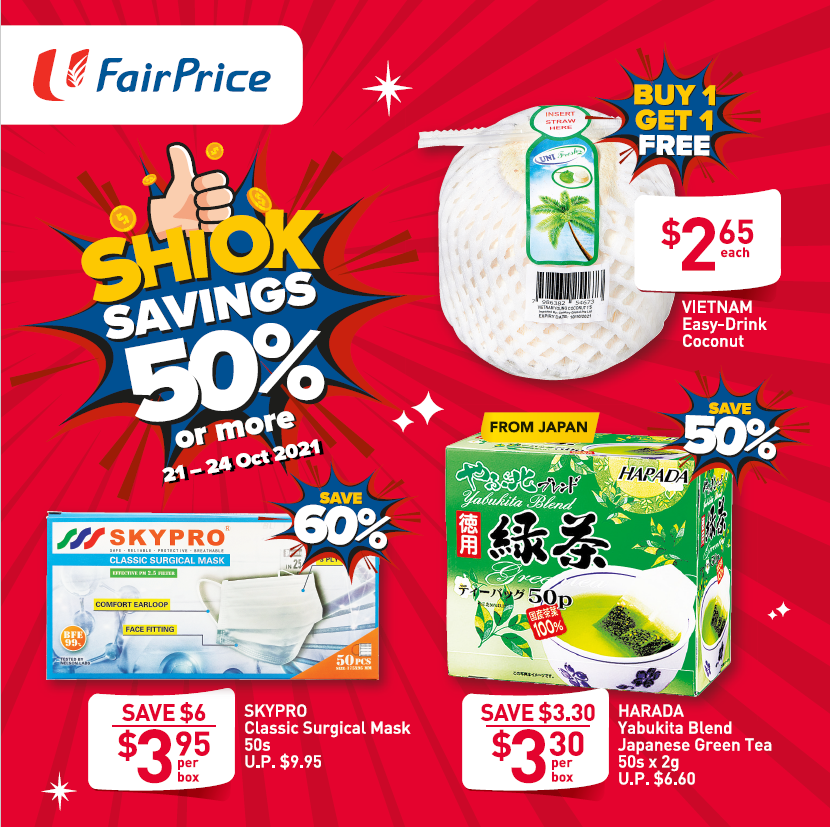 To start the ball rolling, let's check out the first three shiok 50% and more savings items.
1. HARADA Yabukita Blend Japanese Green Tea Bags (50 sachets x 2g) – 50% Savings!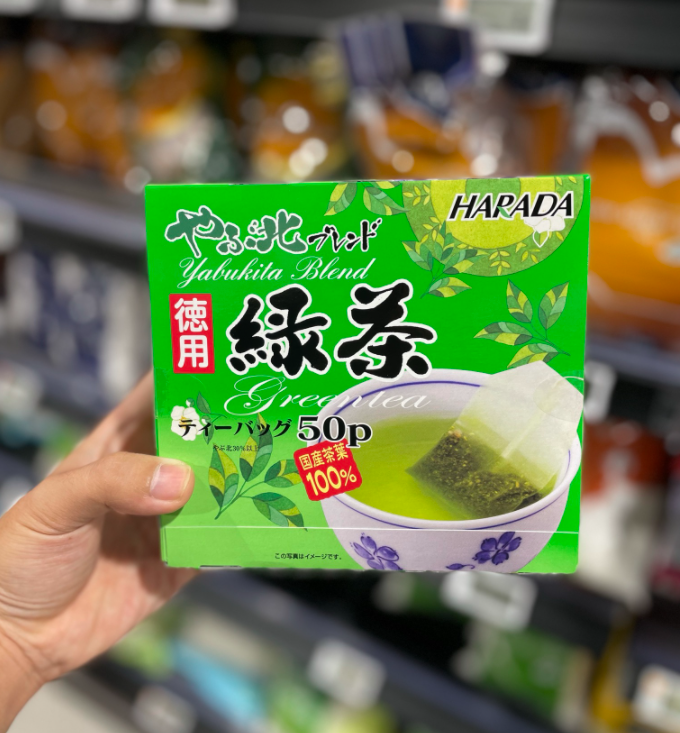 Usual Price: $6.60
Now: $3.30
Savings: $3.30
HARADA is one of the popular green tea brands from Japan and is certainly one of my favourite. Yabukita Blend Green Tea Bags are high quality sencha tea bags made with the perfect balance of 50% Yabukita green tea leaves and 50% domestic (Japan) Tokuyo Ryokucha green tea leaves making it one of the best-tasting green tea around. You rarely see it go on discount so when FairPrice is offering it at 50% off, this is a good opportunity to stock up! As much as we'd want to empty the shelves, each person is only limited to purchase 4 boxes to prevent hoarding.
2. VIETNAM Fresh Coconut (1s) – 50% savings!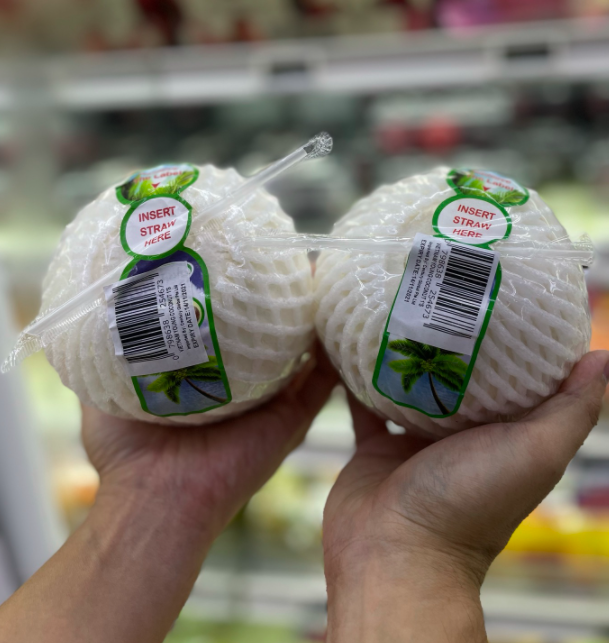 Usual Price: $2.65 each
Now: Buy 1 Get 1 Free
Savings: $2.65
No more queueing for coconut milk shake! When you can get two coconuts for the price of one, it's time to make your own family-supply worth of ice blended coconut milk shake. Simply grab a pint of coconut ice-cream at FairPrice and you are good to go! According to Healthline, coconut is highly nutritious with proteins, minerals, and small amounts of B vitamins and also contains antioxidants. Being a fantastic source of digestion-friendly and satiating fibre, take this chance to add coconut to your diet and beat the ever-hot Singapore heat! Tastes most refreshing when it's chilled.
3. SKYPRO Classic Surgical Mask (50s) – 60% savings!
Usual Price: $9.95
Now: $3.95
Savings: $6.00
Running out of surgical masks? Take advantage of this offer and grab a few packs to stock up at home. Skypro masks, a high quality surgical mask that comes with a BFE(Bacterial Filtration Efficiency) of 99%, now sell for $3.95 (U.P. $9.95) at FairPrice Supermarkets. Each pack of masks comes with a shelf life of 2 years so it can definitely last you a long time!
There are so many incredible deals available right now at FairPrice Supermarkets. For this week's 4-day special deals, we are looking at popular items such as Ferrero Rocher chocolates, Tteokbokki Spicy Rice Cakes, Maggi Instant Noodles, FairPrice Thai Hom Mali Fragrant Rice, Sendero Red Wine and Ring Ring rolls for steamboat!
4. FAIRPRICE Gold Thai Hom Mali Superior Fragrant Rice (10kg)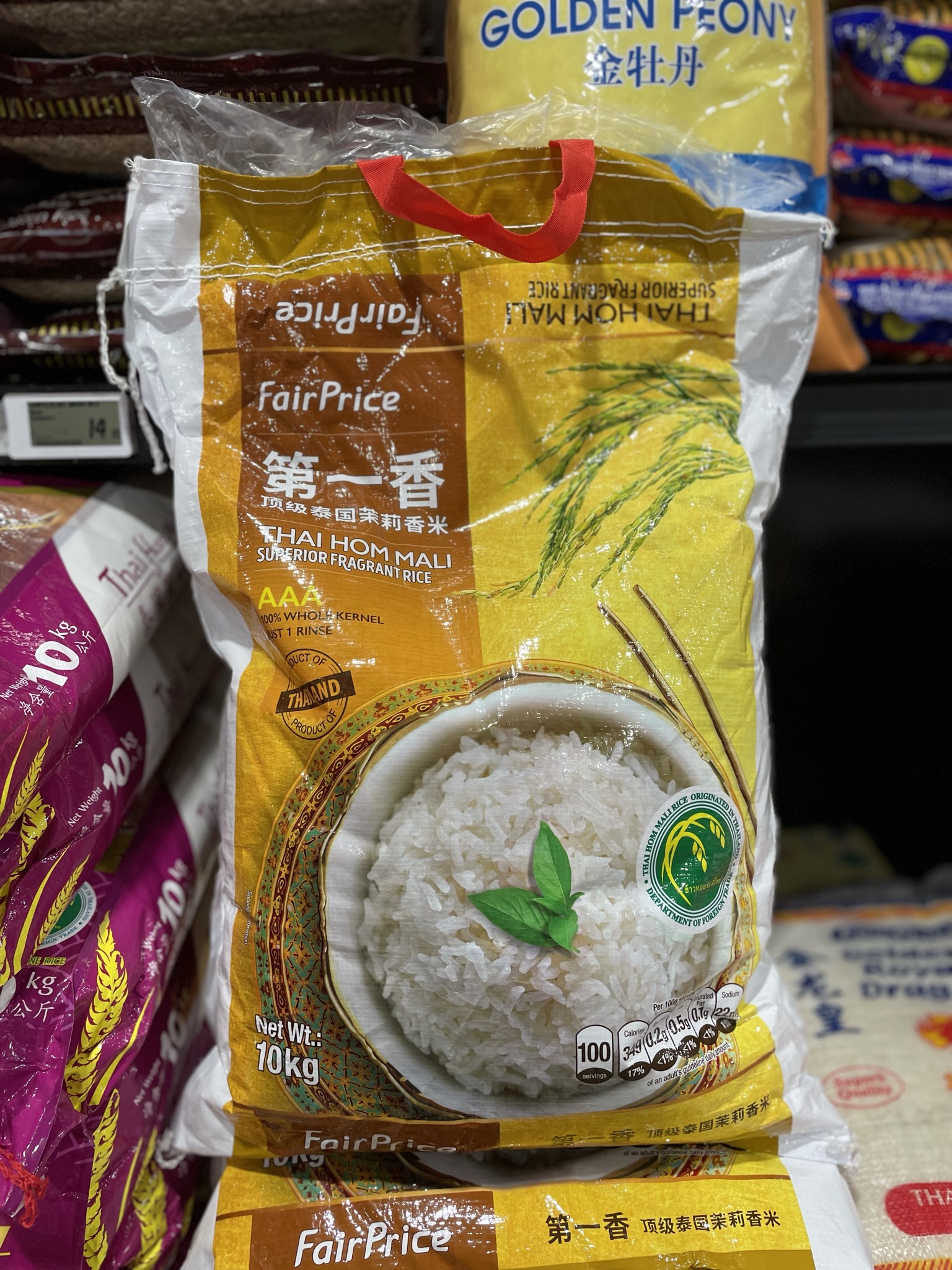 Usual Price: $25.50
Now: $19.95
Savings: $5.55
In-house brand Gold Thai Hom Mali Superior Fragrant Rice is made from 100% whole kernel and the highest grade of long-grain superior rice. It's well-loved for its sweet, fragrant jasmine scent and smooth, silky texture that's oh-so-palatable. Make home-cooked meals better with this choice of rice that has been certified by the Royal Thai Government. Quality assured!
5. DETTOL Antiseptic Germicide Liquid Value Pack B/W (2L + 500ml)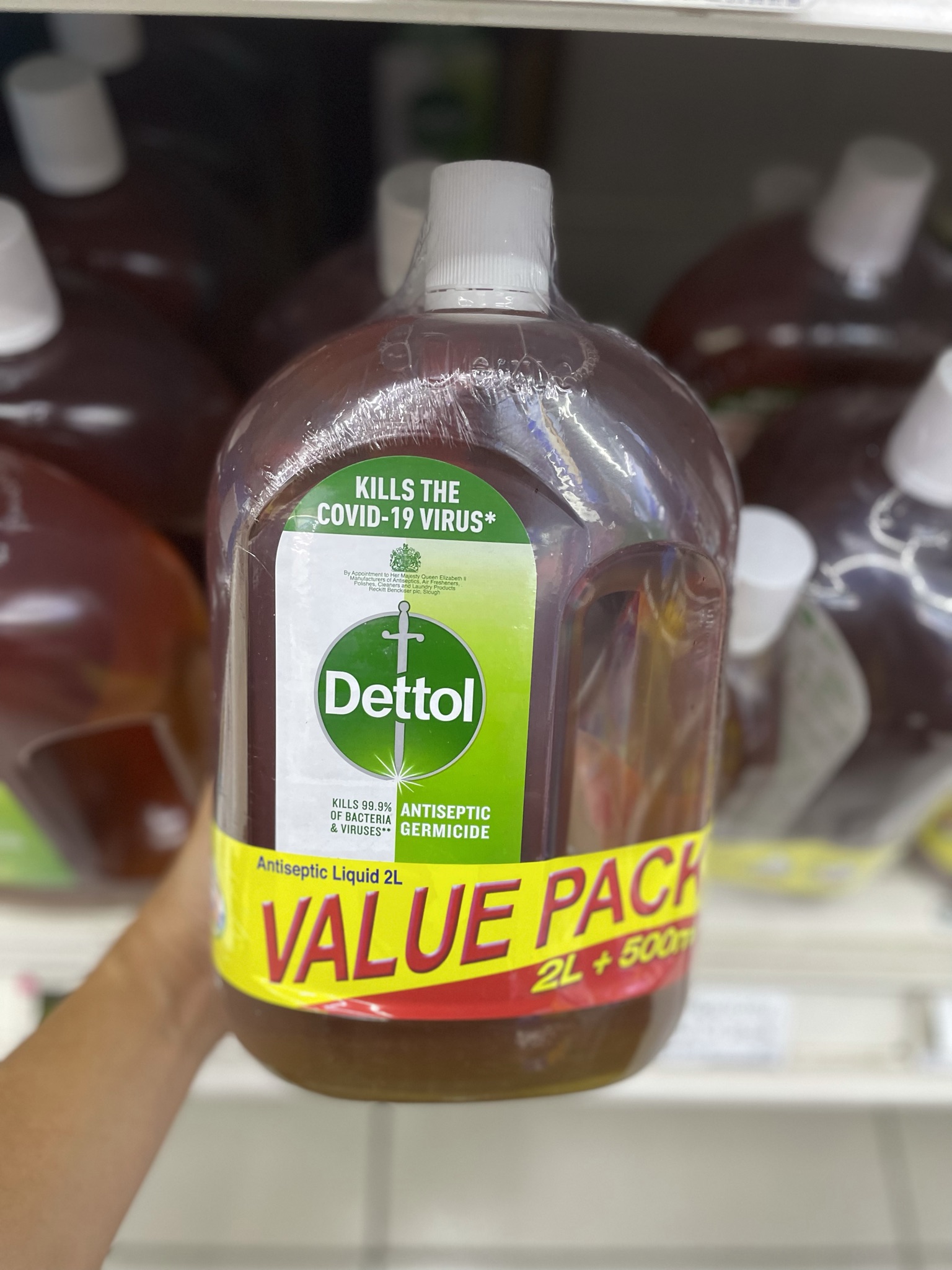 Usual Price: $23.95
Now: $16.95
Savings: $7.00
There are many brands out there that promise antibacterial effects. But DETTOL Antiseptic Germicide Liquid has been proven effective against the COVID-19 virus and kills 99.9% of germs that can lead to severe infections and illnesses. We like how it's versatile and can be used for first aid, personal care, and general household cleaning. You can trust the more than 80-year-old brand to safeguard the health of your loved ones.
6. FERRERO ROCHER Chocolate T16 (200g)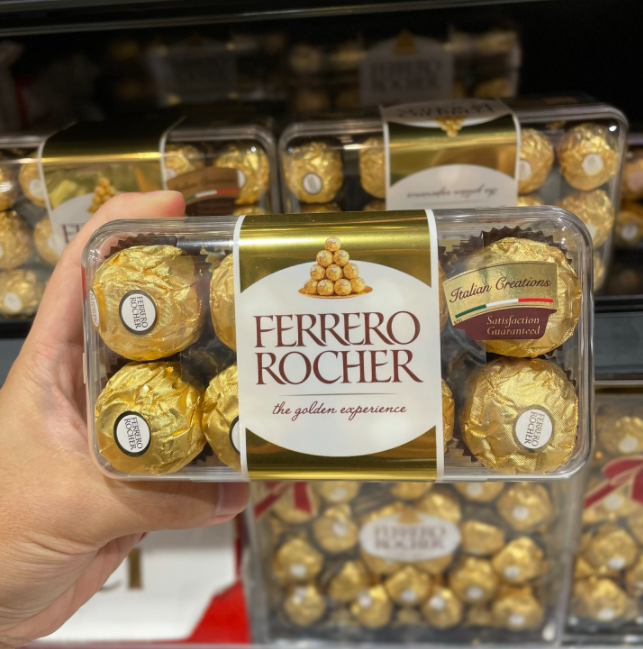 Usual Price: $10.60
Now: $7.20
Savings: $3.40
We love brands that have been around for decades because they have been proven to be well-loved by millions worldwide. Sink your teeth into FERRERO ROCHER's contrasting layers – a whole crunchy hazelnut in the heart, a delicious creamy hazelnut filling, and a crisp wafer shell covered with chocolate and gently roasted pieces. Buy it to indulge yourself with some quality, affordable chocolates or gift and share it with your kakis.
7. COOK-TOK Tteokbokki Spicy Rice Cakes – Original (560g)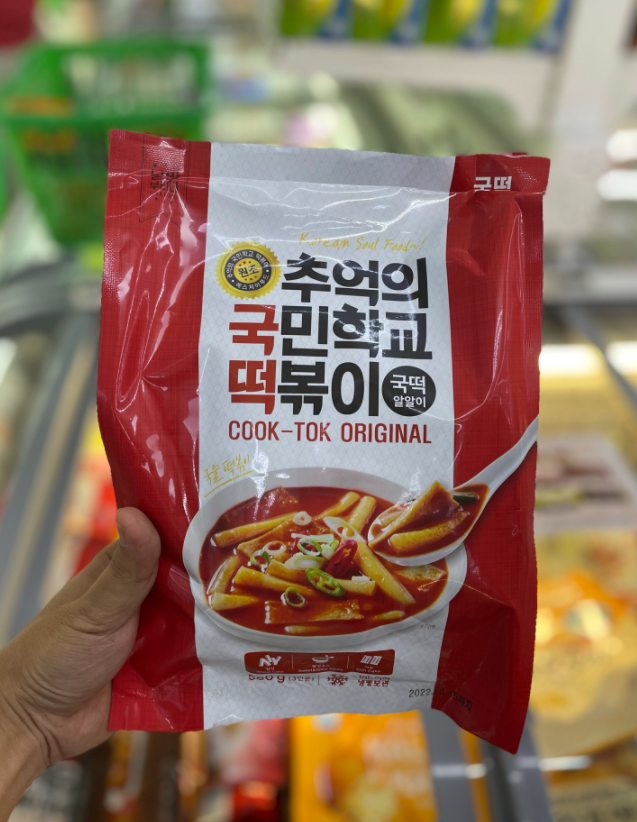 Usual Price: $10.90
Now: $6.90
Savings: $4.00
Who's planning a year-end trip to the land of kimchi? It's finally time to eat authentic street tteokbokki made with love from the Korean ajummas (aunties). But as we await the vaccinated travel lane (VTL) to open for South Korea officially, we can make do with COOK-TOK Tteokbokki Spicy Rice Cakes. Each frozen pack contains fish cakes, wheat rice cakes, and sweet & spicy sauce for easy preparation.
8. SENDERO Assorted (750ml)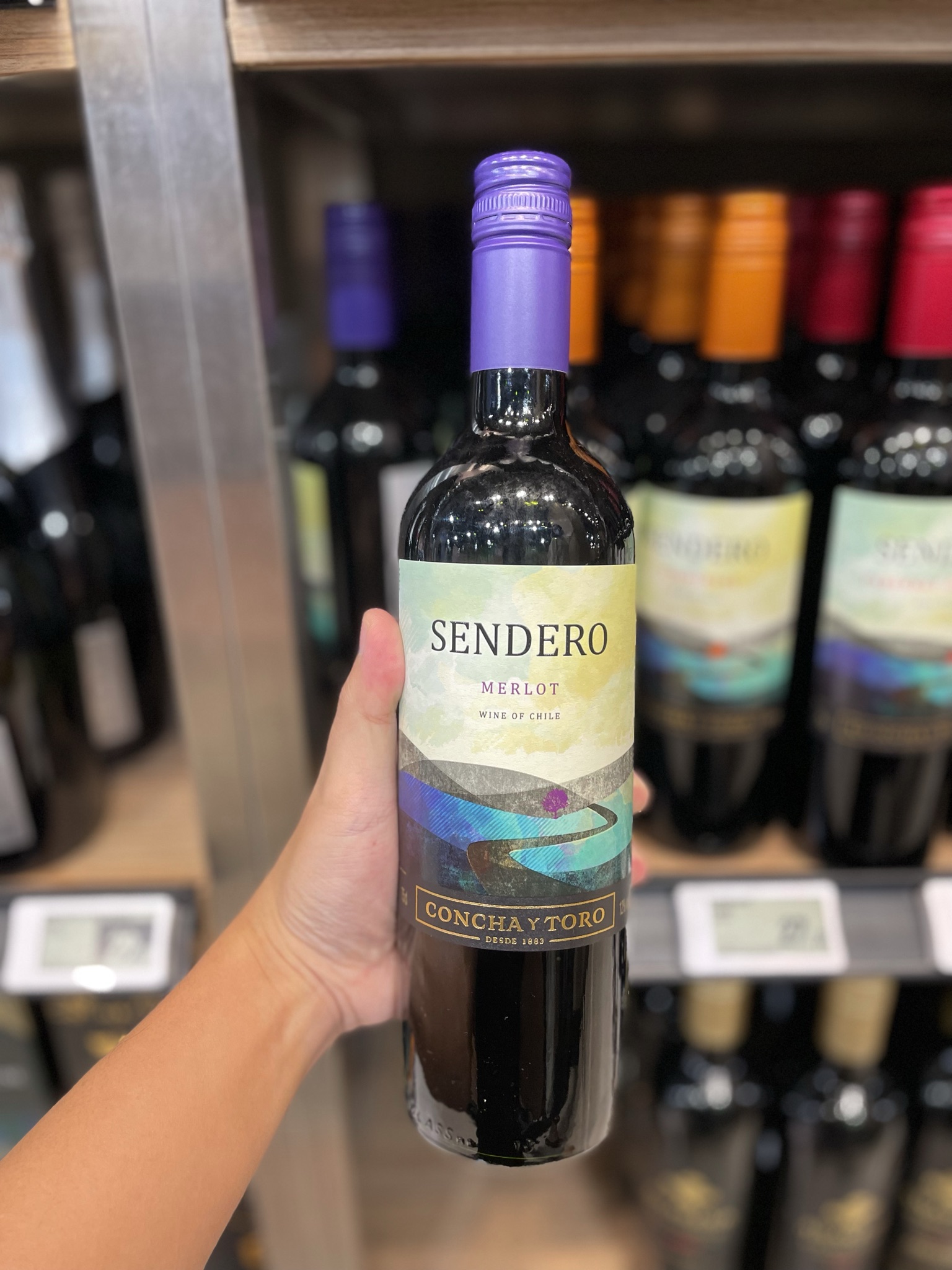 Usual Price: $27.50
Now: $16.70
Savings: $10.80
Sendero's Chilean Merlot wine falls under medium-bodied wines and can complement a variety of foods like veal, lamb, and beef. It consists of soft tannins, great for wine drinkers who can't take bitter tastes. Try this well-rounded wine with a good body, persistent finish, and black fruit notes! While this is one of the most sought-after wines from Central Valley, Chile, you may also want to cart out other wines on promotion – Carmenère, Sauvignon Blanc, and De Chile Cabernet Sauvignon.
9. Maggi Hot Heads Instant Noodles – Spicy Curry / Tom Yum / Roast Chicken (5s)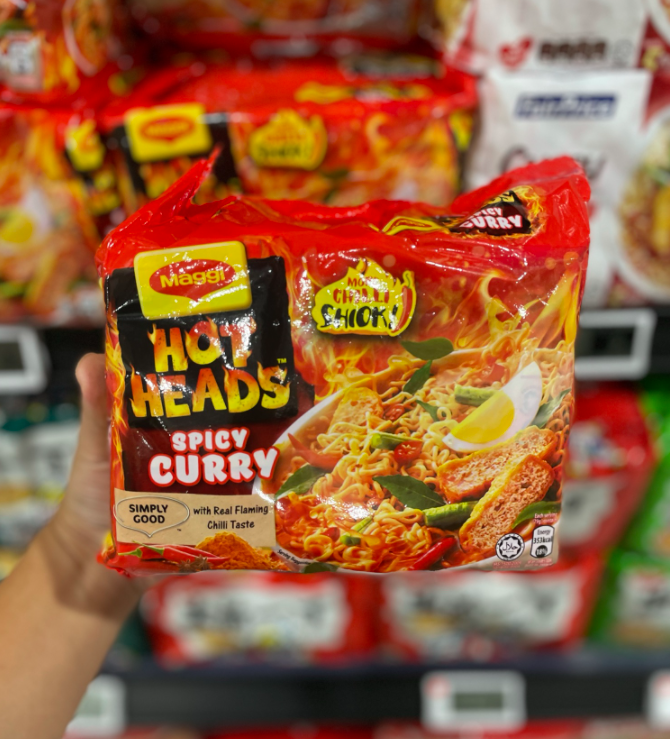 Usual Price: 2 for $7.50
Now: 2 for $5.95
Savings: $1.55
Tickle your taste buds with Maggi Hot Heads Mee Goreng in three of the top favourite local flavours – spicy curry, tom yum, and roast chicken. Trust us; your senses will be awakened with the unique blend of real chillies and peppers! Prepare a cup of dairy milk if you're unsure you can handle the spice. No, we're not joking.
10. FAIRPRICE Ring Ring Roll (120g)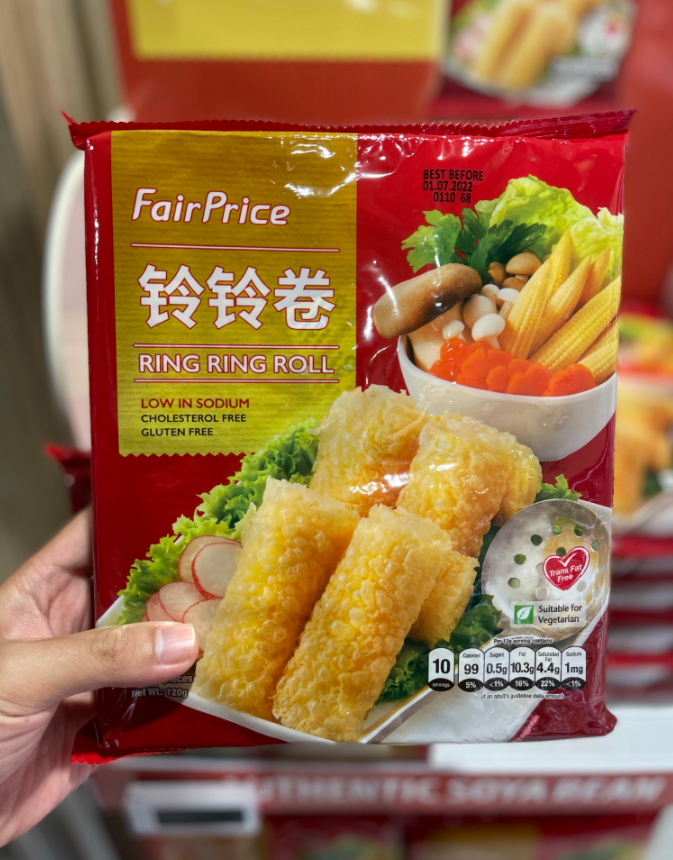 Usual Price: 2 for $6.40
Now: 2 for $4.00
Savings: $2.40
Being gluten-free and made with non-GMO soybeans, even vegetarians can enjoy FairPrice's Ring Ring Rolls! It's also low in sodium and free from cholesterols, making it a guilt-free snack to have on its own or during any hotpot session. Dip it in your laksa base, tom yum soup, or clear soup noodles for three seconds for the best burst of flavour.
And that's all from us. Before you go, be sure to join FairPrice's official Facebook group to keep abreast of the latest deals and happenings. Share this article with your friends, family, and relatives so we can all have more significant savings to do our upcoming year-end festival shopping!