The beauty of online spending is undeniable – sit comfortably on your couch, browse on online shopping sites, add to your cart and cash out. Then, wait a couple of days for your package to be sent to your doorstep. It's pretty much like a present you give to yourself.
With such convenience, however, it's easy to buy things on impulse. I'm sure we are not strangers to buying a shirt that did not fit, or only realising later that you could have gotten it at a cheaper price with a credit card discount or promo code.
Here are 4 tips for you if you are guilty of spending more than you should while online shopping.
Do plenty of research and read reviews
Especially when it comes to clothing apparels and shoes, it would be helpful to research sufficiently before purchasing an item. For instance, a pair of Nike shoes may be cheaper if you buy it from a US-based website, international shipping inclusive, as compared to buying from local stores.
On top of that, do read the sizing guides and what other people are saying about a brand via reviews before making the purchase. They are likely to tell you if the sizing runs smaller or larger, so that you can avoid buying the wrong size and spending even more money to alter it.
Avoid shipping fee
Most online shopping sites offer free shipping when you spend a certain amount. If you're unable to make up to that amount, get some friends to buy from the same website, and combine your purchases so that you can leverage on the free shipping.
In the event that your friends are unable to help you, you may add random things to your cart so that you make up that amount. When your purchases arrive, simply return the things that you don't want. However, this tip is only useful if the online merchant offers free returns!
Look out for discount codes or third-party cashback websites.
Do a quick Google search for discount codes and third-party cashback websites before you click the "check out" button. Websites such as ShopBack offer discounts, promo codes and vouchers. The only gripe is that these rebates only apply to participating merchants.
Take note of credit card discounts
Online merchants usually have partnering banks and credit card discounts, so do read the FAQ page before cashing out your purchases.
Whether you caught the travel bug or are simply itching to shop, relax in the comfort of your home and click away on online sites such as Agoda, Expedia, Lazada and ZALORA. Do look out for promo codes for your HSBC credit card and save up to 75% off with these participating merchants! Visit www.hsbc.com.sg/promo for more offers and details. Conditions apply.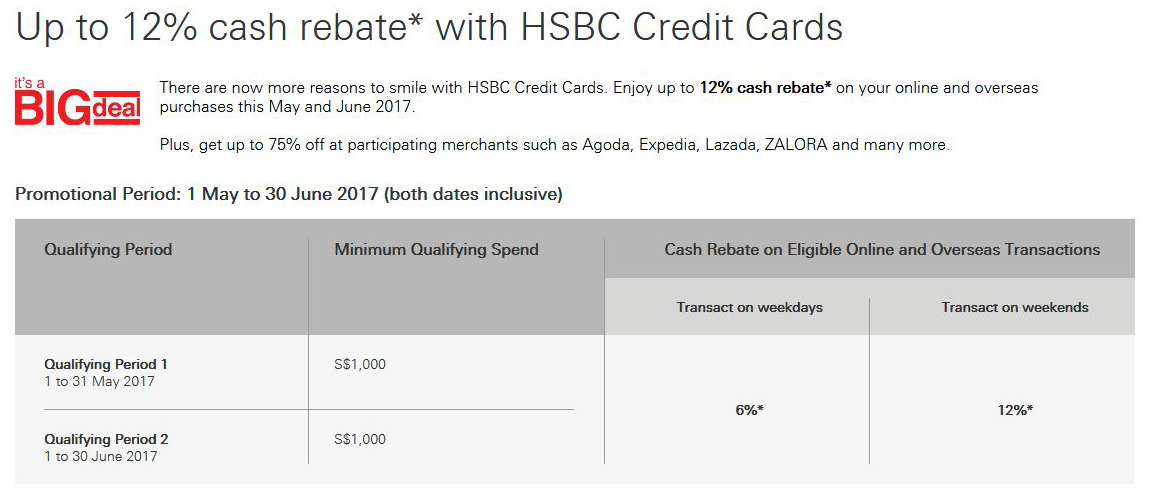 In addition, between 1 May to 30 June 2017, be the first 5,000 cardholders to spend a minimum of $1000 on your HSBC credit card and get up to 12% cash rebate on your online and overseas purchases, capped at $200 rebate per month – the more you spend, the more you save!
Furthermore, this offer applies to overseas merchants so you can get that pair of coveted Adidas Yeezys or Colorpop Cosmetics at a fraction of Singapore's price.
Who knew spending could be so rewarding with HSBC credit cards? Simply follow the steps below and shop away!


This post is brought to you in partnership with HSBC Credit Cards