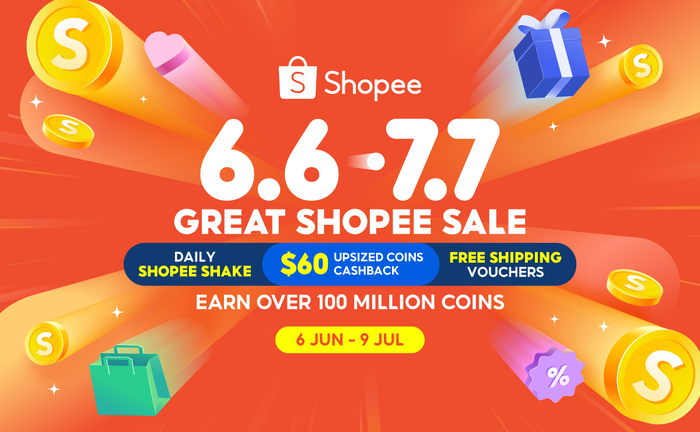 Bargain hunters, get ready for an exciting month-long shopping extravaganza. From June 6th to July 9th, the 6.6 – 7.7 Great Shopee Sale promises to deliver incredible value and joy to shoppers, with over 100 million Shopee Coins up for grabs.
Over the years, Shopee has become an integral part of Singaporeans' shopping journey, with more than 75% of users choosing to search, compare, and make purchases on the platform. Now in its 5th edition, GSS on Shopee has emerged as a significant milestone in the mid-year shopping season, delighting shoppers with an extensive array of discounts, promotions, and exciting rewards.
Winston Goh, Head of Marketing at Shopee, expressed his excitement about the upcoming event, stating,
"Our 6.6 – 7.7 Great Shopee Sale marks a key milestone in the mid-year shopping season, and is an opportunity to show our appreciation to our shoppers who have been a vital part of our success this year. By rewarding them with Shopee Coins, we aim to make their online shopping experience even more enjoyable, engaging, and fulfilling."
This year, the focus of GSS revolves around the Shopee Coins rewards system, allowing shoppers to earn coins faster and across various channels. With upsized cashback vouchers and the highly popular Daily Shopee Shake game, participants have the chance to earn Shopee Coins in abundance. These coins, Shopee's in-app currency, can be obtained through purchases, activities, livestreams, and more. For every 100 Shopee Coins earned, shoppers can enjoy a S$1 equivalent value, which can be used to offset transaction amounts or donated to chosen beneficiaries, making shopping on Shopee both gratifying and meaningful.
To further amplify the excitement surrounding the Great Shopee Sale, Shopee has collaborated with five local dancers who will showcase their skills in an iconic Shopee dance performance. This dance serves as the centerpiece of the Great Shopee Sale TV commercial, reflecting Shopee's commitment to delivering a hyper-localized shopping experience that celebrates the diversity of its users. In line with this, Shopee has also launched the Great Shopee Sale Dance Challenge on TikTok, inviting users to participate for a chance to win up to 100,000 Shopee Coins.
But that's not all! Shopee continues to enhance the convenience factor, allowing users to enjoy island-wide collection points for their purchases. In addition to doorstep delivery, shoppers can opt for self-collection at their convenience. With the extensive network of Shopee Xpress collection points and lockers, most homes are within a short distance of a collection point. Currently, there are nearly 600 shop locations across the island where customers can collect their packages for free, with no minimum spend. From convenience stores to eyewear shops, the options are diverse and cater to every shopper's needs.
The month-long Great Shopee Sale is packed with exciting events, each offering attractive deals and vouchers. Here's a sneak peek at what's in store:
Great Shopee Sale (June 6th to 8th): Engage in the Daily Shopee Shake game to earn Shopee Coins, enjoy $60 upsized coin cashback, and avail of free shipping vouchers.
15th Mid Month Mall Sale (June 15th): Make the most of $15 off $100 flash vouchers and take advantage of free shipping vouchers.
25th Super Shiok Sale (June 25th to 27th): Indulge in the lowest prices on more than 250,000 bestsellers, get $25 coins cashback, and don't forget to shake it up with the Daily Shopee Shake game.
Great Shopee Sale Finale (July 7th to 9th): Wrap up the month-long celebration with the Daily Shopee Shake, enjoy $50 upsized coin cashback, and snatch those free shipping vouchers.
Get ready to embark on a shopping spree like never before. Join the 6.6 – 7.7 Great Shopee Sale and stand a chance to earn over 100 million Shopee Coins, unlock unbeatable discounts, and experience the joy of online shopping at its finest. Don't miss out on this incredible opportunity to be part of the digital shopping revolution. Visit https://shopee.sg/m/gss and mark your calendars for a month filled with endless shopping delights!