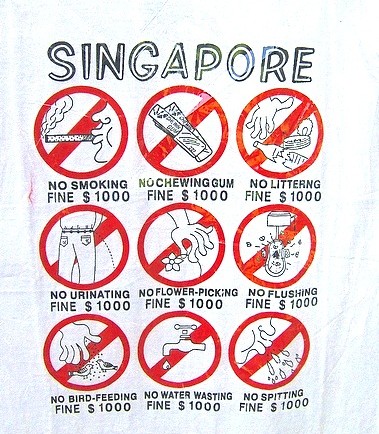 Image Credits: shankar s. via Flickr
Singapore has been dubbed globally as a "Fine City". The common penalties range from S$200 to S$1,000. Some laws are famous for its outrageous nature such as banning of chewing gums or durians (in public transportation).
The strict policies may urge you to be hesitant in your actions but it will surely train your discipline and accountability.
Much like most of the countries, Singapore has a strict policy for Pirated Goods (e.g., CDs or DVDs) and Pornography. Illegal video circulation is an offense that will fine up to S$1,000 (US$800).
Aside from the record-breaking cigarette prices in Singapore, violation of the smoking regulations can cost you up to S$1,000. Authorized cigarette packs have a stamp of "SDPC" (Singapore Duty-Paid Cigarette). Otherwise, you have to pay S$500 per pack once you are caught bringing it inside the country. Smoking in public areas such as the public train is strictly prohibited.
As most might acknowledge, chewing gums are banned in Singapore. Importing chewing gums in the country even for personal consumption is illegal. Improper disposal of gum and carrying huge quantities of it will cost you a fine of S$500 to S$1,000 on your first offense. This is to prevent chewed gum traces on the public seats, pavements, stairways, and floors.
Aside from being a fine city, Singapore is known for its impeccable cleanliness. Initial offenders who throw small items like cigarette sticks or candy wrappers are penalized for S$300. Anyone else that are caught littering in public will be fined with S$1,000 and will do community service.
5. DON'TS IN THE PUBLIC TRANSPORTATION
To maintain cleanliness and safety of all the citizens, flammable goods are banned inside a public transportation. Once you get caught with a flammable item, you will get the S$5,000 (US$4,000) fine. Also, no eating or drinking is allowed inside buses, train stations, and inside the train. It will cost you from S$300 to S$500 once you are caught.
If you have a bad memory, worry not since warning signs are plastered all over buses and trains.