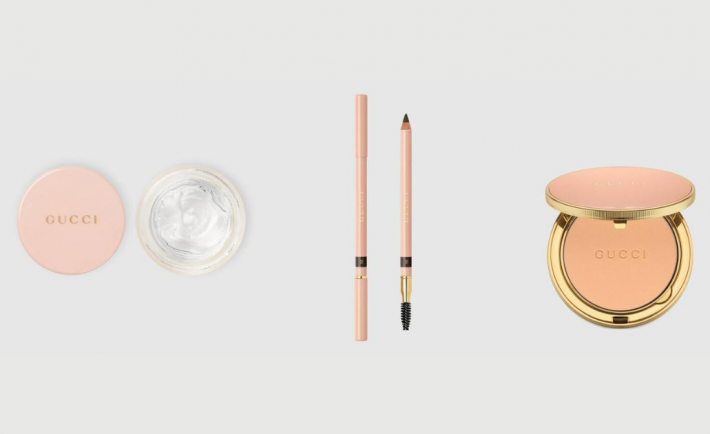 Last September, Gucci first launched its beauty makeup products with its 58-piece lipstick collection in three formulations – Rouge à Lèvres Satin, Rouge à Lèvres Voile, and Baume à Lèvres. This year, the Italian luxury brand will be bringing us new products starting from 39 SGD. Keen to get your hands on some branded makeup? Here's what to expect.
#1: GUCCI CRAYON DÉFINITION SOURCILS – EYEBROW PENCIL (39 SGD)
If you've had the habit of drawing and filling your brows, why not make a switch to the Gucci Crayon Définition Sourcils? The dual-side tool comes with a spoolie brush at one of its ends, allowing you to comb and blend the colour through the brows after applying. The powdery texture will also provide your brows with flake-free matte colour that does not smudge.
Whether you're looking to fill in those gaps for natural-looking brows or design one for a dramatic intense look, the Gucci Crayon Définition Sourcils is the trusted tool to go to. Furthermore, there are six shades to choose from: gray blond, golden blond, light blond, dark brown, auburn, and ebony. You're bound to find one that suits you.
#2: ÉCLAT DE BEAUTÉ EFFET LUMIÈRE –  GEL FACE GLOSS (43 SGD)
Gucci's Éclat De Beauté Effet Lumière is a multi-use transparent gel gloss in one universal shade to naturally highlight your eyes, cheeks, or lips. It is made using an animal-friendly, vegan formula with an oil-free texture. You can apply it directly on bare skin or over your makeup.
Always admired Korean actresses with their 'glass skin' that seems to be glowing from the inside out? This product might do the trick. It adds a veil of transparent illumination, creating a reflective glossy finish you desire.
#3: GUCCI POUDRE DE BEAUTÉ MAT NATUREL – FACE POWDER (95 SGD)
The Gucci Poudre De Beauté Mat Naturel is a lightweight face powder made up of a combination of micro reflecting lamellar powders. The beauty powder spreads smoothly on the skin surface, giving you a mattified natural complexion. It comes with a soft sponge applicator.
You may use it on its own or on top of your foundation to set the makeup for the day. There are twelve shades to choose from: pale yellow, pale beige, pale pink, light beige, light pink-beige, medium beige, light-medium beige, medium-dark beige, dark beige, deep bronze, dark brown, and deep brown.
#4: GUCCI POUDRE DE BEAUTÉ ÉCLAT SOLEIL –  BRONZING POWDER (95 SGD)
Here's your chance to create a warm and healthy-looking skin with Gucci's Poudre De Beauté Éclat Soleil. Texture wise, it's soft, silky, and creamy to the touch. However, it's not heavy. In fact, the thin film formula is easy to apply with an integrated applicator. There's also a light and floral scent that accompanies the product.
The art of bronzing is actually different from contouring, though it's commonly used interchangeably. If you're not a makeup nazi, then read this guide on how to apply bronzer to your face in 60 seconds. And yes, the bronzer powder is available in five shades: fair, light, medium, tan, and dark.
Gucci makeup products will be available at all Gucci beauty counters and online at Tangs.