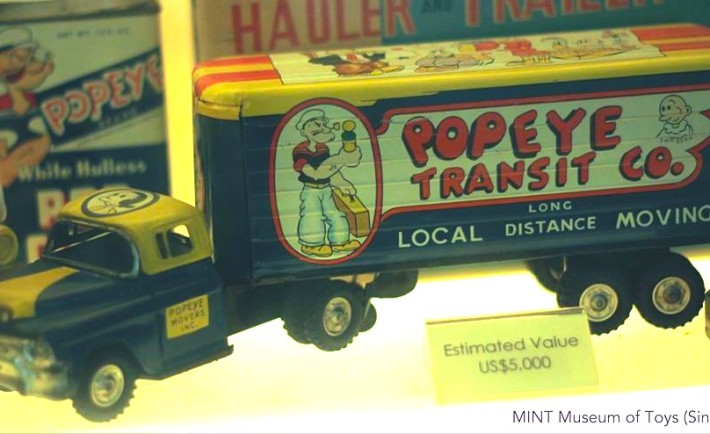 Image Credits: www.facebook.com/mintmuseumoftoys
The Bugis Area, spanning from Bras Basah to Fort Canning, is not only rich in business establishments but is also abundant in cafes, bookstores, museums, and activities that you and your companions can enjoy. Even with a budget of only S$30!
1. FOR DELECTABLE DESSERTS
In 2014, a Japanese dessert shop called Tai-Parfait graced Singapore at the Bugis Junction. Brought by Dining Innovation Singapore, Tai-Parfait boasts its Taiyaki – a Japanese original fish-shaped pancake filled with sweet red bean paste…for only S$2.20. What's more? You can also put ice cream, fruits, and other toppings on your dessert.
For example, you may try the Matcha Azuki Tai-Parfait for S$5.50. It is a chocolate-filled Taiyaki topped with Matcha cream, Green Tea ice cream, and Azuki. Sounds delicious, doesn't it?
Go ahead and get your very own Tai-Parfait desserts at Bugis Junction, #B1-03A.
2. FOR BODY TONING AND MUSCLE STRENGTH
Have you wanted to burn more calories without having extreme muscle stress? Then, try water exercises, especially the Aqua Spin. Aqua Spin, suited for all levels, is believed to fight diabetes and obesity. Aside from this, your blood circulation, muscle strength, and cardiovascular fitness will improve.
A session will not cost you a fortune as a one-time trial is priced at S$25. Spin away at YWCA Fort Canning Lodge (Swimming Pool at Level 3), 6 Fort Canning Road, Singapore 179494!
3. FOR THE GENUINE BOOKWORM
The Bras Basah Complex is the one-stop-shop for budget printing services and cheap books. The bookstores here are filled with a myriad of non-fiction books, fiction books, magazines, textbooks, children's books, graphic novels, and so much more! Support the Evernew Bookstore's book fairs that offer second-hand books for as low as S$2-5!
With prices as low as that, how can a genuine bookworm ever leave?
4. FOR THE LOVE OF TOYS
A visit at the MINT (Moment of Imagination and Nostalgia with Toys) Museum of Toys will help you relive the treasured memories of your childhood. With its collection of over 50,000 vintage toys originating from over 40 countries as far as United Kingdom, Bulgaria, and Germany, it is no surprise that the value of the entire museum is over S$5 million.
Admission rates are as follows:
Children (Aged 2-12): $7.50
Senior Citizens (Aged 60 years and above): $7.50
Adults: $15.00
Interestingly, some of the toys that you may see are the 1903 Steiff Teddy Bear and the 1953 Britain's Queen Elizabeth II Coronation Set.
https://www.youtube.com/watch?v=8epZlJ73GVY
For more information about the MINT Museum, check out emint.com.