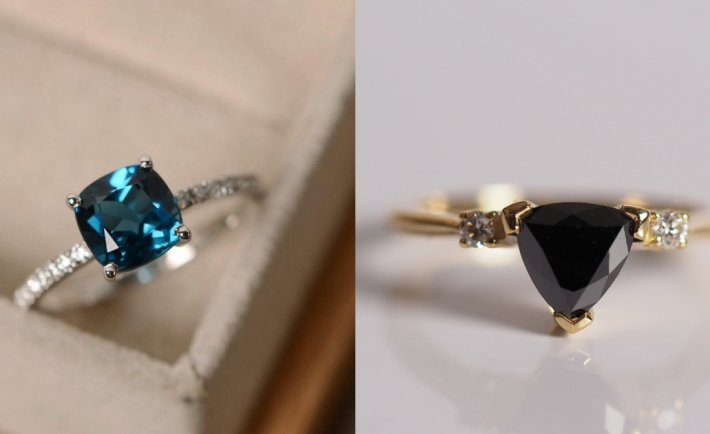 Image Credits: keclos.com / edwardflemingjewellery.com
For a woman looking forward to being engaged, there's almost nothing better than the excitement that a beautiful engagement ring can bring.
With the symbolic meaning a ring carries, it has to be as perfect as it can be. That's why the process of choosing an engagement ring must be taken seriously.
As usual, every prospective bride wants to see the three Cs in their engagement ring, namely carat, clarity, and cut. However, it's crucial that the ring also keep up with the year's latest trends and stay fashionably classy throughout the years.
Some fashion statements can fall out of style, and an engagement ring must be able to match various accessories and outfits for a stylish and sophisticated look.
That's why we're here to share with you some elegant engagement ring inspirations for your upcoming proposal this year.
#1: Black Diamonds
Move aside, classic diamond. The black diamonds are now up and coming. This is due to their striking nature and the mysterious and cool, edgy vibes it carries.
The engagement ring can stand out even more if it's set in a bold yellow or rose gold colour, which offers a step away from the traditional diamond ring approach. 
#2: Halo Rings
One of the top emerging trends of 2021 is halo rings that have a hexagonal or octagonal shape. 
It creates the perfect balance between preserving the essence of timeliness but also adding that element of uniqueness. No longer are purely traditional rings a must-need if you're planning to propose this year.
Those searching for a beautiful ring without being too "bridal" can consider this design.
#3: Colourful Stones
When you think of proposal rings, you might imagine the classically cut glimmering diamond. 
However, you can slowly replace that idea with the new trend of colourful stones. Specifically, teal-coloured sapphire is a stone growing in popularity, creating an ideal blend of blue and green shades.
Because these stones are on the rarer side and not alike, they make for a ring that's entirely one of a kind and precious to the bride who wears it. 
#4: Mixed Diamond Cuts
Sometimes, trends can work backwards by capturing the looks that give off an antique or vintage feel.
This specific trend involves mixing different diamond cuts, like tapered baguettes combined with rounds, epaulettes, or bullets. It encompasses the well-known art-deco design but adds a modern-day twist to make it an exceptional diamond engagement ring.
Plus, if you're environmentally conscious, incorporating existing stones into a single ring allows for plenty of upcycling. 
#5: Remodelling
Even though an engagement ring by itself is already meaningful, it can be made even more special by incorporating existing stones that carry a sentimental value.
Across the board, more and more jewellers encounter clients who've inherited jewellery and want it to be remodelled into a specific shape or form into their engagement ring.
It's a fabulous way to make an engagement ring even more personal to the modern-day bride holding on to traditions.