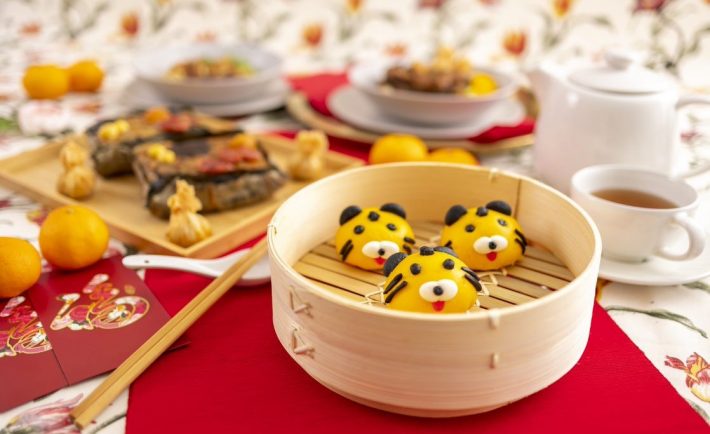 Image Credits: ikea.com/sg
Apart from spending time with your family and collecting ang bao, eating scrumptious Chinese New Year (CNY) snacks brightens up the festivities. Usher in the Year of the Tiger with these roaring goodies from adorable tiger buns to classic pineapple tarts.
#1: IKEA SINGAPORE'S CNY OFFERINGS
From January 17 to February 28, IKEA Singapore will delight its guests aesthetically pleasing confections such as mala-infused dishes and tiger-themed buns. Try the Little Tiger Buns with Kaya Filling ($2), Mandarin Orange Chocolate Cake ($4), IKEA CNY Donuts ($7.80), and Plant Balls with Mala Spaghetti ($8). These goodies are available while stocks last.
You can also take home their pre-packaged snacks including Bak Kwa ($23.80 for 500g) and Mandarin oranges ($11.80 for 24 pieces).
#2: RED SAKURA'S HELLO KITTY SNACKS
Good news for Hello Kitty fans! Taiwanese confectionary brand Red Sakura and its Hello Kitty snacks are available at selected stores in Singapore. Get your sun cakes and butter cookies at Prime Supermarket (Tampines branch) or at Shopee.
Keep your eyes peeled as some of the Red Sakura snacks come with Sanrio merchandise such as plates and mugs! For example, the Red Sakura Hello Kitty Mini Cookies tins are sold at $7.90 in Shopee. These come in assorted flavors including butter, chocolate, and earl grey.
#3: BEE CHENG HIANG'S BAK KWA
You can always count on Bee Cheng Hiang for a variety of CNY goodies such as pineapple tarts and golden floss rolls. But of course, it houses its sought-after dried meat product Bak Kwa.
This year's selection starts from $34.80 for 600g of Minced Pork Bak Kwa, $37.20 for Chilli Pork Bak Kwa, and $43.20 for Applewood Sliced Pork Bak Kwa. Choose a flavor that suits your preferences. You can even go for the fancy Gourmet Pork Belly option.
Just add the delivery fee of $6 when ordering on their website.
#4: NASTY COOKIE'S S'MORES BITES
Nasty Cookies offers a twist to the CNY food slate with its S'mores Bites. Its S'mores Bites consist of buttery chocolate chip tarts, which are topped with rich chocolate spread and toasted marshmallows. Every bite has a mixture of chewiness, crunchiness, and sweetness.
S'mores Bites will be available online for $28.90, from January 17 onwards.
#5: FAIRPRICE'S PINEAPPLE TARTS
Another staple in every household during CNY is the delicious pineapple tarts. Pineapple tarts are rich, buttery pastry filled with pineapple jam. It is impossible to stop at just one piece, so you might want to purchase a few tubs for the party!
FairPrice has an array of pineapple tarts from various brands. Halal and Vegan options are also available. Prices start from $3.92. Check it out.
Happy Year of the Tiger, 2022! Celebrate the auspicious Lunar New Year with an assortment of takeaway delicacies and goodies in this list.