It's the height of the Sakura season in Japan now – the blooms might be far away, but you may still get a taste of Japan right here in Singapore.
Get tipsy on the Spring flavours of Ohanami Umeshu (IPPUDO Singapore), The Spring Equinox (Taki Izakaya Bar) cocktail, Ichigo Sawa (VUE) or a Pink Grapefruit Highball (&JOY Dining Hall)! Not a fan of alcohol? Do try the Sakura Latte (tcc – The Connoisseur Concerto).
Also fill your tummies with a series of carefully curated Sakura dishes such as the Satsuma Wagyu Steak Foie Gras (Sushi Tei), Chirashi Zushi (Tomo Izakaya) or opt for a seasonal Spring Omakase menu (Takayama). Or simply munch on the Sakura Ebi Tempura (Sushi-GO) and Sakura Hako Sushi (Kuriya Japanese Market) for a lighter bite!
Be it whether you have a sweet tooth, looking for a fun spring-inspired alcohol or simply craving for the best flavours of Spring, there's definitely something in store for you. These Spring-exclusive offerings will be available for a limited time only – don't miss out!
1. Kuriya Japanese Market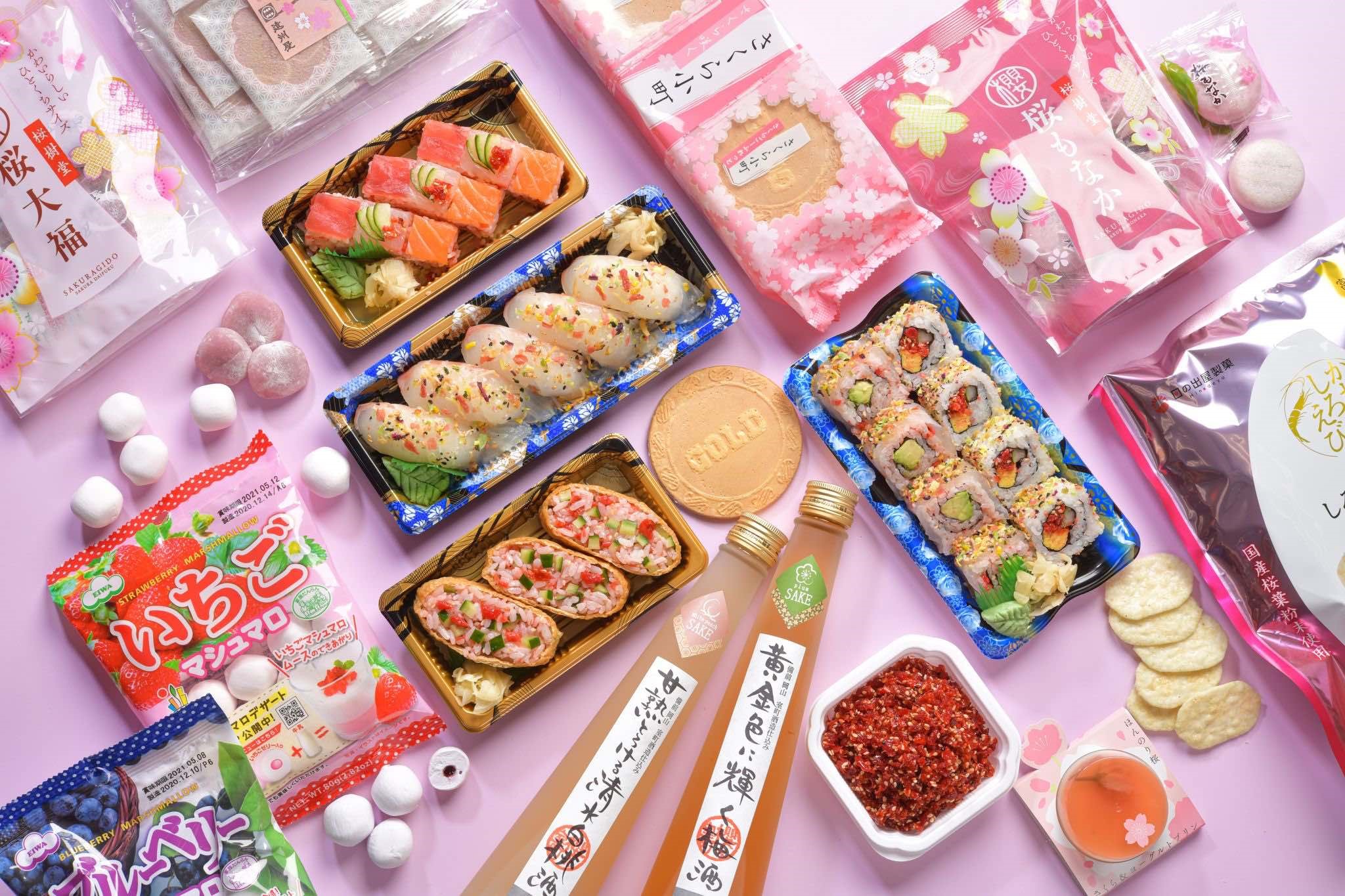 Waltz into the Spring Season with Kuriya Japanese Market and Sushi-GO's Limited Edition Sakura-Inspired Sushi, Snacks and Desserts starting from $2!
Launching the new exclusive sushi creations this spring season, dig into the Sakura Ebi Inari, a sushi rice flavoured with seasoned sakura shrimp, along with chunks of cucumber, housed within sweet beancurd skin. Another to enjoy is the Sakura Hako Sushi, a trio of Japanese sea bream, salmon and tuna in one block of sushi topped with seasoned sakura shrimp. Get a roll of Sakura Duo Maki which features flavours of seasoned sakura shrimp, Japanese sea bream, avocado, egg, cucumber, Japanese rice seasoning.
Also not to be missed is the Kuriya Japanese Market Great World outlet exclusive Sakura Tai Chirashi Don, featuring Japanese sea bream, and a rose-shaped salmon sashimi cradling pearls of glistening salmon roe sitting on a bowl of sakura shrimp-flavoured sushi rice.
These spring-exclusives are available from 1 April – 31 May 2021.
Kuriya Japanese Market Spring Promotion
Sakura Sweets Promo: Any 2 Sakura Monaka / Sakura Daifuku Mochi for S$10 (UP: S$11.60)
Marshmallow Promo: Any 2 Jelly Filled Marshmallow (Strawberry / Blueberry) for S$5 (UP: S$5.60)
Address: Chinatown Point (#B1-23), Great World #B1-133 (within &JOY Dining Hall), Jurong Point (#B1-77), Nex (#B1-03) (within Shokutsu Ten Japanese Food Street), Causeway Point (#B1-17), JEM (#B1-01), Waterway Point (#B1-20), Tampines 1 (#B1-07), Tiong Bahru Plaza (#B1-137), Northpoint City (#B1-152), AMK Hub (#B2-52)
Website Instagram Facebook
2. Sushi-GO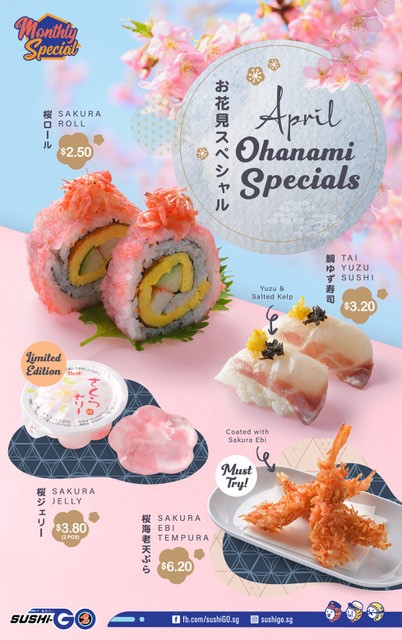 To celebrate the sakura season, Sushi-GO will be launching four new Ohanami Specials from 1 April to 30 April 2021. Get these seasonal offerings delivered to your table on Sushi-GO's conveyor belt in the shape of the Shinkansen train. The exquisite Sakura Roll (S$2.50) is made with sakura ebi, sakura fish powder, egg, cucumber, shrimp roe and crab stick whist the Sakura Ebi Tempura (S$6.20) sees the all-time favourite food flecked with sakura ebi. Boasting a pleasant citrusy note, the Tai Yuzu Sushi (S$3.20) is also simply addictive! Cap off the indulgence with the Sakura Jelly (S$3.80), which pleases with its floral note.
Address: Jurong Point (#B1-47)
Website Instagram Facebook
3. &JOY Dining Hall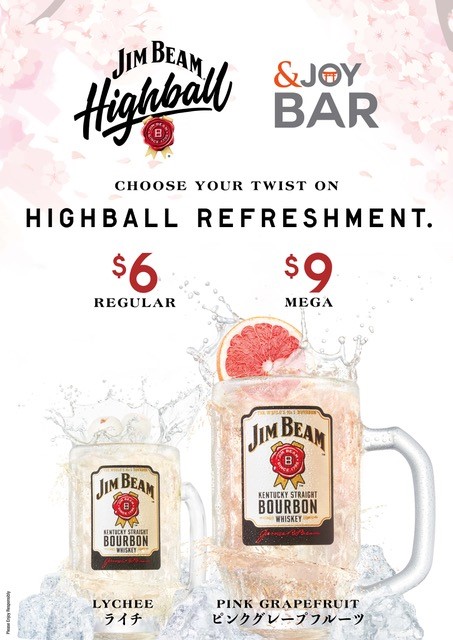 From 1 April to 30 Jun, delight your tastebuds with the flavours of springs at &JOY Bar as they offer 2 new Highball Flavours – Lychee & Pink Grapefruit. Enjoy the All day Highball promotion at &JOY Dining Hall (Great World)!
Address: Great World (#B1-133, within &JOY Dining Hall)
Tel: +65 6235 1529
Website Instagram Facebook
4. Takayama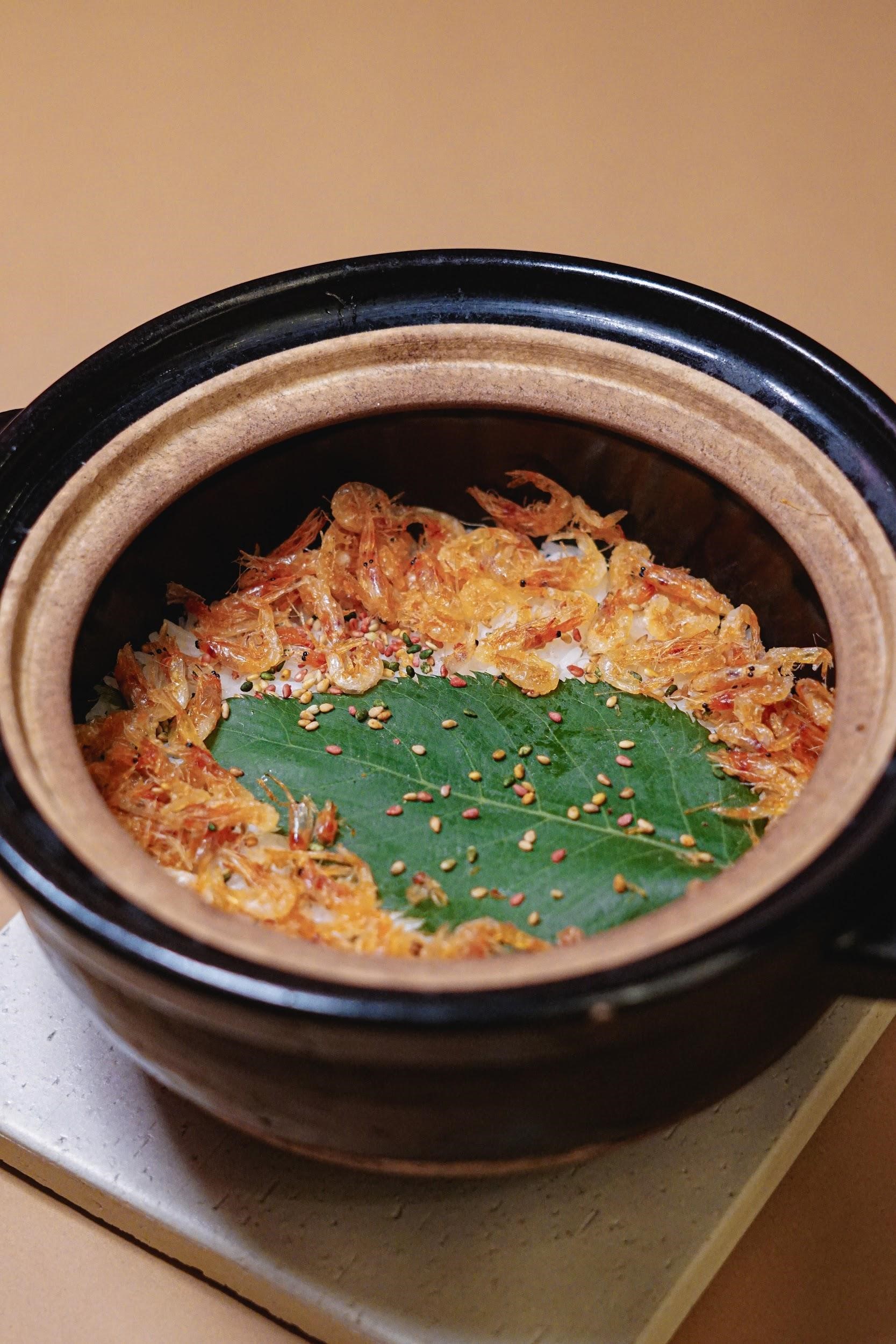 Experience the ultimate indulgence in Japanese cuisine with Takayama's brand new spring Omakase menu – Chef Taro Takayama has specially curated the spring Omakase menu to introduce the best flavours of Spring with the freshest seasonal ingredients! Be transported to Japan in its full spring glory as you savour the skilfully crafted spring Omakase menu handcrafted with ingredients at the peak of their season.
Relish the flavours of Spring with dishes featuring peak seasonal ingredients such as Sakura Ebi, which is named after cherry blossoms, and packed with deliciously sweet flavours, and the freshest Hotaruika (Firefly squid) from Toyama Prefecture, well known for its rich flavour and high nutritional value. Another notable ingredient is the bamboo shoot, a crunchy and juicy delicacy and a staple of springtime in Japan. The seasonal Spring Omakase menu is available during March and priced at $150++ for lunch and $280++ for dinner.
Address: Downtown Gallery (#01-09/10)
Operating hours:
Mondays: 6.30pm to 10pm, Tuesdays to Saturdays 12pm to 2.30pm, 6.30pm to 10pm, Closed on Sundays and Public Holidays
Tel: 6224 0864
Website Instagram Facebook
5. VUE
Celebrate the arrival of Spring with a medley of delectable Roku Gin cocktails at VUE, amidst stunning views of Marina Bay and the Singapore skyline. Toast to Spring and take your pick from a choice of 6 refreshing and flavourful gin cocktails available for the month of April, all created with the beautifully aromatic and harmonious Roku Gin.
Six Japanese botanicals have been carefully selected and harvested at the peak of its season to create Roku Gin, extracting the best flavour and distilled to fully embody the blessings of nature. Look forward to delicious cocktails such as the Roku Gin & Tonic, Japanese Harmony, Ichigo Sawa and more!
Address: OUE Bayfront (Rooftop Level 19)
Operating hours: Lunch: Monday – Friday, 12pm to 2.30pm (last order), Weekend "Surf & Turf" Lunch: Saturday & Sunday, 12pm to 3pm, Dinner:  Daily, 5.30pm to 10pm (last order). The Charcuterie & Spritz Bar is open daily, from 3pm to 10.30pm.
Tel: 8879 0923
Website Instagram Facebook
6. tcc- The Connoisseur Concerto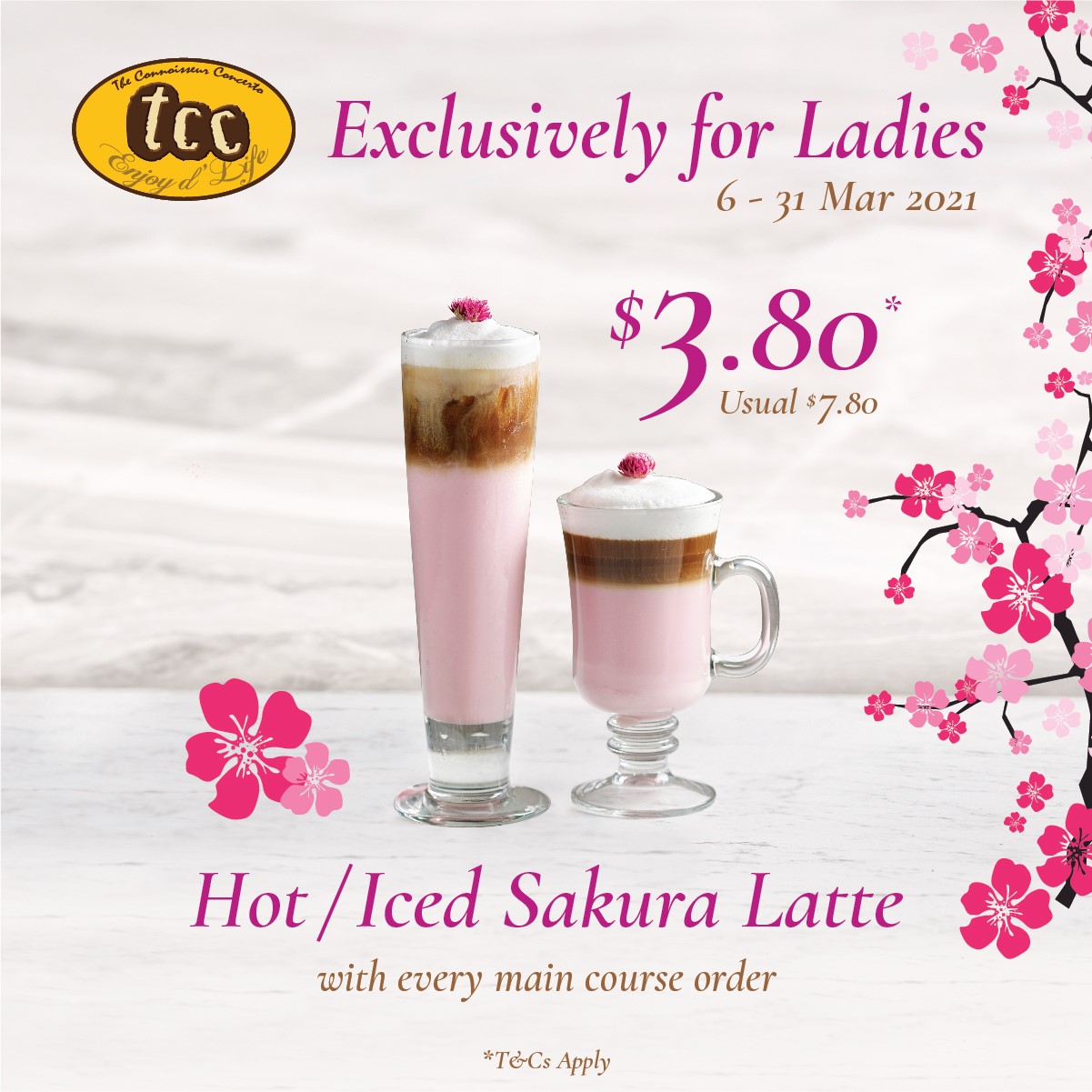 Be transported to Japan with the pretty-in-pink Sakura Latte (S$7.80)! Espresso and fresh milk are infused with delicate notes of sakura, leaving a slight perfumed floral fragrance with every sip.
Exclusively for ladies, indulge in a Hot/Iced Sakura Latte at $3.80 when you dine-in or takeaway, valid with any main course order until 31 March 2021 at all tcc art boutique cafes except Great World and German Centre.
Address: Bugis Junction (#01-92-96, #01-97), Blk 3E River Valley Road (#01-01), 51 Circular Road, Great World (#01-119), International Building (#01-01), ION (#B2-49), Isetan Scotts, Suntec City (#01-604/605), The Pier @ Robertson (#01-01/02)
7. Sushi Tei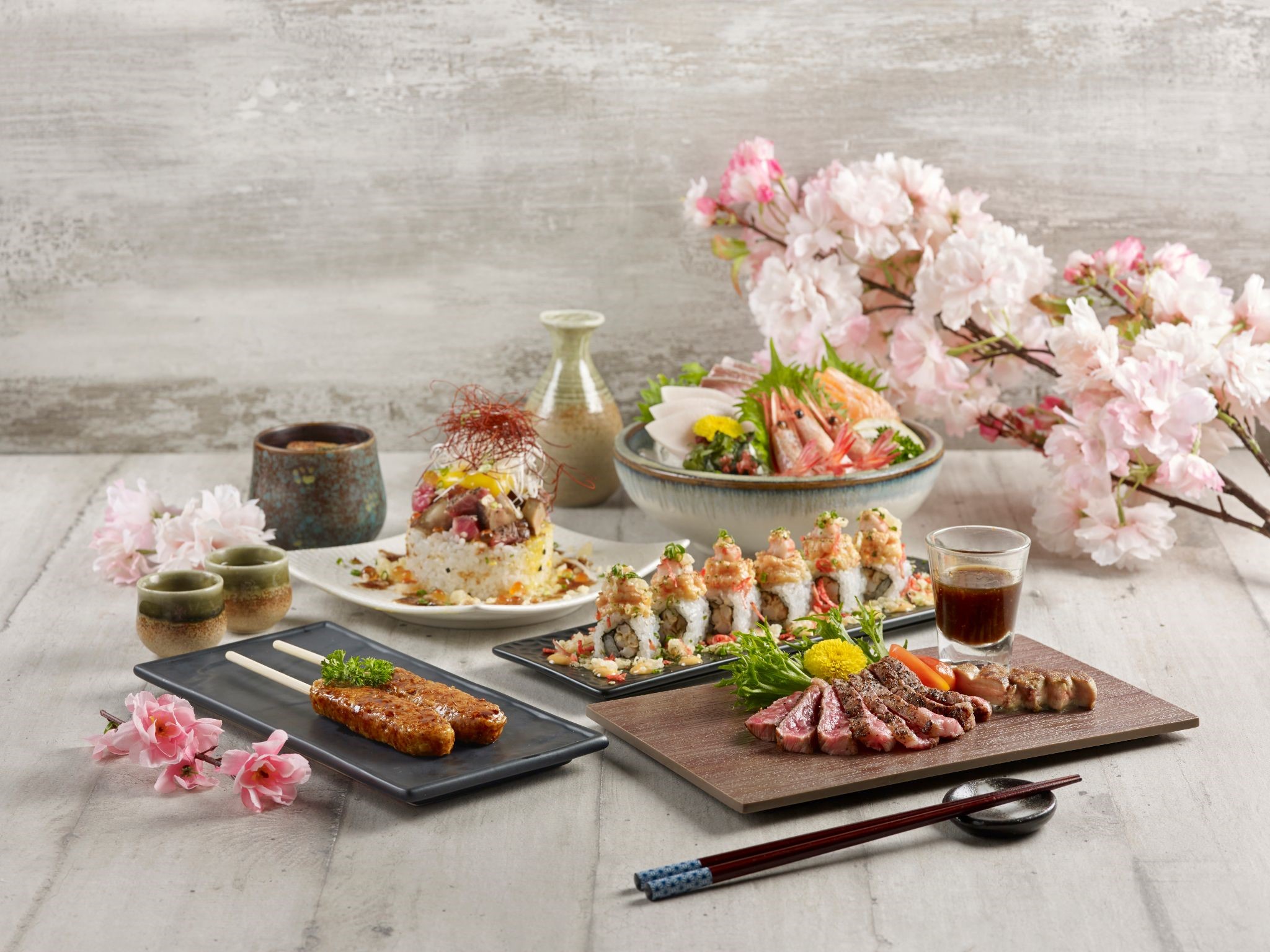 Sushi Tei Unveils Blossoms of Joy Spring Menu, with Camellia Buri and Satsuma Wagyu Beef as Highlights!
Springtime in Japan always promises such picturesque sights, with the roads and streets being blanketed by cherry blossoms. Inspired by this lovely season, Sushi Tei is launching a spring menu, bringing a taste of Japan right to you! Made with fresh produce, the artfully plated seasonal dishes invite the whole family to dig in and indulge.
Available for 3 months from 17th March 2021.
Address: China Square (#01-28/30), Holland Village (#03-04), JEM (#03-18), NEX (#03-15/16), Northpoint (#02-15), Paragon (#05-04/05), Raffles City (#03-13/14), Serangoon Gardens (64/64A Serangoon Garden Way), Tampines 1 (#04-13), Thomson Plaza (#03-46), Tiong Bahru Plaza (#03-110), Vivocity (#02-152), West Coast Plaza (#01-87), Changi Jewel Airport (#03-209)
Website Facebook Instagram
8. IPPUDO Singapore
For Sakura lovers who are bummed that they can't visit Japan for hanami this year, IPPUDO Singapore is bringing the beautiful cherry blossoms to you – literally – as IPPUDO Mandarin Gallery transforms into an Instagrammable mini Japan, decorated tastefully with sakura flowers.
To celebrate, cherry blossoms here also come in the form of dessert, tea and even in a tipple! These items are available for a limited time only from April 1 exclusively at IPPUDO Mandarin Gallery.
Enjoy the Ohanami Sakura Cocktail ($7 per glass), a pretty-in-pink sweet plum wine with a cherry blossom colour and aroma that looks as good as it tastes. Crowned with a floating Sakura blossom and dusted with festive pink sprinkles when served, make sure you get your cameras ready for a magical Disney-like moment.
Delight in the Ohanami Sakura Umegaemochi next. The popular specialty rice cake with sweet Azuki bean filling is a traditional Japanese dessert which originated from IPPUDO's hometown, Fukuoka Prefecture. It is a must-try whenever one visits the famous spiritual shrine Fukuoka Dazaifu Tenmangu in Japan. IPPUDO's rendition gets a dreamy uplift with real Sakura flowers. At $6 per set, it comes paired with a pot of hot Sakura Green Tea infused with a whole Sakura flower – perfectly preserved in full bloom.
Even though we cannot travel to Japan this year, let nothing stop you from relishing the pink fever and indulge in all things Sakura at IPPUDO Mandarin Gallery.
Address: IPPUDO Mandarin Gallery (#04-02 – 04)
Delivery Instagram Facebook Website
9. Taki Izakaya Bar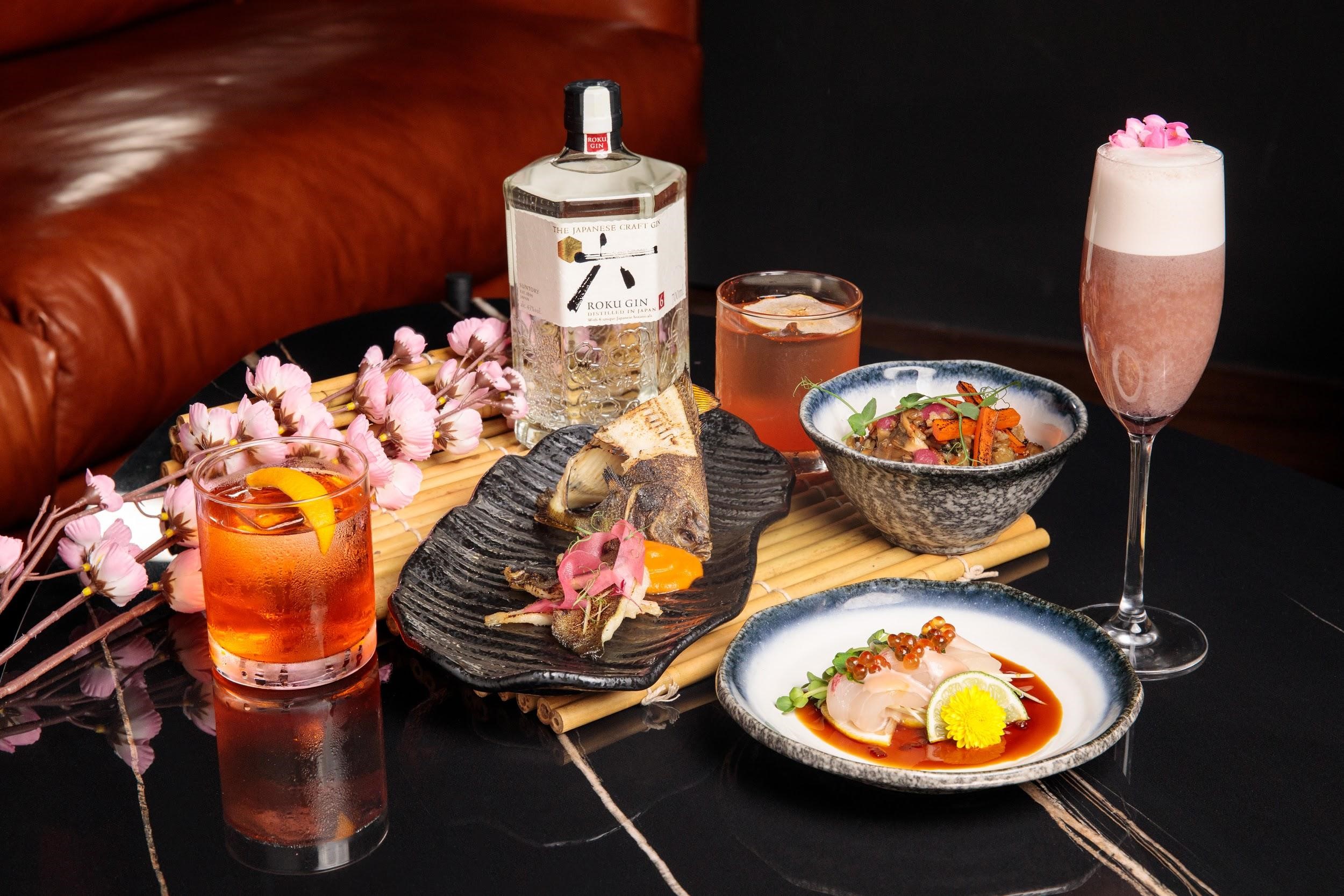 This spring, embrace a new season with Roku Gin from the House of Suntory, and taste nature via this distinctively Japanese Craft Gin. The Roku Gin takes one full year to be harvested, infused, and distilled with 6 unique Japanese botanicals for that perfectly balanced, multi-layered gin. This is based on the Japanese culinary concept of "shun" – food and drinks are enjoyed in its proper seasons where ingredients are at the peak of their flavours.
Kick start this spring season with an exquisite glass of Roku Gin cocktail while savouring a scrumptious pairing menu intricately crafted by Taki Izakaya Bar with special seasonal ingredients flown in straight from Japan. Enjoy the 3 unique cocktail and food pairings: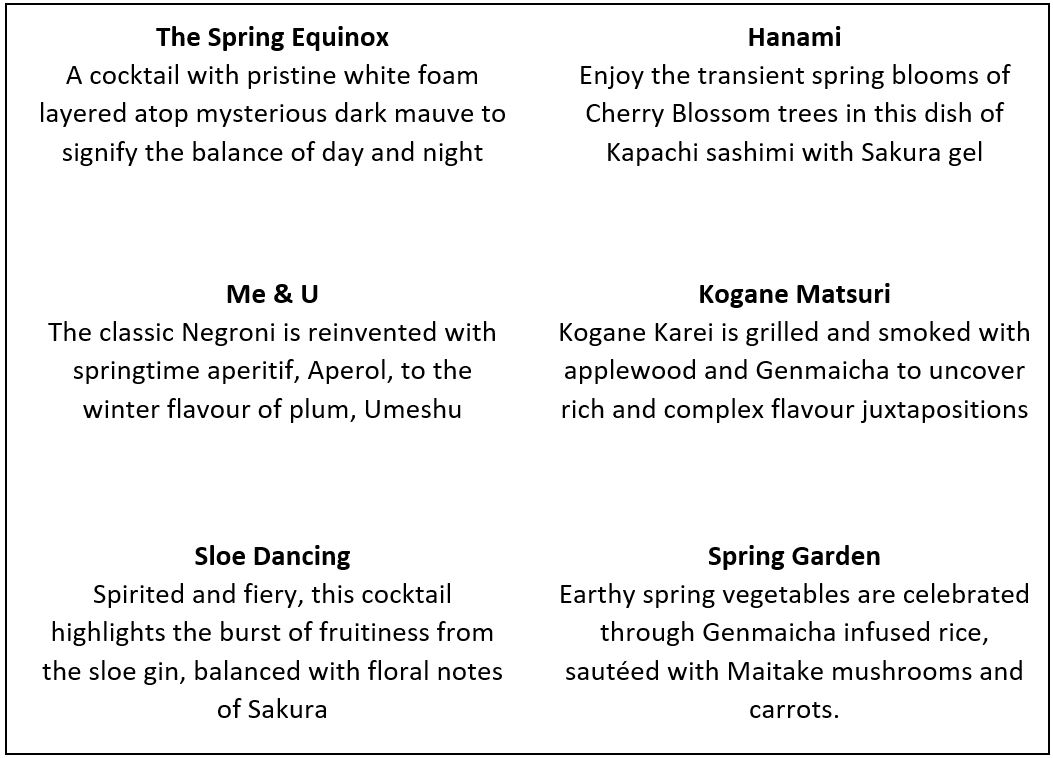 Have a taste of spring at Taki Izakaya Bar with the exclusive Roku Gin pairing menu, available from 5 April to 15 May 2021 only.
Address:                          16 Collyer Quay, #01-05A B, Singapore 049318
Operating hours:             Monday  –  Friday: 12pm to 2pm , 5 to 10.30pm, Saturday: 5 to 10.30pm, Sunday: Closed
Tel:                                   6223 0797
Instagram Facebook
10. Tomo Izakaya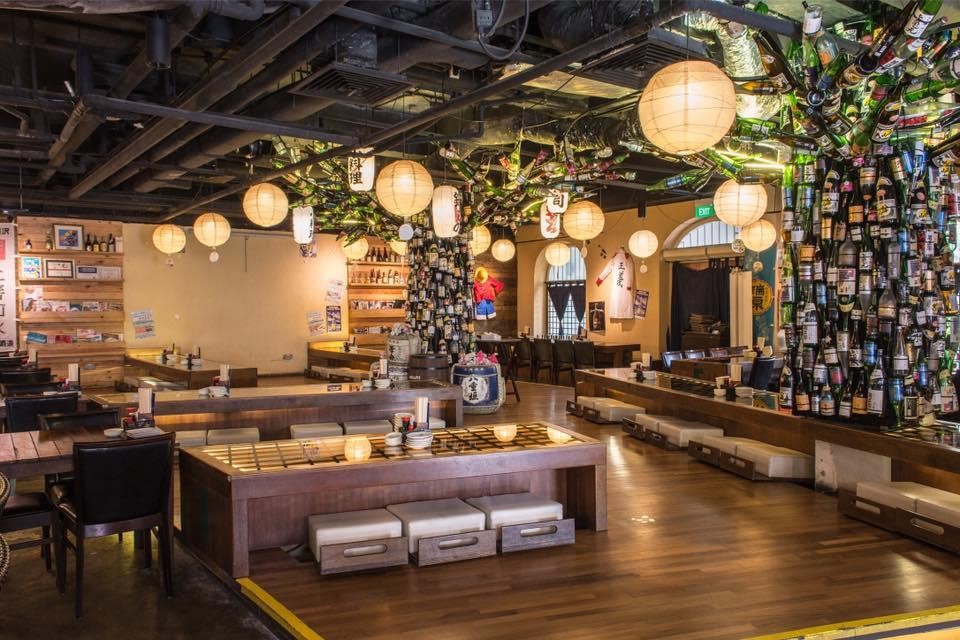 Newly launched for Spring, Tomo Izakaya's Chirashi Zushi ($48++, 3 – 4pax) features sushi rice topped with a plethora of ingredients including salmon sashimi, mekajiki (swordfish), grilled unagi, tamago, ebi and ikura. Exclusively available for a limited time at Clarke Quay outlet from 7 April – 31 May 2021.
Address: 3A River Valley Rd, Clarke Quay, #01-14
Operating Hours: Tue – Sun, 5 – 11pm
Tel: 6336 0100
Facebook Instagram