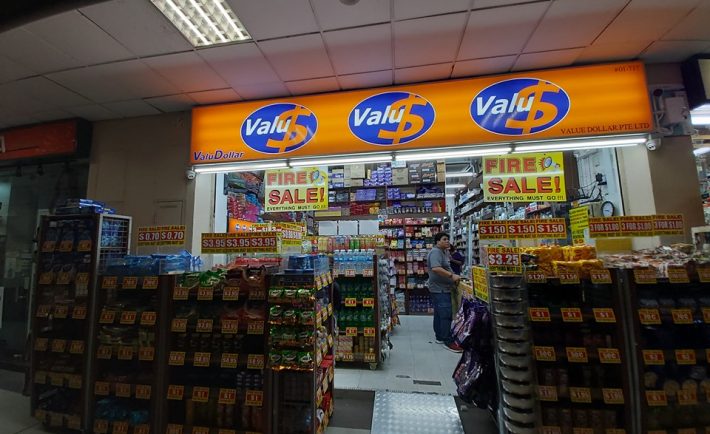 Image Credits: facebook.com/888woodlandplaza
From ValuDollar to Daiso, how do these budget stores make profits from their extremely low prices? Is it by selling volumes over pricing? Or is it because they offer knockoffs?
Here are several reasons why budget stores can still survive!
#1: NEARING ITS END
The shockingly low prices offered by the budget store might be due to the expiration dates of its products. While S$1 for a liter of soda sounds too good to be true, you must be vigilant when it comes to its lifespan.
You get to purchase a product for an insanely low price and the budget store gets rid of a stock that they would otherwise throw away. It is a win-win situation. This strategy is not limited to budget stores alone. Many supermarkets and bakeries slash their prices as they close for the day.
Minor defects in the packaging may also contribute to the low prices. A small dent on a soap bar or a small tear on a box can contribute to its lower cost. Do not judge the item by its cover! Sometimes, the savings outweigh the appearance.
#2: REDUCING ITS SIZE
There is truth to the saying that size matters. Interestingly, retailers can mask the true cost of their products by changing its sizes. Some dollar store items are small samples sold for a dollar or less. This way, the retailer makes more money with each dollar you spend.
#3: SELLING THE OFF-BRANDS
Have you ever tried the Tim Tam chocolates biscuits from ValuDollar and noticed the significant difference in taste and packaging? I have! Well, this occurs because it is not from the original company itself! You see, dollar stores typically import items from other countries to get cheaper alternatives.
For instance, they may import Tim Tam biscuits made from Indonesia instead of importing it from the root source – Arnott's Australia. This does not mean that the alternative is fake or inedible. It could just mean that the ingredients used for the off-brand biscuit varies and are typically of lower quality. Do a taste test and compare it to the supermarket's Tim Tam to see for yourself!
#4: WINNING THE GREY MARKET
What are Grey Market products? For starters, Grey Market products are sold outside the authorized distribution channels by retailers which may have no relationship with the manufacturer of the products. Let us simplify things with an illustration!
Say that a laundry detergent distributor in Singapore sold its stocks to supermarkets such as FairPrice and Cold Storage. However, this distributor has extra stocks. How can it maximize its profits? It reached out to Grey Market dealers to offer its goods at heavily discounted prices. This is why dollar stores can get a hold of the same products and sell it cheaper than the rest!
Be a smart shopper! Just because a store has the word "budget" or "dollar" in its name does not mean that you are getting a good deal. In fact, it is likely that you are paying more at a dollar store for certain products that you can find at supermarkets. On the other hand, you must discern whether a product (such as a toothbrush) can be better acquired in a budget store. Keep these in mind the next time you shop!