(Image credit: Alexandre Chang, via Flickr)
Available in different forms, sushi has evolved from a typical Japanese's staple to a dietary essential in other parts of the world.
Do you know that sushi is one of the healthiest food around? On average, scientists found out that a a diet that consists of raw fish, vegetables and rice only has 30 per cent fat (most of it polyunsaturated) as compared to a typical English diet that contains 40 per cent fat.
It is not surprising to know that the Japanese are also one of the healthiest, with one of the lowest rates of heart disease cases and the most centenarians in the World.
This is also good reason (or excuse) to stuff yourself with sushi without feeling utterly sinful. 
That comes as a cost unfortunately.
You can't be having three meals of Japanese food a day and still be well in line with your budget.
You might want to know where to get your sushi fix for cheap and here are 10 places where you can get cheap sushi in Singapore.
1. Nihon Mura Express
Whenever i'm shopping in town and hunger pangs set in, the first thing that comes into my mind is "Nihon Mura's Sushi". Easily accessible at the basement of Cathay Cineplexes and Orchard Cineleisure, this is the place to go before you catch your movie.
At $1.60 per plate, you can build your own Tokyo's Skytree with the plates of sushi and sashimi you took off the conveyor belt. You are simply spoilt for choice with a variety of items ranging from an assortment of Sushi and Sashimi to fried items like Fried Salmon Skin and BBQ Scallop Mentai. (Raise up your hand if you love these scallops with mentaiko sauce!)
2. Sushi Express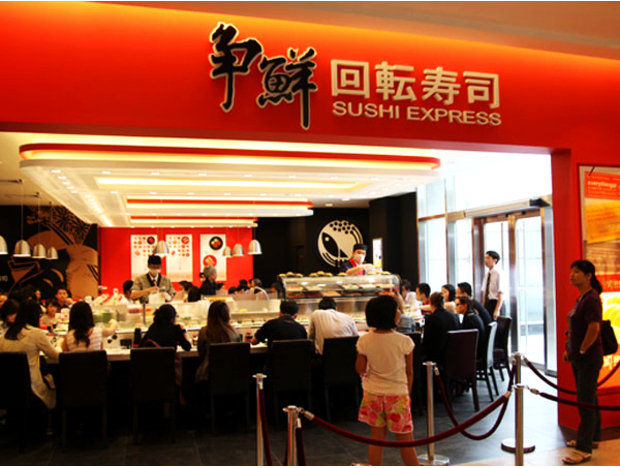 Sushi Express is next on the list since they are quite similar by offering their items with a universal price at $1.50 per plate. In terms of variety, Nihon Mura has more choices on their menu as compared to Sushi Express but one thing that stood out is Sushi Express don't charge for their green tea as you can easily take the green tea satchel bag right in front of you. They also offers dessert, with items like chocolate eclairs, cheese cake and mango pudding running on the conveyor belt.
Do you know Sushi Express is also famous for offering their sushi at $1 a plate for a limited time whenever they open a new outlet. (Tip: You might want to follow them on Facebook so you don't miss out such a deal)
3. Standing Sushi Bar (8 Queen Street)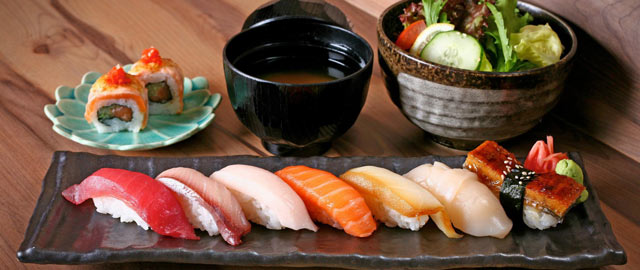 Standing Sushi Bar needs no introduction. As a sushi lover, you ought to know where these gems are in Singapore even before reading this. If you don't and have been living on the other part of Singapore, read on. Inspired by sushi bars in Tokyo, they opened their first full-service store back in 2010 at the Singapore Contemporary Art Musuem also known as the "8Q" outlet. (8 Queen Street) They are notorious for serving quality Japanese's fares without the huge price tag. This explains why you often see mysterious long queue along an otherwise quiet Queen Street.
Here's the deal: on Monday and Thursday night, you can enjoy a plate of sashimi at $3 for 5 slices. That's real salmon madness! On Tuesday night, you get 50% off nigiri sushi and sashimi and on Wednesday rolls and handrolls are going at 50% off. If these are not enough to tempt you, how does sake at $2 and beer, wine, hot sake and umeshu at $5 sounds?
To further sweeten up the deal: if you own a Standard Chartered Credit Card, you get 15% off your bill!
They have other outlets located in Marina Bay Link Mall and Far East Plaza with different promotions, so check them out here: http://standingsushibar.com
Psst. You should also try out their Salmon Aburi Roll and Scallop Mentaiki that makes us go head over heels!
4. Itacho Sushi
Itacho Sushi offers a wide variety of sushi, sashimi, maki and handroll on their menu. Some of the items are exclusive and you hardly see items like Japanese Flounder, Tresus Keenae, Kagoshima Wagyu in other restaurants. It makes you want to try and devour each and every sushi on the menu!
The reason why it is considered cheap and affordable is their special item that is going at up to 50% off. Salmon with Soy Sauce sushi at 40 cents? That's probably why it is limited to 2 pieces per person.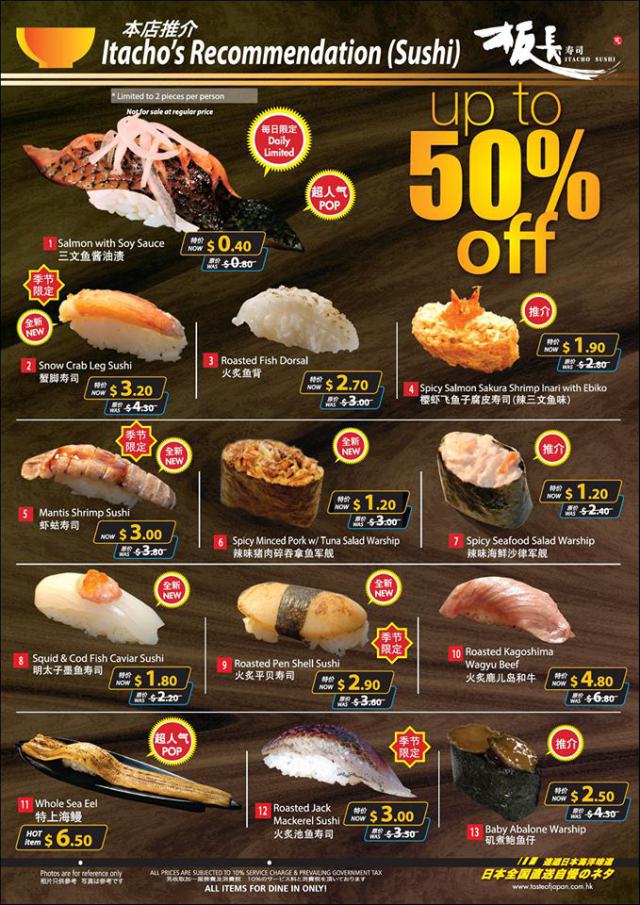 Beware though, you may end up exceeding your budget as i doubt you would not be able to resist trying out all the sushi in the menu!
5. EN Japanese Dining Bar (River Valley)
EN Japanese Dining Bar is managed by a family team where their zest for Japanese food has brought them together to set up a chain of restaurants across Asia – with their first being set up in 2010. With an "Izakaya" concept, they look forward to serve you what they are specialised at: Okinawa cuisine with fresh premium ingredients directly sourced from Okinawa itself.
Don't be blown away by their Happy Hour deal with 50% off their sushi and sahimi that happens all day from 6pm to 8pm! In addition, you also get 30% off their house pours if you are one of the early birds.
There is no better place to chill over a beer or a hot sake, coupled with fresh delights from the sea. You get 50% off for those marked with "Early Bird Happy Hour". A trio Sashimi Platter would have cost you $24.50 before discount, so you can now enjoy thick quality slabs of sashimi (Salmon, Tuna, Yellowtail) at $12.25 during the Happy Hour.
This little gem may be on the higher side of this list, but it could also be the one that could leave you with a deep impression of what a truly gastronomic experience is. Perhaps, with a Okinawa's diet, you could be on your way to the next centenarian list.
6. Sushi Bar at Cold Storage, Takashimaya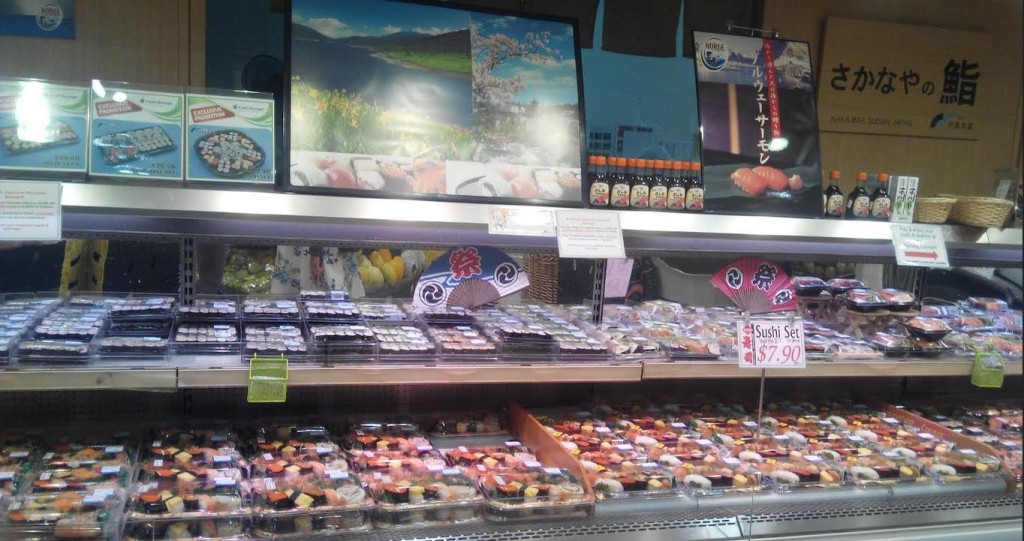 The sushi bar located in Cold Storage, Takashimaya got to be one of my favourite place for cheap sushi after 8pm on weekdays. The seafood here is supplied by Nakajima Suisan 中島水産 and if that does not ring a bell, you might have tried Nakajima Suisan Grilled Fish before. (located outside Cold Storage)
Why after 8pm? That's the time they start slashing the price of their nicely packaged sushi and sashimi. The price usually get cut several time until you subconsciously tell yourself: "I'm hungry again" even after you had your dinner an hour ago. They have a small dining area where they serve you a complimentary hot green tea. Feel free to ask for a bowl of miso soup to make it a complete meal.
You be your own judge.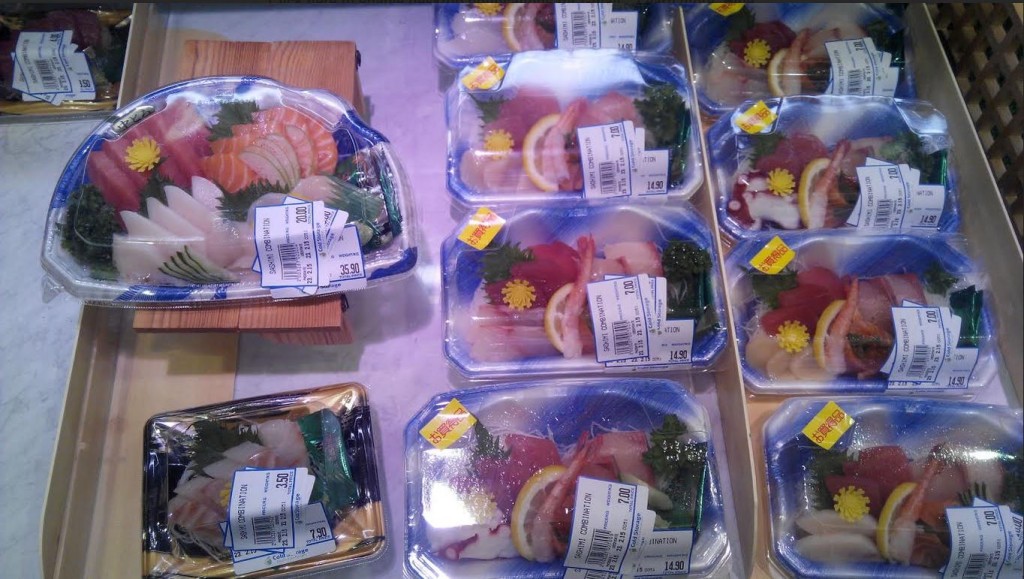 * Other supermarkets like NTUC, Giant and Cold Storage also cut the price of their sushi when they are about to close and the discount varies. Although i find that the outlet in Takashimaya offers a better deal in terms of quality and price. Even better with free hot green tea and a place for you to eat-in.
7. Isetan Scotts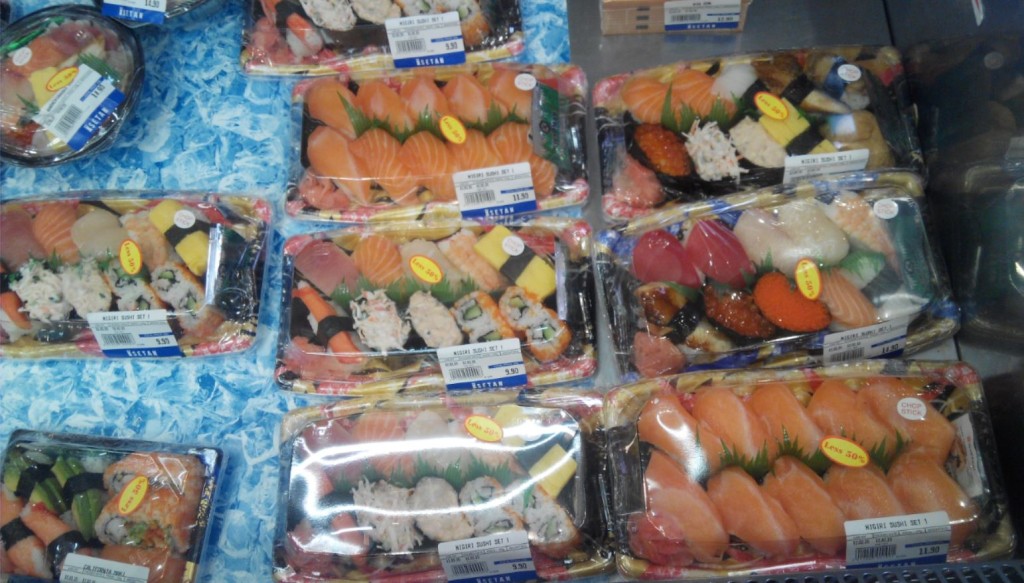 Isetan Scotts is the next place i usually frequent after 8pm to check out cheap sushi. As they can't keep the sushi and sashimi overnight, you could often get them at a very good price once they slash the price. The discounts varies and it depends on how much sushi and sashimi are left on the shelves.
The best deal is when the price are cut by 50%. You got to be kidding when this sashimi platter of Tuna, Salmon and Scallops is cut by 50%! $23.90 $11.95!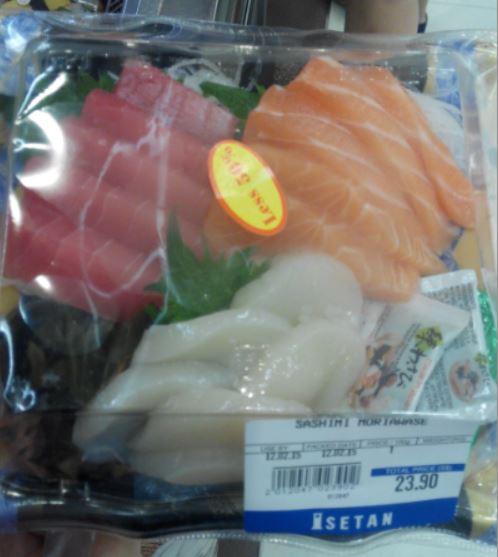 You can also check out other Isetan's outlets in Singapore but it seems that the outlets at Scotts are more generous with their price cut.
8. Kuriya Japanese Market
Kuriya Japanese Fresh Fish Market is a brand market under RE&S Enterprises group. (Same as Ichiban Boshi/Sushi, Wadori, Kuishin Bo and more) If you have dined in Ichiban before, you know they do not compromise on the quality of their food, so expect the same level of freshness when you purchase your sushi from Kuriya. They have many branches across Singapore and they usually cut their prices of their sushi around 8.30 – 9pm depending on how much is left on the shelve. Expect to get up to 30% discount from their range of sushi and sashimi.
9. Sushi Take-out
I first saw Sushi Take-Out when i was in Hong Kong and was excited to see them opening their first store in Woodlands MRT Station. As you can see above, all their sushi are priced at $0.50 each so you can mix and match the different kind of sushi you craved for. There are also packets of sashimi that are reasonably priced so check them out the next time you are at Woodlands.
Many sushi takeaway stores have since started opening up in Singapore and these include brands like Edo, Umi, Oisshi and Junshin Express. If you want cheap and no-frills sushi, check them out as you can usually spot them at nearby shopping malls and MRT stations.
10. Sushi King (City Square Mall, JB)
Sushi King is a sushi restaurant in Malaysia and has evolved from a single outlet to over 90 stores nationwide making them the largest sushi chain restaurants in the country. If you have been to City Square Mall in JB, you would have noticed this gem located at the basement of the shopping mall.
As you can see from the menu, most of their sushi are priced at around RM 4.00. With the weakening ringgit hitting a new low against the Singapore dollar (2.67 as at 12 Mar 2015), a plate of sushi would have cost you S$1.50. That's not all – if you dine between 3pm – 6pm, you can get an additional 20% off you bill which works out to be around $1.20 a plate.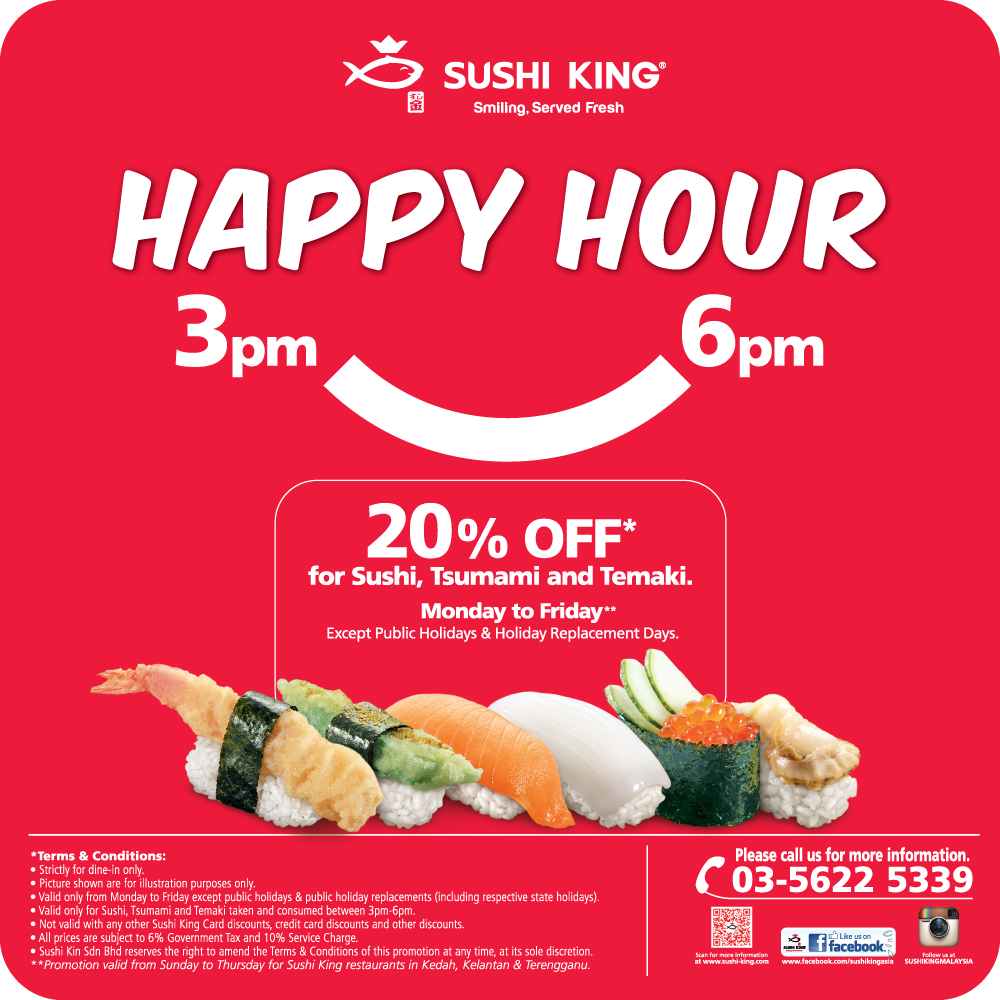 If you are living in the northern part of Singapore, a bus ride would take you about 20 to 30 minutes for you to get there during off peak hours. Not too bad if you want to reward yourself with these cheap sushi.
Is there a place for cheap sushi in Singapore we missed out? Let us know so we can compile this list as time to come.