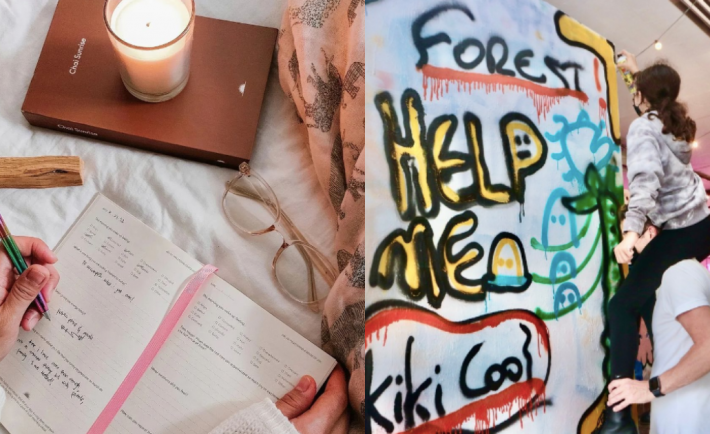 Image Credits: Chai Sunrise / Heaven Spot SG
We live in a highly developed era of technology and that's not something bad.
Thanks to our devices, we are continually connected with our loved ones, and the internet makes it simple to find solutions within a few clicks.
Aside from the fact that this level of technology has practically taken over every aspect of our lives, sometimes, it's not necessarily a good thing. If we don't do anything about our overreliance on technology, we run the risk of losing touch with the real world and ourselves.
What are some analog hobbies to try?
There are many analog hobbies out there, depending on your strengths and interests.
For instance, you can try your hand at woodworking or painting. I was online yesterday and came across an ad run by a graffiti warehouse in Singapore—Heaven Spot. 
View this post on Instagram
Each session is an hour long and packages start from S$45. I've yet to try them out but it does look intriguing.
Have you had a session with them before? Would you recommend it?
Whatever your interests are, there are a ton of activities that you can do to keep your mind active. You don't need a ton of expensive materials to get started either. With a few basic tools and materials, anyone can practice any art, from calligraphy to pottery making.
Why is going analog necessary in the digital age?
You might be wondering why we should look to the past for hobbies like knitting or making model airplanes when we live in the era of digital technology with its seductive array of devices.
Well, the obvious answer is that it offers something that modern technology cannot. Yes, I know how much technology has enriched our daily lives. But, a crucial component—the bodily experience—is also being rapidly replaced by technology.
Tactile experiences, such as handling something small and delicate like a tiny brush tip, are ones that a fully digital world cannot offer. Other examples include feeling the weight and texture of clay while you sculpt with it. Also, working with your hands on something tangible can give you a sense of fulfillment that typing on a computer screen just can't quite match.
The advantages of analog hobbies for the body and mind
Finding an analog hobby can be just what you need to concentrate on when you're feeling drowned by all the digital noise.
The development of creativity as well as stress reduction and enhanced mental health, are just a few of the significant advantages that an analog hobby can provide.
Gardening, drawing, or playing an instrument are examples of analog activities that focus you on the work at hand rather than being constantly barraged by notifications from email or social media accounts. By doing this, you can stay right in the moment.
By engaging in creative hobbies like painting, sculpture, or writing poetry (on paper), you can foster your creativity and improve your well-being. Moreover, self-expression and overall mental health can also be supported through artistic creations.
Arts and music-related analog activities can promote a sense of accomplishment and aid in the management of mental health issues including anxiety. Working on something tangible gives us a sense of accomplishment that is sometimes challenging to achieve through digital activities.
How to work a traditional hobby into your everyday life
So are you convinced to put down your devices, and set aside time for analog hobbies?
Lovely.
We have a few ideas to get you moving:
Journaling in a diary is a great way to reflect on your day's highs and lows as well as any interesting occurrences. If you're not sure where to start, why not try a guided journal?
Chai Sunrise has this 3 Questions a Day Journal to help you start penning.
View this post on Instagram
It's pretty pricey for a logbook but I'll give it credit because it's not just a blank one; there are daily positive reminders for your soul!
Choose a long-term hobby you can sustain
There are lots of activities available that exclude screens. For instance, start experimenting with film cameras.
If it sounds too expensive, though, you can start with watercolor paintings or drawings. There are affordable options available on Shopee! For example, this Singapore-based shop called ArtFarm Singapore has a decent range of art supplies, including 'Paint by Numbers Art Canvases' for beginners. Click through the links to find out more.
Finding the right balance between digital and analog
Finding the right balance between analog and digital interactions can be difficult, but maintaining an analog way of life in the digital era is not impossible.
One way to achieve this is to set time limits for your digital devices, such as refraining from accessing social media after a specific time you set. Keeping track of how much time you spend in front of a screen is another option. If you set a goal to spend more time offline than online, you will be surprised at how much spare time you have.
So why not give some traditional pastimes a try in this digital age? Along with making you happier, more at peace, and less stressed, it may even help you reach peak levels of productivity as you train yourself on how to focus.
It's easy to forget that conventional hobbies were once our forefathers' pleasures in a world dominated by screens and media. Also, concentrating on an analog task can aid in the practice of mindfulness and keep us present at the moment. It doesn't even have to be a big shift. Traditional hobbies can be quite beneficial, whether you decide to start painting, woodworking, or simply cuddling up in bed with a nice book. Disconnecting from technology can have a variety of benefits, from better mental health to strengthened relationships. So why not go analog and limit the cord on technology as we start the 2nd quarter of 2023?