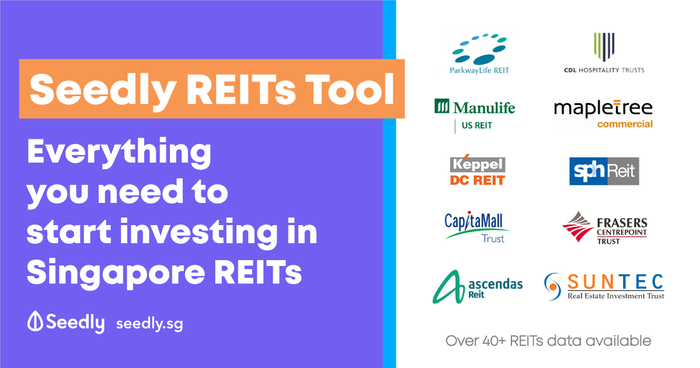 .
.
Interested in investing in REITs but don't know where to start?
For starters, it's going to take a lot of work.
Like. A LOT.
Imagine this.
You just got home after a long day at work.
All you want is a shower, dinner, and to relax.
You wouldn't want to waste time cooking a meal when you could be catching the latest episode of that new Netflix series that everyone's talking about.
And the last thing you would want to do is pore through pages of financial statements or do your own valuation of data just to pick the best Singapore REITs to invest in.
Not that there's anything wrong with doing that… but wouldn't you want to spend your time doing something else that you REALLY like?
I mean, why isn't there a magical resource or tool that can help people start their REITs investing journey?
Enter: The Seedly REITs Tool
With up-to-date data, sound analyses, and tonnes of information just a click or tap away.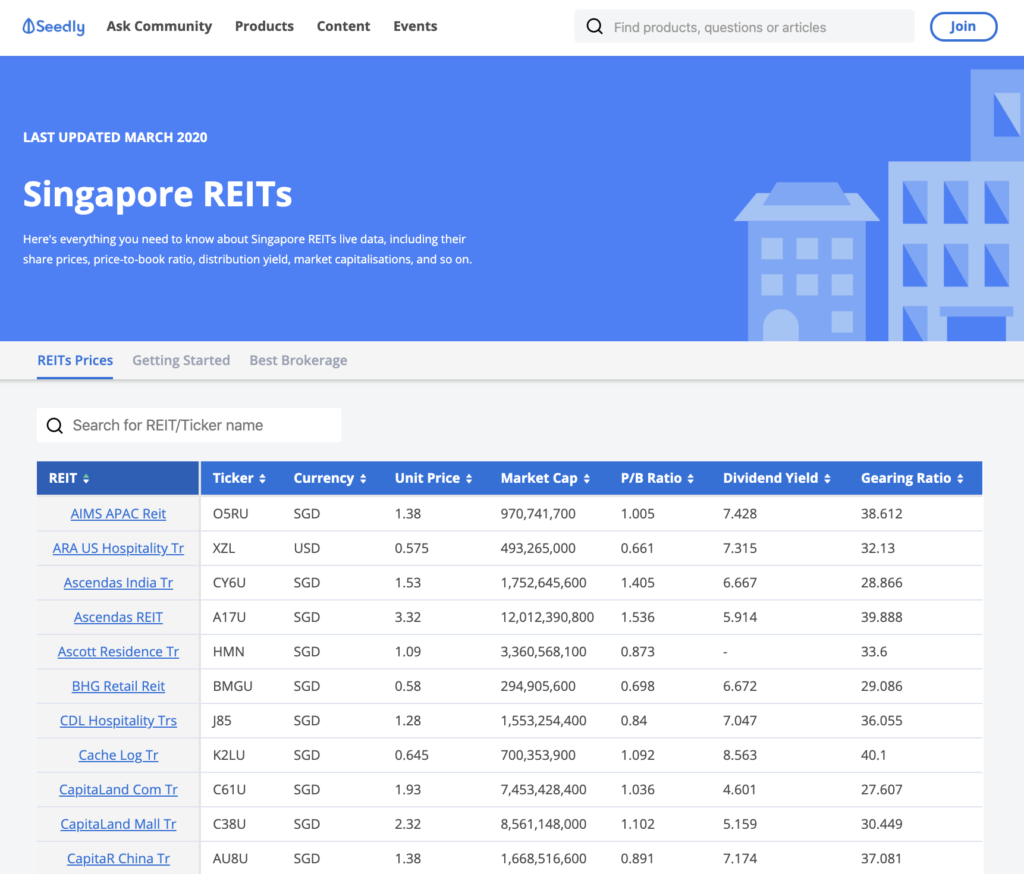 The Seedly REITs Tool is a REITs investor's best friend — no matter whether you're a noob or a pro at REITs.
Best of all?
It's FREE TO USE.
If You're a REITs Investing Noob
If you're just starting out, you're probably feeling lost and have no idea where to start when it comes to REITs investing.
With the Seedly REITs Tool, you have a one-stop resource where you can get useful information like:
What are REITs?
What are the types of REITs which you can invest in?
A simple 10-step checklist to pick the best Singapore REITs
Feeling more confident now that you know what you're getting yourself into?
Great!
The next step is opening a Central Depository Account (CDP) and an online brokerage account — if you don't already have them.
Instead of heading out into the vast wilderness of the internet to do your research…
Simply scroll down to discover what are the best online brokerages available!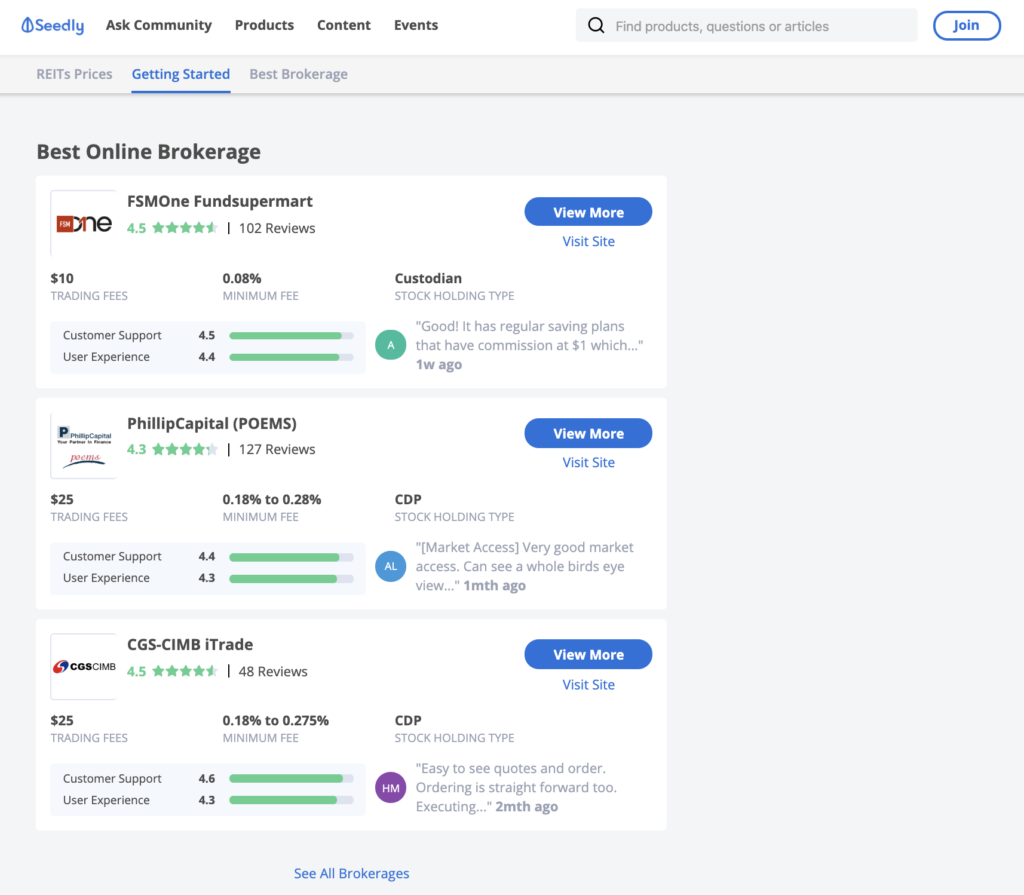 In order to make an informed decision, important information like:
Trading fees charged
Minimum fees charged
Stock holding type (if you'd prefer not to use a custodian account)
are all available at a glance!
Prefer to find out what others have to say about their personal experience with these online brokerages?
You can also read real-user reviews to get insights like:
Customer support
Market access (in case you want to invest in global markets)
Products on offer (in case you wish to invest in more than REITs)
User experience (because you're allergic to lousy user interfaces)
This way you know for sure what you're getting yourself into when you sign up with your choice of brokerage.
Made up your mind?
Just click on 'Visit Site' to sign up and you can begin investing in REITs!
If You Already Know About REITs Investing
The first thing you'll probably want to do is check up on the fundamentals of the REITs you're interested in.
While you could go about your standard routine of going to the individual REITs website or SGX to look for the REIT's financial statements or annual reports.
Why not use the Seedly REITs Tool to find what you need without going all over the place?
Just search for the REIT you want, click on it and…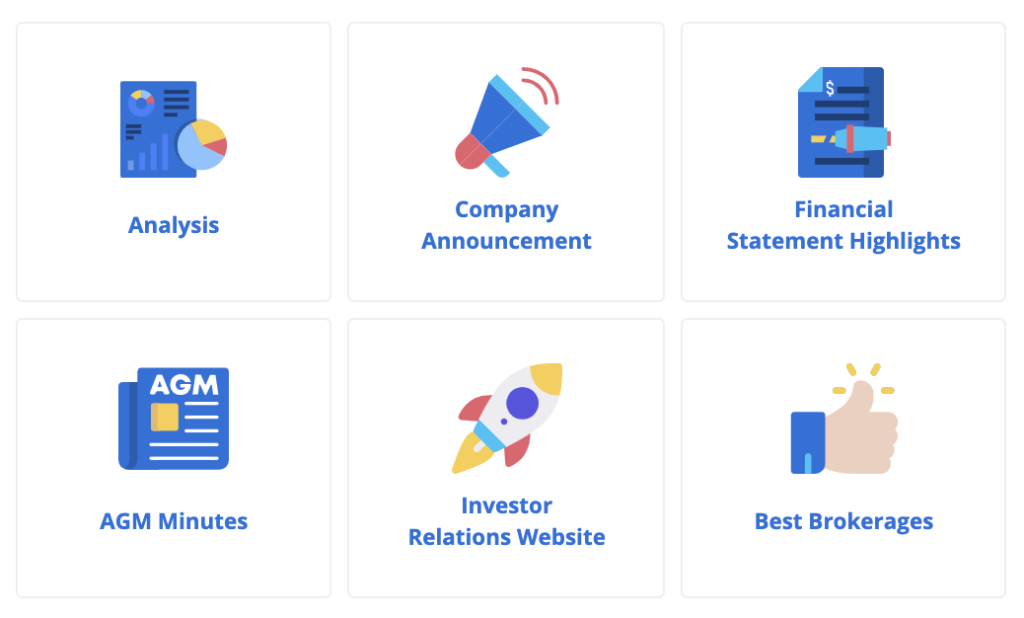 You'll have immediate access to:
Sound and in-depth REITs Analyses (researched and written by Seedly's very own content team; we aren't paid by anyone to write about them so you know that our analyses are objective!)
Company Announcements
Financial Statements
AGM Minutes
Investor Relations website (just in case you need more information about the REIT)
Best brokerages available
"How about REITs valuation data? Do I have to calculate that myself?"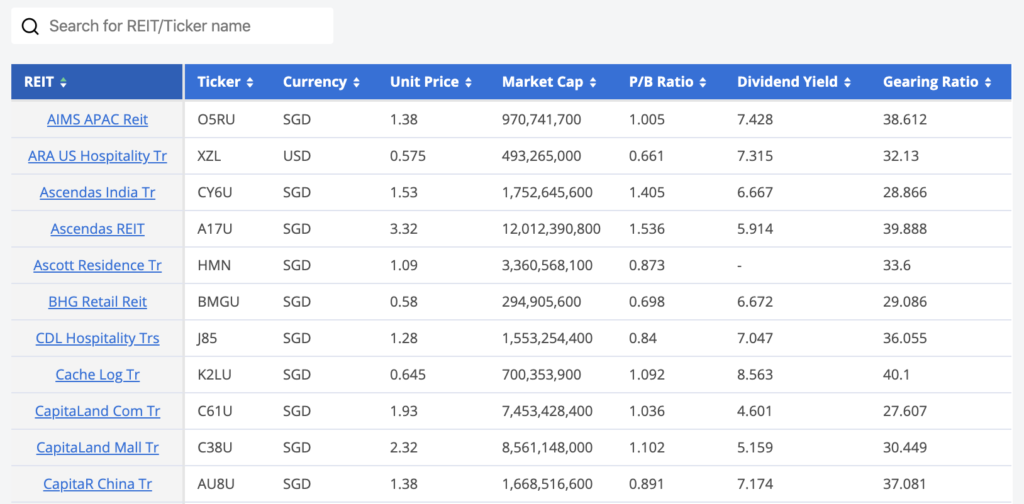 The Seedly REITs tool gives you easy access to data like:
Unit Price
Market Capitalisation
P/B Ratio
Dividend Yield
Gearing Ratio
that is updated daily at the end of every day.
And because the information is readily available on the same page.
You can do your comparisons easily without having to navigate back and forth or go through multiple pages on different sites!
The Seedly REITs Tool Sounds Great and All… but Why Is Seedly Doing This?
The Seedly team believes that everyone deserves to achieve financial independence and freedom.
And the reason why so many people don't start investing is that they lack the knowledge and guidance to take the first step.
This is why they created the Seedly REITs Tool and made it free for any and everyone to use.
If you understand what REITs can do for you and believe that they can play an important part in your investment portfolio.
Then the Seedly REITs Tool is the perfect accompaniment to help you start or make your REITs investment journey a little easier.
So when you come home from work…
you can focus more on relaxing and collecting dividends.