Image: kayak.sg
The travel search engine KAYAK.sg has identified the best night markets that Singaporeans should discover in Asia and the best travelling days for maximum savings
Singaporean travellers can save up to 55% on a round-trip flight to Phnom Penh when flying on Monday and returning Saturday
The cheapest return flight is from Singapore to Kuala Lumpur with an average price of S$76
When booking a return flight for a trip to Ho Chi Minh city travellers can save up to 33% flying on Wednesday and returning Friday
Singaporean foodies can never get enough of good food and are always on the hunt for the best local gastronomic experiences. KAYAK.sg reveals which destinations have the best local food at the most wallet-friendly prices, as well as which travel daysafford the best flight deals. Knowing which days are the best to fly on when booking a return trip allows Singaporean travellers to better plan their trip, while spending less on their flights and more on local delicacies in Asia's best night markets.
Debby Soo, KAYAK Vice President APAC said "Tasting local food is a highlight on every traveller's itinerary. To avoid disappointment, travellers should make sure to check the opening hours of night markets as they are not all open daily. Also, Singaporean holidaymakers should come prepared with sufficient loose change as the vendors only accept cash payment."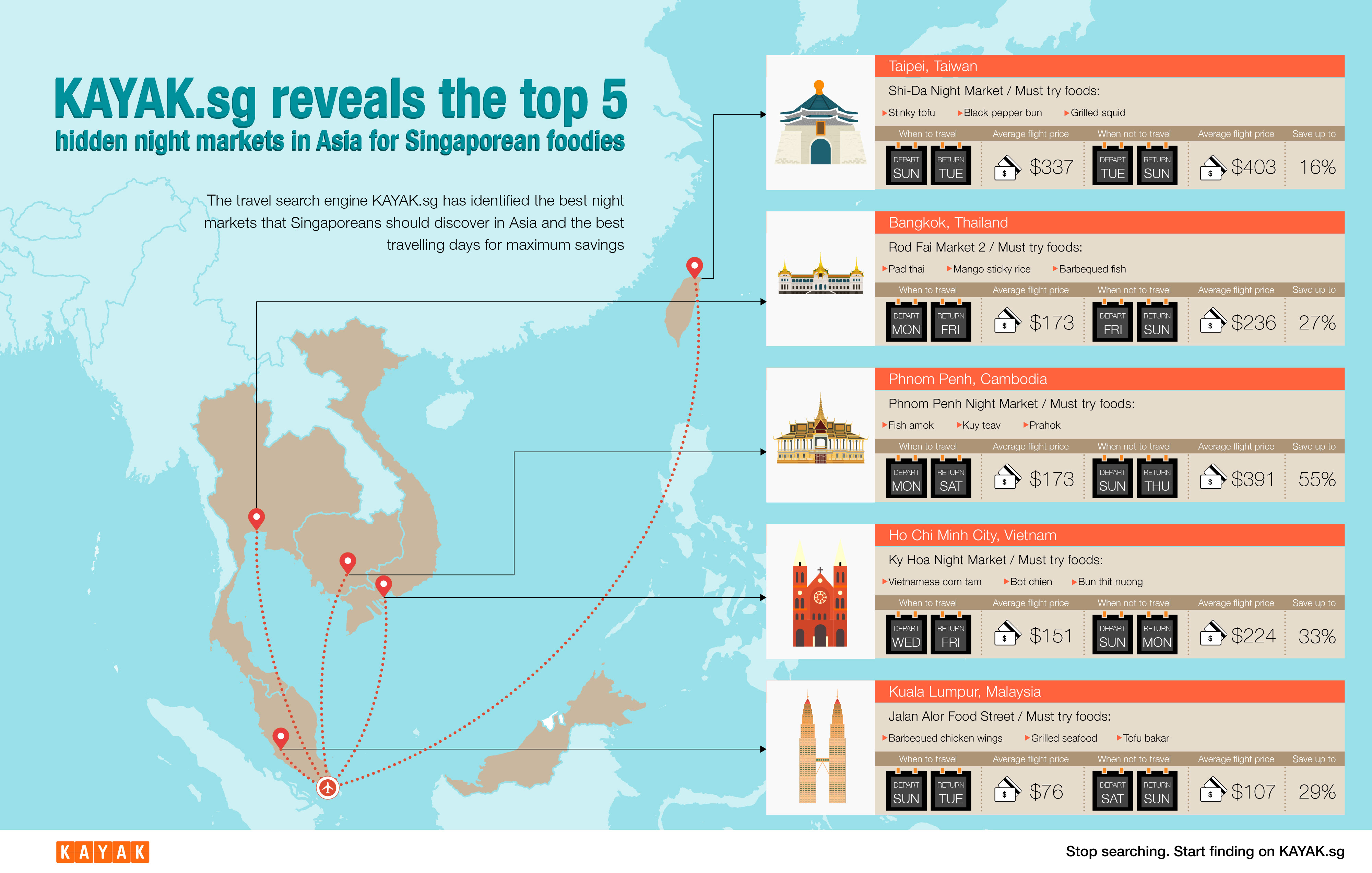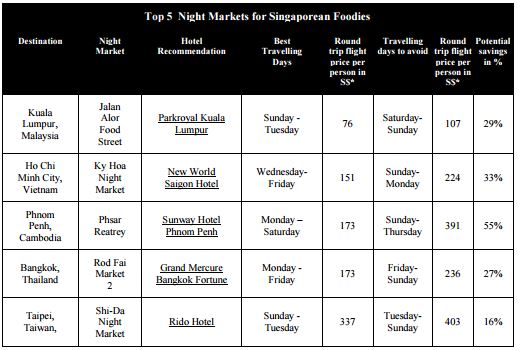 Kuala Lumpur, Malaysia: Jalan Alor Food Street
Jalan Alor is the best local tip when it comes to night markets in Malaysia. Expect to find a smorgasbord of street food; ranging from local Malay and Chinese food to international cuisine and exotic snacks; it is the perfect place for those who want to try all of the famous, local dishes. The famous food street is open until late to cater to party-goers around the area. Everything is on offer, including barbequed chicken wings, grilled seafood, tofu bakar and belacan fried rice. The street market is open every day from 5pm till late. Travellers should note that some of the street's restaurants have very specific opening times and are not open every day or at all hours, thus they should be sure to check the opening times before visiting them. To get better flight deals, Singaporean foodies are encouraged to travel to Kuala Lumpur on a Sunday and stay until a Tuesday, when the average price for a return trip amounts to S$83, saving travellers an average of 29% when compared to a Saturday to Sunday getaway. If travellers are making frequent trips to Jalan Alor to satisfy their cravings, they should consider their stay at Parkroyal Kuala Lumpur – a 10 minute walk away from the food street.
Address: Bukit Bintang, 50200 Kuala Lumpur, Wilayah Persekutuan Kuala Lumpur, Malaysia
Ho Chi Minh, Vietnam: Ky Hoa Night Market
Adventurous travellers can slip away from the French cafes and tourist heavy spots in District 1 and hop over to District 10 to explore Ky Hoa Night market which offers a wide range of local food. Among the most popular local delicacies, Singaporean foodies can try Vietnamese Com Tam (broken-rice) with grilled pork, bot chien (fried rice flour cake with egg), bun thit nuong (cold rice vermicelli) as well as exotic delicacies including fried insects and arachnids. Travellers should head to Ho Chi Minh City on a Wednesday and return on a Friday, when a return flight costs an average of S$151, saving up to 33% when compared to booking a flight leaving on a Sunday returning Monday. Luckily for Singaporeans, the market is open daily from 5pm to midnight; however, to make the most of it, travellers may consider staying in one of the top 5-star hotels nearby, such as the Windsor Plaza Hotel, and extending their taste-testing spree by couple of days.
Address: Thong Nhat Stadium, 138 Dao Duy Tu, Thanh Binh, Vietnam
Phnom Penh, Cambodia: Psar Reatrey
Phnom Penh's only formal night market, Psar Reatrey, overlooks the riverside from the central reservation that separates downtown and northern Phnom Penh. Singaporeans can enjoy live local pop music as they stroll through this less-crowded and less touristy Cambodian night market. Travellers should make sure to taste some specialties from the local cuisine, including Fish Amok (Cambodian style steamed fish), Kuy Teav (noodle soup), and Prahok (crushed and salted mud fish in banana leaves). Holidaymakers searching for novelties should take a seat at the back of the market and try fried cockroaches and salted grasshoppers. Singaporean travellers who want to save up to 55% should leave on a Monday and return on a Saturday when an average price of a return flight amounts to S$208. Moreover, it is perfect timing as the market is open on Fridays, Saturdays and Sundays from 5pm till midnight. Those who want to extend their stay in the capital and spend more time enjoying the local delicacies may want to consider checking into a 4-star hotel e.g the Sunway Hotel Phnom Penh, located within easy walking distance from the market.
Address: Street 1 (Preah Sisowath Quay) in Wat Phnom Commune, Daun Penh District
Bangkok, Thailand: Rod Fai Market 2
A sea of colourful tents, near the Thailand Cultural Centre, at the BTS station, house row upon row of street food vendors offering travellers everything from stir fried pad thai to barbequed fish and the perennial favourite, mango sticky rice. After eating or when taking a break from it, Singaporeans should head up to the second-story bars, which provide a bird's eye view of the market below, and enjoy some live music The best days to stay in Bangkok are Monday to Friday, when the average return flight price is around S$173. Also, Singaporean holidaymakers can save up to 27% when booking their flights for these days compared to other booking combinations. For Singaporeans taking advantage of this great deal, take note that the market is only open Thursday to Sunday so book a hotel like the Grand Mercure Bangkok Fortune, just a stone's throw away from the market, to really make the most of your market dining experience.
Address: Ratcadaphisek Road (close to Esplanade Shopping Mall)
Taipei, Taiwan: Shi-Da Night Market
Located in one of the city's trendiest neighbourhoods and near several universities, Shi-Da has a young and vibrant atmosphere. The market can be found along Longquan Street, which runs parallel to ShiDa Road. Apart from tasting such local delicacies as stinky tofu, black pepper buns and grilled squid, Singaporeans should definitely make time to explore the stalls set up by local fashion designers. Travellers can save up to 16% when flying out a Sunday and back on a Tuesday, with an average price of S$337 when compared to holidaying from Tuesday till Sunday. The market is open from 6pm to 11.30pm daily; however, with so much to see and taste Singaporean travellers, wanting to make the most of their time in Taipei may want to consider somewhere like the Rido Hotel, which is a short stroll away from the market.
Address: Lane 39, Shida Rd, Da'an District, Taipei City
---
Note:
Data analysis is based on flight searches made on KAYAK.sg from June 2015 until June 2016 for travelling dates between June and December 2016. Average prices are quoted in Singapore dollars and based on a return economy flight for one person. All prices quoted may be subject to change and may no longer be available. Hotels are recommended based on short travel distance from the night markets or food streets, rated at least 4 stars. Searches are made on 18 June 2016 for 1 night stay and 2 guests from 27 June to 25 July 2016.