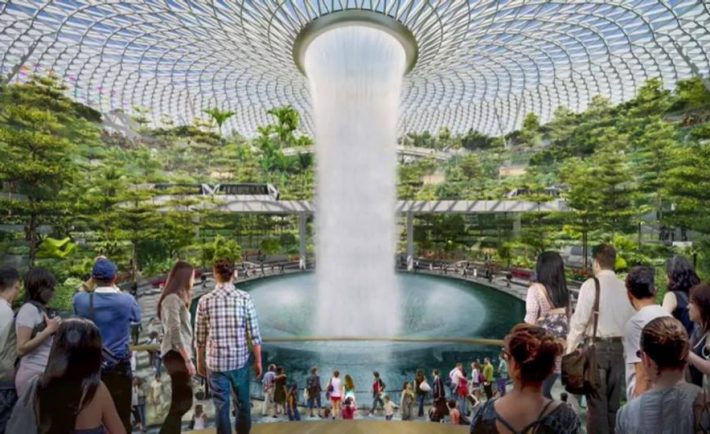 Image Credits: facebook.com/JewelChangiAirport
Scheduled to open this month is the latest Jewel of Singapore – the Jewel Changi Airport. This multi-purpose development includes a hotel, aviation facilities, retail stores, dining facilities, and various attractions. A complex that houses all these facilities must be massive! The complex covers a total gross floor area of 134,000 meters, which spans about 10 stories.
I am most excited about the key attractions including the world's largest indoor waterfall and the five-story indoor garden. Let us start with the HSBC Rain Vortex. Standing at 131 ft high is the world's largest indoor waterfall. At night, the Rain Vortex glistens with lights and sounds. These were curated by the water design expert WET Design. I expect nothing but the best!
Lastly, Canopy Park aims to astound you with its two gardens including Topiary Walk and Petal Garden. The former features animal-shaped topiaries. The latter features seasonal floral displays. These natural displays excites my flower-loving heart!
Aside from flowers, food holds a special place for us. Singaporeans are enthusiastic about the flavors offered by Shake Shack and the comeback of A&W Restaurant.
Probably the most anticipated F&B opening at Jewel, is the famous burgain chain called Shake Shack. Its first outlet in Singapore is set to open on April 17. Shake Shack will offer its classic coffee milkshake along with locally brewed Jewela Melaka and Pandan Shake. Jewela Melaka is a frozen vanillacustard ice cream with coconut salted caramel, Lemuel chocolate chunks, shortbread, and gula melaka. Pandan Shake (S$7.80) puts a Singaporean-spin to their classic brew by adding pandan. Putting a spotlight on their burgers entails that its made with freshly ground 100% Angus beef. Rest assured that it has a delicate texture, great taste, and no added hormones. ShackBurger costs S$9.20 to $12.90.
Last but not the least is the ultimate throwback F&B opening of A&W Restaurant in Jewel Changi Airport. It is operating for 24 hours daily and is Halal-certified. Many are thrilled to taste the Root Beer Float, Coney Dogs, Curly Fries, and Waffle Ice Cream once more. This all-American restaurant will welcome long queues for sure!
Oh! The Jewel houses a Pokemon center too. Certainly, the nation is shaken by the opening of the Jewel! Wait and see for more.