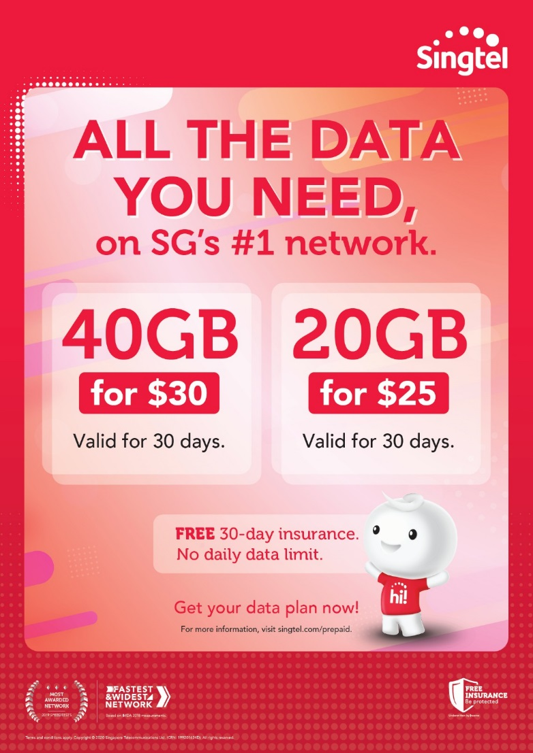 Fancy having all the data you need at wallet-friendly prices?
Singtel has launched their latest prepaid data plans with up to 40GB of 4G data at very reasonable prices. Say goodbye to scrimping and saving on your data usage – now you can browse freely on the go and stream all you want!
20GB for $25
40GB for $30 (that's DOUBLE the data for just $5 more!)
Why go with Singtel?
No daily data limit
Complimentary 30-day insurance coverage by NTUC Income. (Yes, the data plans come bundled with free insurance!) You'll be auto-enrolled and be covered in the event of accidents, hospitalisation, job loss after hospitalisation, permanent disability or accidental death for the duration of your data plan.
Singtel provides the fastest and widest mobile network in Singapore – always be connected no matter your location.
No worries about incurring excess data charges as these are prepaid plans.
How to get the 20GB / 40GB data plans?
You can buy the $25/20GB or $30/40GB 30-Day data plans at any of the below channels:
hi!App (Go to Top Up tab > Data Plans > 30-Day Plans) click here to download hi!App.
hi!Account (https://hi.singtel.com/view.do)
Singtel Shops
Singtel Exclusive Retailers
7-Eleven
Cheers
If you are not a Singtel prepaid user currently, simply buy any prepaid hi! SIM Card at any Singtel Shop, 7-Eleven or Cheers store to get started. The SIM cards come in denominations of $8 / $15 / $38 and you can select any!
Get your data plans now and start surfing! Visit www.singtel.com/prepaid for more info.