Did the alliteration startle you? Not to worry, let us show you how you can be a savvy saver if you subscribe to Singtel Super Stacker. Since you have asked for it, Singtel has answered the call with customisable bundles which allows customers to pool mobile data, talktime and other services for sharing. Whether your demographic profile belongs to that of families, young couples or simply an individual power user of multiple devices, Singtel Super Stacker has got you covered.
What Is Singtel Super Stacker?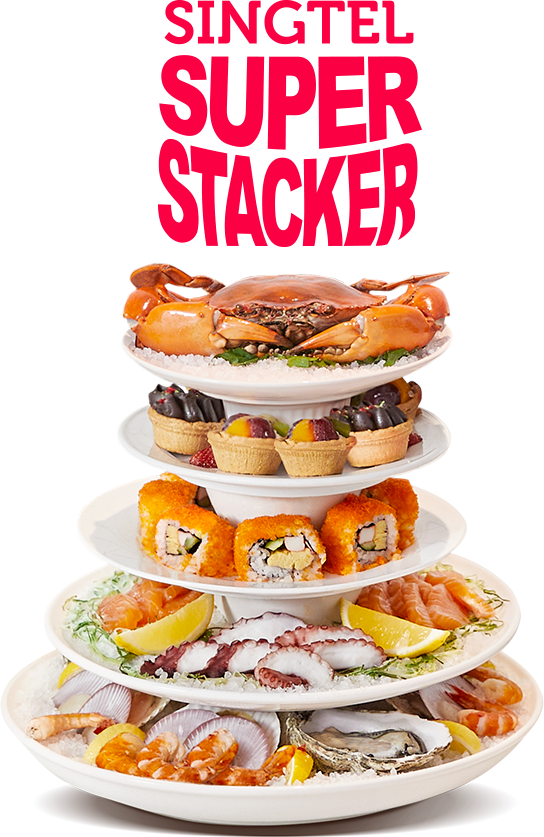 The Singtel Super Stacker bundle provides users with multiple options to share benefits while enjoying greater savings. Simply start with a 5G mobile plan as the base and stack it up gradually with up to 4 additional layers to choose from – Mobile, Protect, Broadband and Entertainment Stacks.
Stack

Description

Price

1

Mobile Stack*

● Get 2 additional 5G lines and unlock double the data, talktime and SMSes to share with your friends or family


● Plus, receive free 1-year Singtel Red membership (U.P. $88 / year) with priority invitations for phone launches, $120 worth of vouchers, and curated perks from over 100 dining, wellness, and lifestyle merchants (till 31 Mar '23)


● Launch Special - Customers who opt for a XO Plus 92 & above plan will receive an additional $100 device voucher


*Only valid for XO Plus 92 or Sim Only Plus 55 & above 5G plan

$29.90/mth
(U.P. $39.90/mth)

2

Protect Stack*

● Enjoy MobileSwop Family at a special price, with unlimited swops for 3 devices* and 1 replacement on your main device every 12 months


● Free tech assist


● Unlimited repairs across all brands


● Launch Special – Additional $150 device discount


*One main device receives one replacement every 12 months

$20/mth
(U.P. $23.90/mth)

3

Broadband Stack

● Additional FREE WiFi-6 mesh with all eligible broadband plans worth over $240

Choose from:
1) 1Gbps WiFi-6 Plan for $53.40/mth


2) 2Gbps WiFi-6 Mesh Plan for $73.58/mth


3) 2Gbps WiFi-6 Mesh Plus Plan for $83.68/month. Includes a Linksys E9450 AX5400 WiFi-6 Router

4

Entertainment Stack

● Choose from a variety of apps on Cast.sg and receive a 2nd music or news app* for FREE for 6 months (with no contract)


*Value of free apps:


● Spotify Premium (U.P. $9.90/month)


● KKBOX (U.P. $9.90/month)


● The Straits Times (U.P. $14.90/month)

Choose from:
1) Sports Plus ($20.09/mth)


2) HBO GO ($14.12/mth)


3) Viu Premium ($7.98/mth)


4) iQIYI Standard ($6.98/mth)


5) TVBAnywhere+ VOD Zone ($5.02/mth)


6) TVBAnywhere+ Channel Zone ($5.02/mth)
Remember the golden rule, the more layers that you stack, the greater the savings!
Not convinced yet? Here is an example of your potential savings when you subscribe to Singtel Super Stacker:
Stacks

Singtel Super Stacker

Other Telcos

Base Mobile Plan (include handset)

$92

$100

2 additional 5G mobiles lines

Mobile Stack: $29.90

$38.36 per line for total of $76.72

Other Stacks

Protect Stack (MobileSwop Family): $20


Broadband Stack (with 3X mesh): $74


Entertainment Stack: $5

Device Protection for 3 devices: $42


2Gbps Broadband Plan (with 3X mesh): $92


Entertainment App: $10

Total Cost

$221/month (~$2652/year)

$321/month (~$3852/year)
Terms and conditions apply. Prices shown are as of 17 Mar '23 and may be updated from time to time.
Certain prices have been rounded to the nearest dollar for ease of reference.
As highlighted in the worked example, the Singtel Super Stacker allows a customer to save at least $100/month which is equivalent to $1200 in a year! And this comparison does not even include all the additional vouchers that comes with the Launch Special of Singtel Super Stacker!
In a climate of rising costs of living, every penny saved is a penny earned. Simply start subscribing to Singtel Super Stacker to unlock a better digital lifestyle and your wallet will also thank you for it!
For more details on Singtel Super Stacker, please click here.