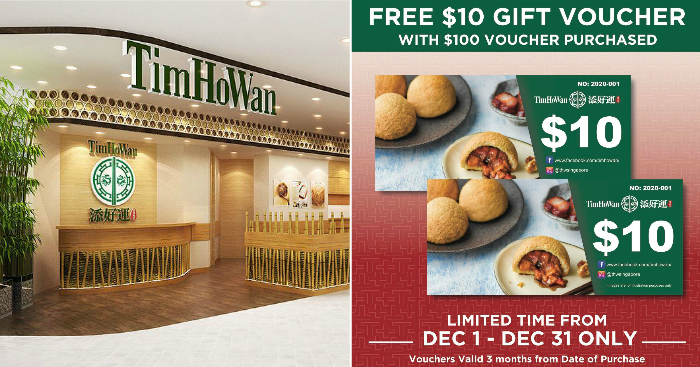 Celebrate this festive period by surprising your loved ones with the best Christmas gift – food! Tim Ho Wan vouchers will be available for sale from 1 to 31 December 2020, purchase $100 worth of vouchers and get a free $10 voucher, perfect for gift exchange or for indulging in a Christmas feast with your family and friends.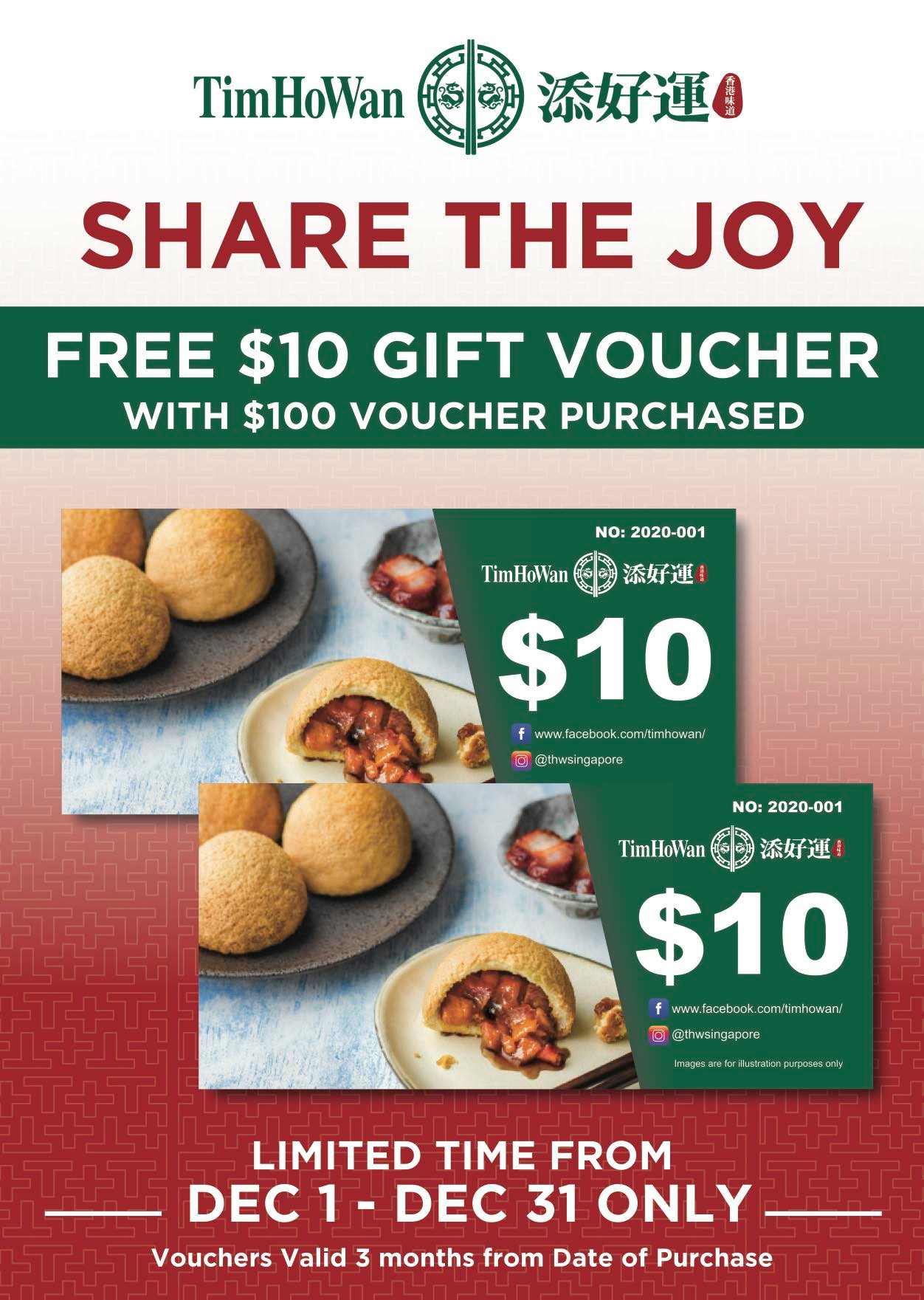 New Chef Specials at Tim Ho Wan
This holiday period, Tim Ho Wan will also be launching new chef specials – traditional Hong Kong delights that will whisk you away to Hong Kong!
Are you a fan of Tim Ho Wan's signature Baked BBQ Pork Buns? Tim Ho Wan brings you good news this November with the launch of their first-ever rendition of its Steamed BBQ Pork Buns, guaranteed to delight and excite your tastebuds! Exclusively for Singapore and created for fans of Tim Ho Wan in Singapore only, the Steamed BBQ Pork Buns is part of 3 new chefs special's including the Fried Shrimp Pancake with Radish and Glutinous Rice with Chinese Sausage. These specially curated dishes are available for islandwide delivery and takeaway at all Tim Ho Wan restaurants from 19 November to 18 January 2021.
Steamed Char Siew Bun (2 pcs) (S$4.50):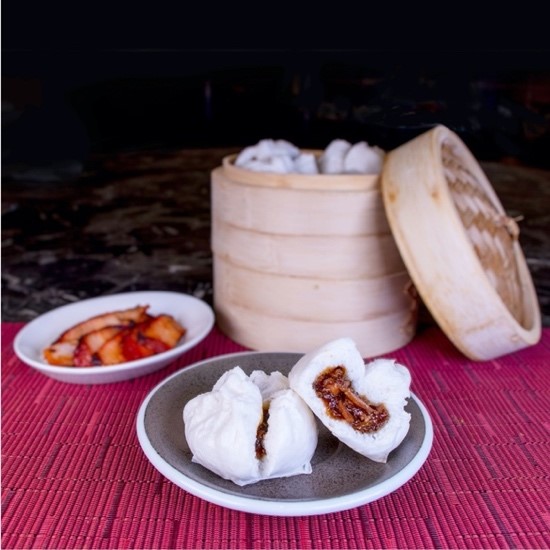 The highlight of the new chef's specials and a classic Dim Sum item, tender chunks of oozing, sweet-salty diced barbecued pork filling pork in special self-create sauce encased in a soft, tender white fluffy bun, served piping hot and steamed to perfection. A new must-try dish at Tim Ho Wan!
Fried Shrimp Pancake with Radish (S$6.50):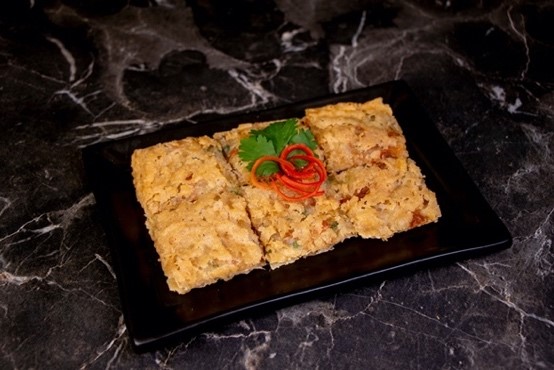 A classic Hongkong street snack which features the perfect paring of radish and shrimp – a crunch in every bite, with juicy and succulent shrimps, generous chunks of sweet radish  that boast a spicy kick and an elusive wok hei, not forgetting, red carrot, and celery to elevate the taste of this dish. highly irresistible!
Glutinous Rice with Chinese Sausage (S$6.50):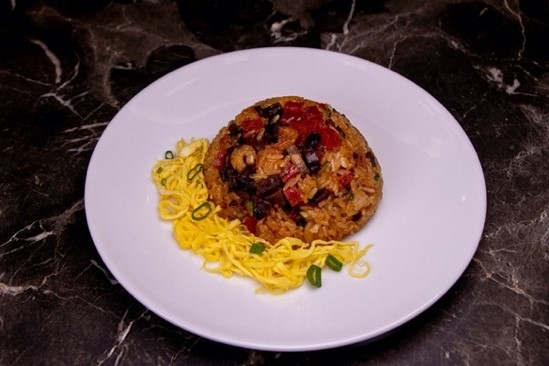 *Prices might vary for Marina Bay Sands and Jewel Changi
A well-loved classic and savoury dish at Tim Ho Wan, featuring its key ingredient – a trio of fragrant chinese sausages. Tender sticky stir-fried glutinous rice with slices of luscious Chinese Sausages, packed with  dried shrimps and mushrooms. A delicious combination.
Reopening of Tim Ho Wan's Suntec City restaurant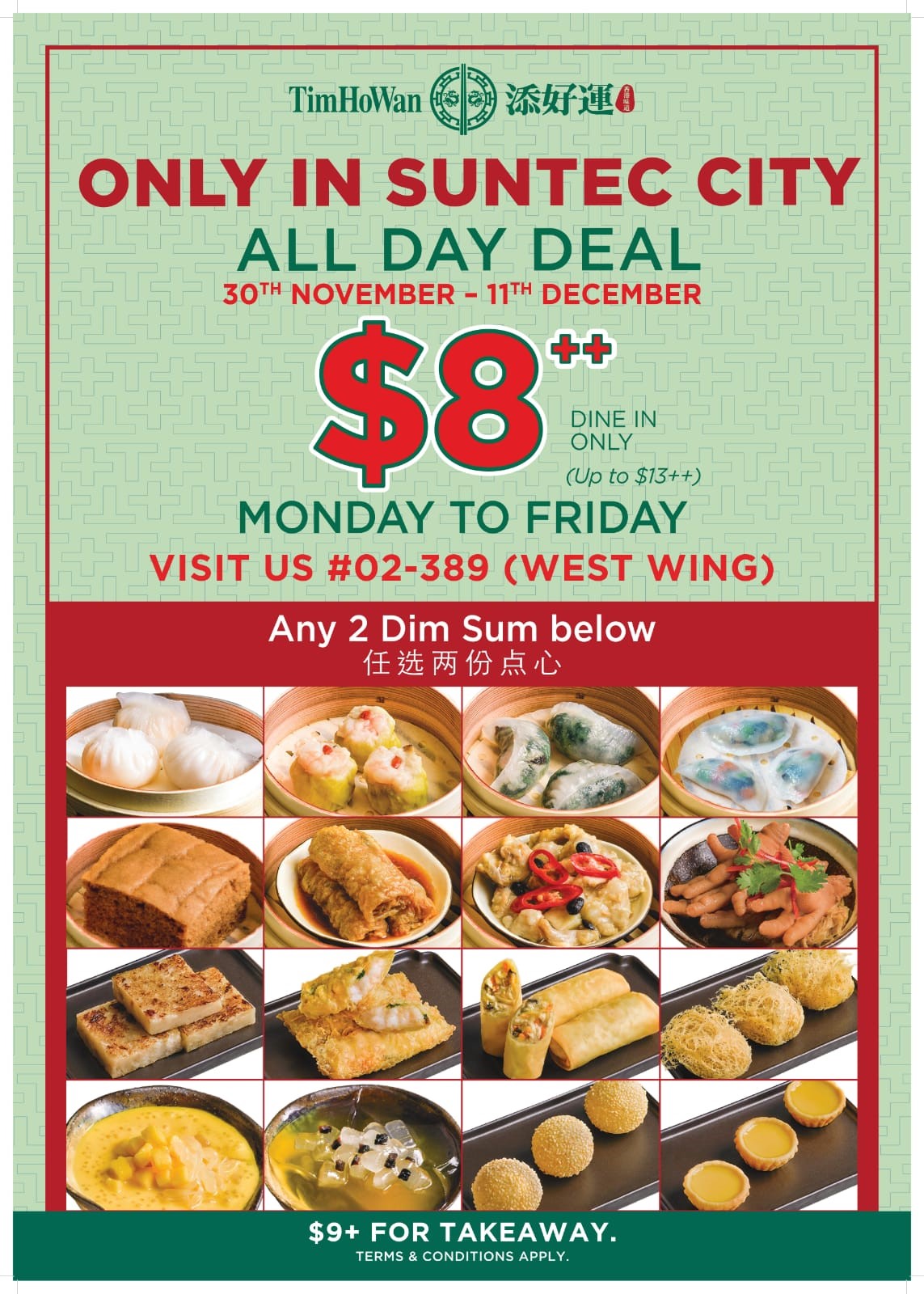 Tim Ho Wan's Suntec City restaurant has also officially reopened on 27 November! Head on down to savour delicious Hong Kong delights in the heart of the city! To celebrate Tim Ho Wan Suntec City's reopening, it is bringing back its Weekday All-Day Dim Sum deal from 30 Nov to 11 Dec. Enjoy any 2 dim sum items* of your choice at $8++!
*Refer to image for selected dim sum items
Terms and conditions
Valid for dine-in only, takeaway will be charged at $9.00+
Available Monday to Friday, excluding public holidays
All prices are subjected to 10% service charge & 7% GST
While stocks last
Tim Ho Wan