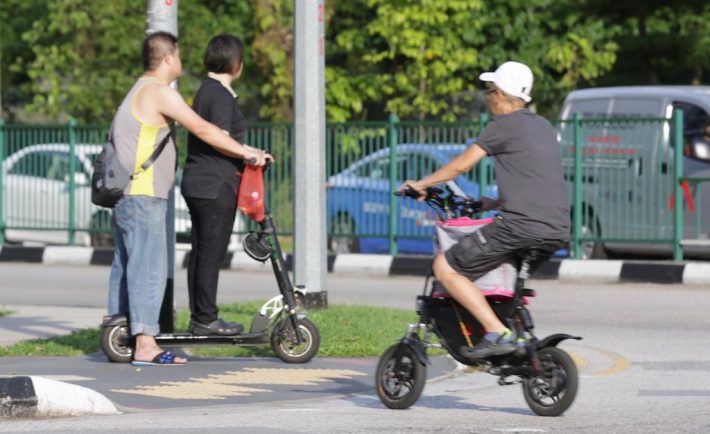 Image Credits: todayonline.com
This is not the first time we're hearing of such a rash act. Earlier this month on 3 August, the news reported 10 people being arrested for dangerous riding on personal mobility devices (PMD) and power-assisted bicycles (PAB) along Sheares Avenue. The police said the suspects were arrested between Jul 17 and Jul 20.
If you haven't been keeping up with the law, e-scooters have been barred from footpaths since last November and all motorised PMDs are not allowed on footpaths since Apr 1.
What happened?
Last Oct 23, Chen Yue, 61, rode his unregistered e-scooter from Kinta Road towards Dhoby Ghaut MRT to meet a potential buyer who wanted to purchase the device. He rode the e-scooter on the footpath along Selegie Road until he reached Selegie Court. 
As there were many pedestrians on the footpath, he decided to take his device onto the road. In fact, he rode against the flow of traffic at about 15kmh. Failing to spot the 24-year-old woman standing in front of Wilkie Edge mall who stepped off the footpath onto the road, Chen collided into her. The incident was captured on CCTV.
The victim fell lying face down on the road, bleeding from her mouth and face. She was taken to the hospital with injuries including a fractured skull, deep cut on her lips, and a blood clot between her skull and her brain. She was given physiotherapy and occupational therapy and discharged a few days later with 31 days' hospitalization leave.
Prolonged impact
But the victim continues to experience occasional dizziness and has a scar above her lips from the incident. Her teeth have also grown loose because of the impact. While her medical fees were fully covered by insurance, Chen made voluntary compensation of S$8,000 to her in May this year.
"The fact that she continues to experience occasional dizziness and intends to seek further treatment after COVID-19 speaks to lingering consequences of the collision on her life," said Deputy Public Prosecutor Grace Teo.
The verdict
Chen demonstrated a high level of rashness by riding his e-scooter against traffic when there were moderate traffic flow and pedestrians on the footpath, Ms Teo added. However, Chen's lack of previous convictions and his voluntary compensation to the victim was considered. There was also no evidence that he had been speeding on the footpath.
Today (Aug 21), Chen was fined S$500 and jailed for six weeks for causing grievous hurt by a rash act and riding an unregistered PMD, a sentence much lighter than he could have gotten.
This is because for a rash act causing grievous hurt, Chen could have been jailed for up to four years, fined up to S$10,000, or both. For riding an unregistered PMD on a footpath, he could also have been jailed for up to three months, fined up to S$2,000, or both.