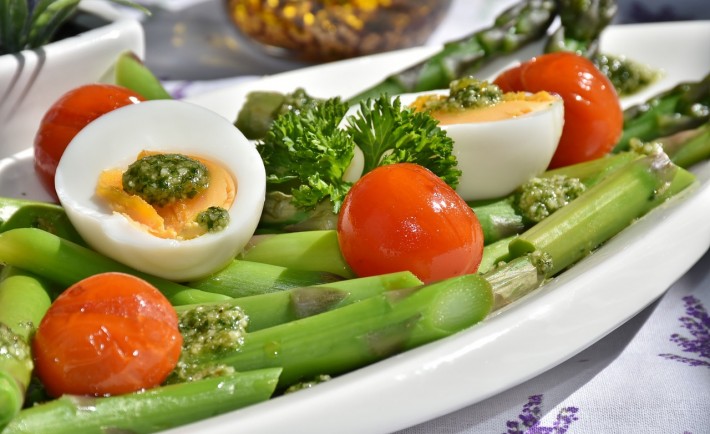 Image Credits: pixabay.com (CC0 Public Domain)
One of the things Singapore is abundant of is food. The diverse food selection extends to the vegetarian options. From organic snacks to vegan Western food, this list has you covered!
1. VEGGIE COTTAGE
Camouflaged within the neighboring grocery stores is a beautifully casual cafe called Veggie Cottage. It serves a wide array of Asian and Western vegetarian food such as Avocado Salad, Claypot Tofu Rice Set, and Spaghetti Bolognese. They also sell cupcakes to satisfy your sweet tooth.
With seriously inexpensive prices ranging from S$2.50 to S$10.80, you will surely wear a smile while browsing their menu – here.
Online Reception: 100% Upvotes at HungryGoWhere.com
Location: 13 Dalhousie Lane, Singapore 209682
2. GOKUL VEGETARIAN RESTAURANT
Fusing Indian cuisine with other yummy vegetarian meals, GOKUL Vegetarian Restaurant boasts with over 100 food items. From bite-sized munchies such as Samosa Chaat and Dosa to health main courses such as Tom Yum Noodles and Paneer Fried Rice, they have it all for you. Furthermore, all of these are free of onion, garlic, and egg.
Online Reception: 84% Upvotes at HungryGoWhere.com
Location: 19 Upper Dickson Road, Singapore 207478
3. CI YAN ORGANIC VEGETARIAN HEALTH FOOD
Nestled at the bustling streets of Chinatown is a humble treasure of an eatery called Ci Yan Organic Vegetarian Health Food. This place serves nothing but organic ingredients without the use of MSG.
With an uncomplicated menu of only 4 to 6 dishes that vary per day, it will take your taste buds to a healthy adventure. The quality of the dishes makes up for the lack of choice. However, if you are a picky eater, you may call them up in advance at 6225 9026. Worry not about their prices, as the average plate is S $7 while the noodle dishes are about S $5.50.
Online Reception: 84% Upvotes at HungryGoWhere.com
Location: 8 Smith Street, Singapore 058922
4. REAL FOOD
If I were asked to name a place perfectly suited to a health conscious Singaporean, I would definitely suggest Real Food. Known for serving organic and vegan yet really tasty food, Real Food consists of affordable meal selections.
All of the Real Food outlets showcase a contemporary setting with relaxing lighting. What separates it from other eateries is that the Killiney Road outlet has a 3-in-1-concept design featuring a Cafe and Restaurant, a grocery, and a bookstore. Everything you need in one delightful space.
The recommended dishes include Steamed Dumplings (S$9.80), Beet Millet Burger ($13.80), Genovese Pesto Pasta (S$11.80), and Rise-n-Shine Breakfast ($8.80). End your meal with one of the cold-pressed fruit juices priced as low as S$6.50.
As blogger Doria Teo puts it:
"Everything is vegan and organic and especially for someone health conscious like me, this is a rare gem. I hardly find food that tastes so good and yet is so healthy at the same time."
Online Reception: 77% Upvotes at HungryGoWhere.com
Locations: Several outlets islandwide, visit: realfoodgrocer.com/outlets for more information.