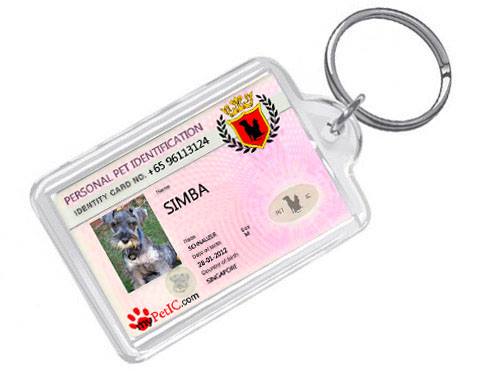 Image Credits: facebook.com/MyPetIC
Now, more than ever, pets play an important role in enriching our lives. Whether you own a dog or a rabbit, these pets typically become a part of the family. Some pet owners go beyond dressing their pets by creating social media profiles for them. Creating their own identities strengthens their roles in your homes.
To protect your beloved pet's identity, you may purchase a "pink identity card". Do not rush to the Immigration and Checkpoints Authority (ICA) just yet! I am referring to the novelty products produced by two local companies. Both Plus Accessories and MyPetInc create tags resembling the pink NRIC. These products steer away from the traditional round pet collar tags to provide more information to identify your pets. Let us start with the products offered by Plus Accessories.
At first glance, one will be shocked by how the wallet-size "pet IC" (i.e., retails for about S$25) looks somewhat like the actual identity card. It has all the necessary details such as the pet's name, breed, date of birth, country of birth, and identity number. Moreover, it will feature a small picture of your pet. On the top, the card playfully says that it belongs to the Republic of Singapaw! Please note that it takes about 2 months after the confirmation of design to receive the product. What's more, the Plus Accessories offer pet tags (i.e., about S$28 to S$38) and customized car displays.
On the other hand, MyPetInc was founded in 2014. Its founders created the company to "reunite lost pets with their owners in the fastest way possible". They created a product that provides more information than a traditional dog collar tag. That being said, relevant information relating to the pet (e.g., health condition, allergies, or address) were considered. Each collar tag is uniquely made and personalized through your order. For instance, small dogs like Chihuahuas and Terriers will be offered smaller collar tags with measurements of 4.5 cm x 3.5 cm.
What I like most about this tag is that it is waterproof and coated with a layer of material that claims to withstand scratches and bites from your furry pal. MyPetInc collar tag retails for about S$29.50.
For the holiday season, you may want to check these online shops out! 🙂