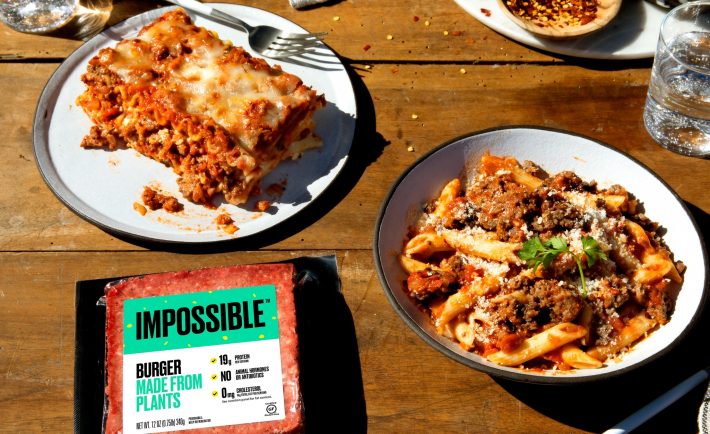 Over the weekend, I had the chance to meet up with a childhood friend. With her contagious personality and unwavering enthusiasm, she encouraged me to try the plant-based options at Starbucks. You read that right! Starbucks, of all places, introduced me to the wonderful world of plant-based meat alternatives.
To my surprise, the dish resembled the flavors and texture of the real meat. I expressed how eager I am to try another plant-based dish and my friend said: "If you think about it, meat primarily gets its taste from its herbs and spices." My curiosity grew and I began to search for other vegan creations offered by restaurants and supermarkets in Singapore.
Through the innovation of companies and startups, the vegan scene is thriving with its amazing plant-based meat products. Read this article for the best brads and where to find them.
#1: IMPOSSIBLE FOODS
When the well-renowned plant-based meats by Impossible Foods graced our sunny shores in 2019, it won the hearts of many with its beef-like flavor and texture. Two years later, it became a center of many dishes such as burgers, pizzas, and even curry puffs.
Craving for the OG plant-based meats? Satisfy your hunger with Impossible Foods' selection at FairPrice, Cold Storage, or RedMart. Its Impossible Beef (340g) retails for S$11.90 at these stores.
Website: impossiblefoods.com
#2: QUORN
Let us move the spotlight from California's Impossible Foods to United Kingdom's Quorn. Quorn sells a wide variety of vegetarian meat products including vegan fish fingers, crispy nuggets, burgers, sausages, and more. Their products are made from a fermented protein that is derived from the fungus that grows in soil.
What separates Quorn from the rest is its competitive prices. For instance, a 336g packet of Quorn Sausages retails for just S$6 on RedMart. Quorn is available at most supermarkets including Cold Storage and FairPrice.
Website: quorn.sg
#3: IKEA
Let's face it! Many Singaporeans drop by IKEA to eat their Swedish meatballs rather than to buy a list of furniture. Instead of braving the crowds, you can taste their plant-based alternative at the safety of your own home. Take home a frozen bag of plant balls for S$8.50 (12 pieces), S$10.50 (16 pieces), or S$12.50 (20 pieces). These plant balls are made of nourishing ingredients such as yellow pea protein, oats, and potatoes.
Visually, these plant balls resemble the Swedish meatballs. Order a plate of 8 plant balls with mashed potato and mixed vegetable for S$6.50 to see for yourself!
Website: ikea.com
#4: BEYOND MEAT
From beef patties to ground beef, you can easily recreate your favorite meal dish with the plant-based meats offered by Beyond Meat. Australian company Beyond Meat's plant-based products not only look and taste like meat, but they also cook in a similar fashion. Best of all? All their products are made without gluten or soy.
Beyond Meat products are available at the local restaurants such as Porta and Wolf Burgers and supermarkets such as FairPrice, Cold Storage, and RedMart. Grab a 453g pack of minced beef for S$19.95 at FairPrice or S$19.67 at RedMart.
Website: beyondmeat.com
BOTTOMLINE
These plant-based meat substitutes can affect your wallet, your body, and the environment. Sticking with non-processed food like vegetables, grains, nuts, fruits, and tofu can help you save more money as meats tend to be relatively expensive. Incorporating these plant-based meats to your diet can affect your budget too depending on your frequency of cooking and your brand of choice. Plan your meals wisely.
At the end of the day, items made with plants are nutritious and versatile. Do not be afraid to explore other vegan options in Singapore!