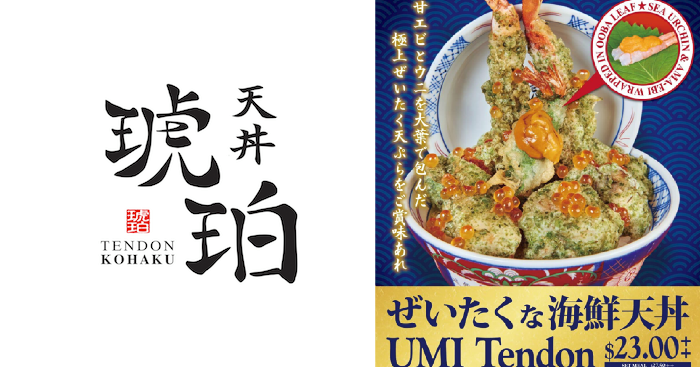 Tendon Kohaku has unveiled its sea urchin tendon, which is the first of its kind in the country! The tendon is the restaurant's winter offering for 2019. The glorious bowl showcases nine extravagant treasures of the sea. The marquee ingredient is the uni maki, which features amaebi (sweet shrimp) wrapped in oba leaf, then topped with sea urchin.
Both the amaebi and sea urchin are of sashimi grade, and their freshness is top-notch. The taste profiles of each ingredient complement one another perfectly. Other ingredients include scallop which is imported from Hokkaido; oyster from Harima, a province near Kobe with the best oysters in the world; king crab stick from Japan; and chikuwa (Japanese fishcake) from Japan. From Alaska come the glistening ikura and snow crab leg. Rounding out the line-up are prawn and dory fish tempura.
Each ingredient is coated with the highly lauded seaweed tempura batter, which is enlivened by aonori (dried seaweed) powder. The powder adds a subtle savoury and earthy note and lends a unique green colour to the light and airy tempura. Each tempura boasts an ethereal and crispy exterior, as it is fried in a blend of high-grade sesame oil and cooking oil. Kohaku utilises a special cooking technology that ensures the oil is kept clean and fresh even after repeated frying.
The sea urchin tendon will be available from 16 December 2019 to February 2020 at Tendon Kohaku @ Clarke Quay Central!
Kohaku Tendon at Clarke Quay Central
Venue: 6 Eu Tong Sen Street, Clarke Quay Central #B1-52, S059817
Opening Hours: 11:30 to 16:00 (Last Order: 15:30), 17:00 to 22:00 (Last Order: 21:30)(Daily)