In a blink of an eye, the month of December is upon us! With Christmas just around the corner, I am sure everyone is busy shopping for festive gifts. Why not consider buying your festive gifts from our local SMEs to #supportlocal businesses? Your support would be especially crucial and meaningful this year as COVID-19 has disrupted and upended the stability and predictability of many of these businesses. Here is a list of unique gift items specially curated on 99sme.sg that showcases the best of our local products promising a festive gift for every budget.
Gifts Under $15
Christmas Joie by Simple Indulgence Patisserie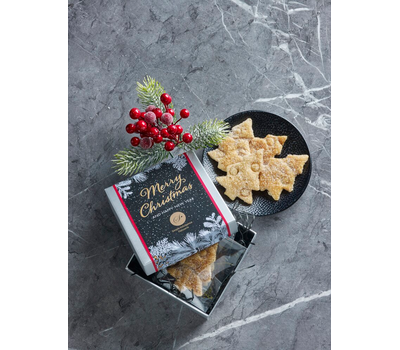 Price: $11.00, $9.40 (Discount: 15%)
This is a set of 4 buttery Christmas tree puffs with Madagascar vanilla sugar that makes for a delicious treat for the festive season. It is baked by Simple Indulgence Patisserie, a boutique patisserie specialising in cakes, cookies and traditional favourites.
Price: $12.90, $9.90 (Discount: 22%)
Receiving these sweet honey baubles will surely get your loved one in the holiday spirit! Each bauble contains 1 jar of mini multi-floral honey and 1 honey dipper. This is an affordable and unique gift that is bound to delight the receiving party.
Drinking Roulette by MadeForDrinkers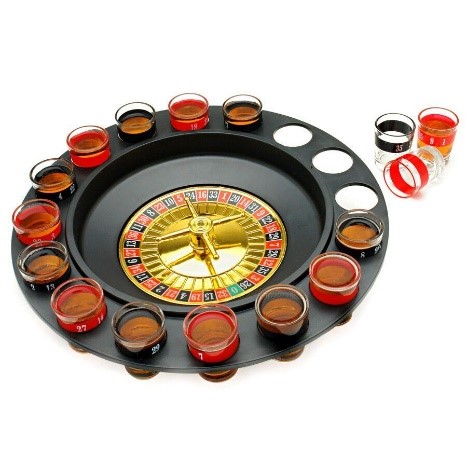 Price: $22.00, $14.80 (Discount: 33%)
Know a friend who loves to have friends over for a drink? Drinking Roulette would make for an ideal gift as this drinking accessory makes a great accompaniment for all those drinking games! Each box contains 1 roulette board and 16 shot glasses, promising a night of fun for family and friends!
Gifts Under $25
Send Contactless Love Gift Set (Almond Series) by First Brew Singapore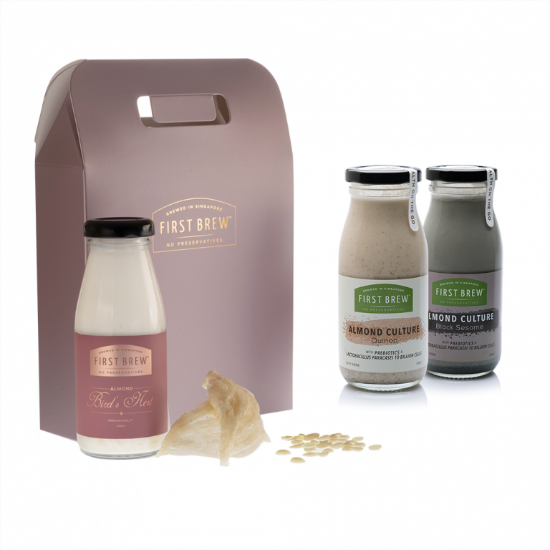 Price: $30.90, $25.00 (Discount: 19%)
Each gift set contains a bottle each of:
Almond Bird's Nest
Almond Culture Quinoa
Almond Culture Sesame
This set of health drinks consists of almond milk that is made in-house with raw almond seeds specially brewed with Pandan leaves. It is designed to boost one's immune system, improve skin complexity, as well as help maintain a healthy digestive system. Health is the new wealth during this pandemic period and sending over the Contactless Love Gift Set would definitely be one of the most thoughtful gifts ever!
Yang Ding Dong Organic Oolong Tea Pyramid Bags by Jue Lian Pte Ltd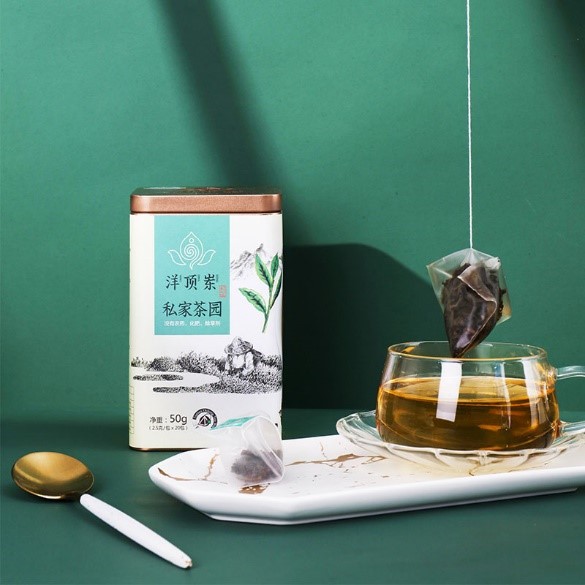 Price: $28.00, $22.00 (Discount: 21%)
Opt for Yang Ding Dong Organic Oolong tea that comes packed in its pyramid bags so that you do not have the hassle of dealing with loose tea leaves. Their tea leaves leave a sweet, fresh and smooth taste on the palate, perfect for washing off the grease from a heavy Christmas meal.
Scented Soy Candles by Botanical and Bees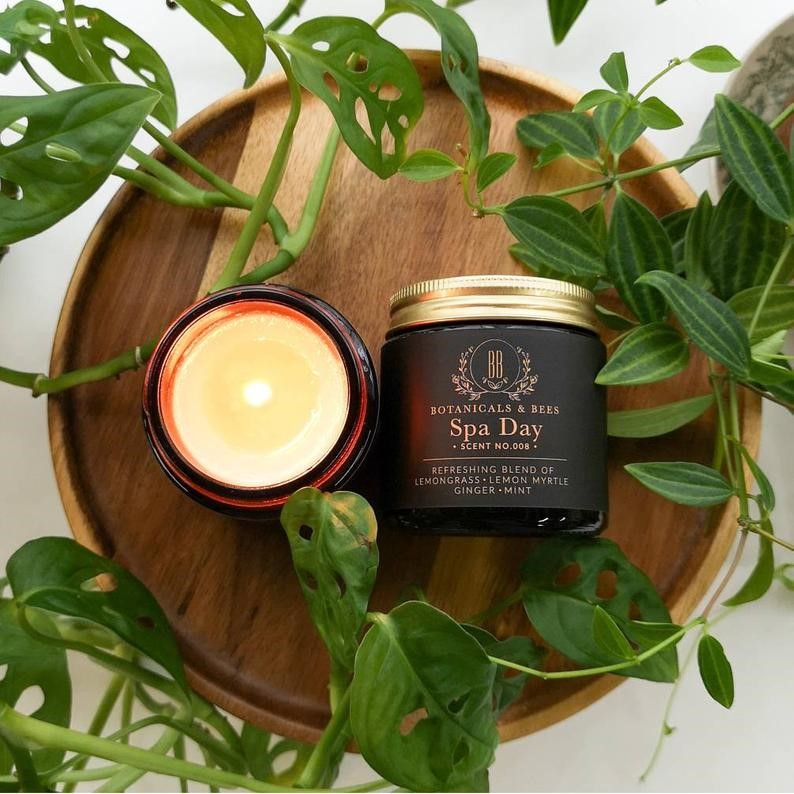 Price: $26.00, $20.70 (Discount: 20%)
Scented candles to refresh the smells of a home is one of the most thoughtful and versatile Christmas gifts. Made with pure soy wax, Botanical and Bees' scented soy candles burn cleanly, slowly and evenly so that the recipient gets to enjoy hours of soft, beautiful botanical fragrance. In the spirit of giving, your support towards a local SME is also for a good cause as 20% of sales proceeds from the sale of Botanicals and Bees' products is donated to its beneficiaries in Cambodia and Philippines to enable the sponsored children to go to school.
Gifts Under $50
Personalised Petite Wine Glasses (Set of 2 Glasses) by St Michael's Gift
Price: $50.00, $39.50 (Discount: 21%)
This is a pair of personalised standard small wine glasses (7-inch height) that comes with customisable engraved/satin etched design. Adorned with a ribbon bow with Swarovski crystal element, this is a beautiful gift with a touch of personalisation.
Home For The Holidays Christmas Gift Set by Botanicals and Bees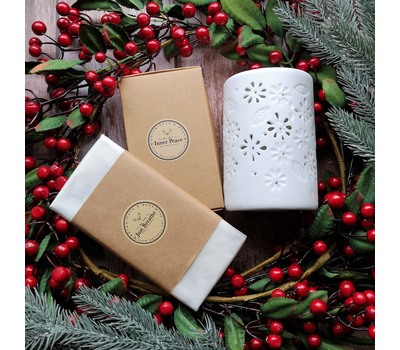 Price: $44.80, $36.00 (Discount: 20%)
This gift set consists of 1 ceramic floral embossed aromatherapy warmer, 1 pack of scented tealights and 1 pack of soy wax snap bar scented melts. Each set is packaged with recycled newsprint off-cuts in re-usable box tied with a ribbon and wrapped in paper for safe travels – perfect for gifting!
A percentage of the profits from your gift will go to supporting education for beneficiaries in Cambodia and the Philippines
Special Log Cakes Deals
Lychee Martini Log Cake (600g) by Gin Thye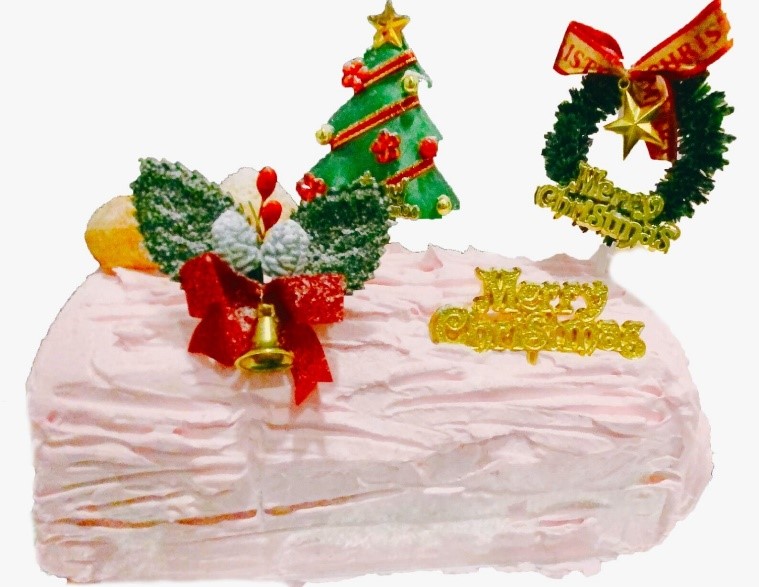 Price: $31.90, $25.52 (Discount: 20%)
Indulge this Christmas with Gin Thye's Lychee Martini Log Cake. Enjoy the layers of light and airy vanilla sponge cake layered with lychees that is topped with snow pink fresh cream! This log cake is freshly baked by Gin Thye, a well-regarded traditional brand recognised by the National Heritage Board of Singapore.
Japanese Yuzu White Chocolate Log Cake (7.5") by Simple Indulgence Patisserie
Price: $72.00, $57.60 (Discount: 20%)
Simple Indulgence Patisserie's Japanese Yuzu White Chocolate Log Cake is something not to be missed! It is a tantalisingly light, yet moist and tender Japanese Yuzu Chiffon cake,frosted with silky and semi-sweet Yuzu infused Swiss white chocolate ganache. Simple Indulgence Patisserie's delicate chiffon cakes are all baked naturally without using any baking agents for that signature lift and light texture!
For more gift ideas for every budget check out 99sme.sg today, the only e-marketplace dedicated to the SMEs of Singapore.
If you want to go digital with your business, or find out more about 99%SME movement, visit us today!
---