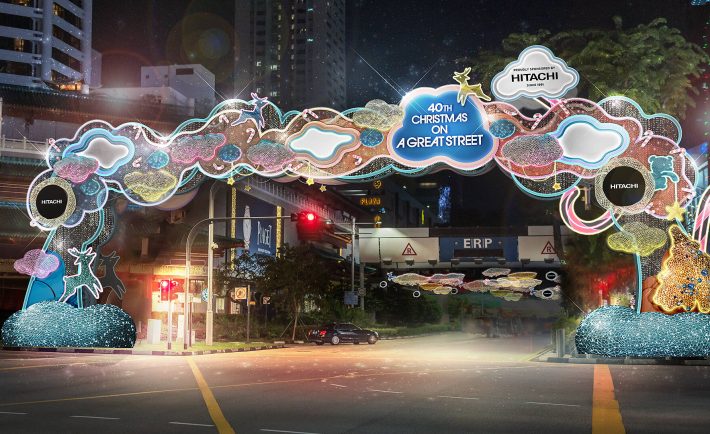 Image Credits: Orchard Road Business Association (ORBA)
Mark your calendars! This year's highly anticipated Orchard Road Christmas light-up, officially named "Christmas On A Great Street," is set to kick off on November 16, 2023. The festivities will include three enchanting Great Christmas Villages and, for the first time in forever – a Christmas Eve street party.
The groundbreaking street party on Christmas Eve will span from Paterson Junction to Bideford Junction and is scheduled to take place from 8 pm to 12:30 am. Attendees can anticipate a spectacular showcase featuring performances by the National Cadet Corps (NCC) Command Band from Swiss Cottage Secondary School, captivating dance performances, lively Christmas caroling, Meet & Greet sessions with Santa Claus, DJ live sets, and a bustling Christmas Market teeming with food trucks offering a diverse array of delicious treats. Gather your loved ones, as the evening will culminate in a thrilling countdown to Christmas Day and the New Year.
EMBRACE THE VIBRANT DECORATIONS
The Great Street will greet you with illuminating displays that will extend from Orchard Road to the area outside Plaza Singapura, boasting a dreamy theme adorned with LED cloud installations, teddy bears, and candy canes. In a commitment to sustainability, organizers aim to further reduce their carbon footprint by repurposing past years' LED lights and decorations and installing solar panels to power two Christmas set pieces.
VISIT THE CHRISTMAS VILLAGES
This year's celebration will host three Great Christmas Villages, each brimming with carnival rides, games, pop-up stores, and delectable food kiosks. The first village, located at Shaw House Urban Plaza, will be open from November 24, 2023 to Jan 7, 2024. It will feature a double-story carousel and a Ferris wheel. The second village, situated at Plaza Singapura, will showcase a giant bouncy castle, a balloon dome, and craft workshops by Kiztopia. This will operate from Dec 1, 2023 to Jan 1, 2024.
What's more? The third Christmas Village, positioned at Ngee Ann City Civic Plaza, will welcome visitors from December 8, 2023 to January 1,2024. It will offer a Euro Swing ride, an arcade, food trucks, and live performances by local buskers and bands.
JOIN THE CHRISTMAS EVE STREET PARTY
In a nostalgic nod to the iconic Swing Singapore, this year introduces the inaugural Christmas Eve street party on Orchard Road.
Unlike Swing Singapore, which primarily celebrated National Day and the New Year, this street party will unfold on December 24, 2023, from 8 pm to 12:30 am along Orchard Road. Revelers can enjoy dance performances, Christmas caroling, Santa Meet & Greet sessions, a Christmas Market, food trucks, and a thrilling countdown to Christmas. Bring your friends along!
WATCH THE OUTDOOR AR PROJECTIONS
For enthusiasts of augmented reality (AR) projections, Hilton Singapore Orchard will host a mesmerizing 3D illustration on the hotel's facade. Additional AR displays will adorn 25 glass panels along the pedestrian walkway from ION Orchard to Mandarin Gallery.
Immerse yourself in captivating, augmented reality displays running from November 1, 2023 to January 1, 2024. The inaugural installation at Hilton Singapore Orchard will showcase outdoor augmented reality projections in 3D through the PopAR Live app on our phones. The second projection can be enjoyed on 25 glass panels along the walkway from ION Orchard to Mandarin Gallery.
Immerse yourself even more in the holiday spirit as, on the eve of both Christmas and New Year, a festive clock display will enhance the celebratory atmosphere. Feel free to take some pictures!