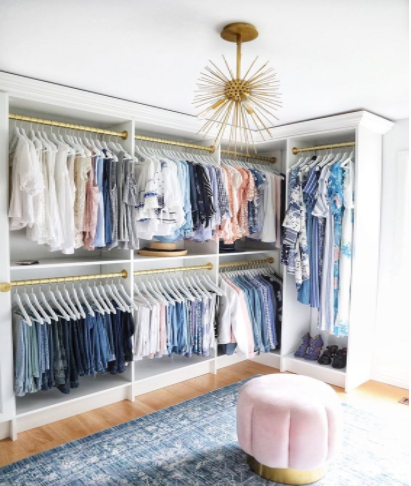 There are certain clothes that every woman should have in their wardrobe. Women spend a lot of time in their wardrobes trying to figure out what they should put on. Another person may wonder how a wardrobe full of clothes lacks something to wear. The problem comes in when you want to pair those clothes with other outfits.
Having a number of common clothes that can easily pair with others will save you from such struggles. Clothes like white t-shirts, blue jeans, denim jackets, a black dress, and black trousers should never be missed in a woman's wardrobe. Such clothes can easily pair with any outfit and they take very little time to decide. Here is a list of clothes that you should never miss in your wardrobe.
1. Leather Jackets
Leather jackets were initially military wear during the first world war in the early 1900s. Later during world war II, they were known as bomber jackets the rest was history. Recently, leather jackets have stormed the fashion industry and every woman could not miss it in the wardrobe.
A leather jacket with good quality will provide more than just a stylish appearance; they also offer protection from physical injury. It has a thick material that protects your body and the outside world. It fits for formal and casual occasions, is durable, and is easy to maintain.
2. Trench Coats
It is believed that trench coats were first launched by the first world war soldiers in the muddy trenches. The reality is trench coats were invented by Charles Macintosh a Scottish chemist and Thomas Hancock a British inventor in the early 1820s. 
Trench coats have become the norm of our daily life. It gives a warm comfort and a stylish look as well. Trench coats also fit in both occasions, whether official look or casual look trench coats will still rock your look. It is one of the attires that you should not miss in your wardrobe.
3. Opaque Legging
Sarcastically, in the 14th century in Scotland, the first appearance of the legging was seen in men. From then, it has become popular in women's wear and you could not miss it in any woman's wardrobe. They are ideal since they stretch and can fit you well even when you add some weight.
Another advantage of opaque legging is its ability to be breathable, unlike any other pants which will make you feel sweaty and uncomfortable. Despite them being so tight, they are not confining since they are made of materials that offer the skin a good feeling. They fit in well during your workout sessions. You can also pair them with a mini skirt to give you that magnificent appearance for your casual occasions.
4. Ballet Flat
Rose Repetto, an Italian fashion designer in 1947 made a pair of ballet flats for Roland, her son who at those times was a great dancer and a choreographer. Later the shoe became the talk of the town and gained a great following through Paris Opera Ballet. Since then, Ballet Flat has been one of the attires in most wardrobes.
Ballet flats have a good number of advantages, they are comfortable and you can go a long distance in them. They are prone to low risks since a flat shoe will give a good grip during rainy and snow days. They are good healthwise, unlike heels which might affect your spine in future dates.
5. Ragged Jeans
Ragged Jeans started becoming popular during the heavy metal era in the late 1980s and in the 1990s and 2000s during the grunge era. Recently you will spot them all over in towns, colleges, and even on different occasions. They are worn by both genders depending on style. They have a good number of styles that can be customized to fit well. You can pair them with plain t-shirts and a denim jacket to complete your look.
6. Sneakers
In 1887 the word sneakers were already in existence. It was also known as tennis shoes back then. It was preferred due to the silence it made when you walked around with them, unlike other shoes which were noisy. They are also ideal during exercise since they are comfortable in your legs. They are also breathable, helping your feet to avoid being sweaty.
7. Classic Handbags
In the past, people used purses and pockets to carry a few items. Later, the handbag was introduced during the Industrial Revolution in England, since people mainly traveled by railway. Apart from being stylish in your handbags, they are also used to carry special items like money, phones, and any special accessories. Handbags fit in different occasions both casual and official looks. You can pair your outfit with good colors to blend with your handbags.
Conclusion
All clothes are beautiful and stylish, people should just learn to dress according to their body type. For instance, plus-size ladies look better in fitting clothes than oversized ones. Oversize clothes will make them look even bigger. It is important to know how to pair your attires to give you that magnificent look everyone would wish to have. 
Apart from just clothing, your face and hair should also look attractive in the process. Applying good makeup and fitting a pair of lashes will brighten your look even more. Sourcing quality lashes is key. At Starseed eyelash manufacturer, you are guaranteed top-notch quality lashes to add more beauty to your appearance.