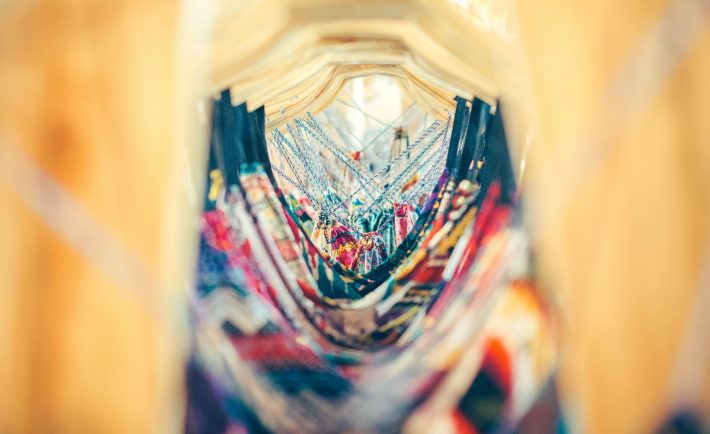 Image Credits: unsplash.com
One of the most vibrant and trendy cities in Asia that captures the hearts of fashion-savvy Singaporeans is none other than Bangkok, Thailand. With its bustling streets and countless clothing stalls that remain open day and night, Bangkok has rightfully earned its reputation as a haven for fashion lovers. In fact, renowned personalities like Michelle Obama and Katy Perry have joined the chorus in praising Bangkok's talented designers. It's safe to say that Thailand truly embodies a paradise for fashion enthusiasts!
If you're planning a trip to Bangkok or simply want to explore the country's fashion scene, here are five Thai fashion brands that deserve your attention:
#1: GENTLEWOMAN
Shop: gentlewomanonline.com
Have you noticed the ubiquitous black and white totes adorning the streets of Singapore, proudly displaying the words "GENTLE WOMAN" in a striking giant Serif font? The GENTLEWOMAN tote bag has become a symbol of contemporary fashion, featuring a sleek black and white design with the bold "GENTLE WOMAN" inscription. Its appeal lies in its blend of style and substance, appealing to individuals seeking confidence and minimalism.
In Singapore, these striking tote bags have become a pervasive trend, reflecting the city's fast-spreading fashion culture. Originating from Thailand in 2018, GENTLEWOMAN is a vibrant brand with 15 stores in Bangkok. Apart from tote bags, their collection includes stylish pants, trendy tops, fashionable hats, and more. As Thailand remains a popular destination for Singaporean tourists, many have visited GENTLEWOMAN stores, bringing back coveted souvenirs like the iconic tote bags for their friends back home.
#2: ASAVA
Shop:asavagroup.com
If you are in search of sleek and timeless pieces, look no further than ASAVA. With a strong emphasis on elegance and sophistication, ASAVA perfectly encapsulates the essence of modern Thai luxury. Their designs boast clean lines, impeccable tailoring, and the use of luxurious fabrics, all contributing to a refined aesthetic that resonates with fashion connoisseurs.
ASAVA is renowned for their notable works, including the creation of uniforms for Bangkok Airways and BTS, as well as a range of high-end retail and hotel staff uniforms. Another interesting aspect of ASAVA is their long-standing role as a prominent manufacturer, having designed clothes for Miss Thailand Universe finalists for many years.
#3: BOYY
Shop: boyy.com
Have you heard of BOYY? BOYY, the world-renowned Thai handbag brand, was co-founded by designers Wannasiri "Boy" Kongman and Jesse Dorsey. Initially introduced in New York and Copenhagen, BOYY eventually returned to its roots and established its presence in Thailand. Fashionistas from Tokyo to Paris have been spotted flaunting BOYY's signature leather buckle bags. Launched in New York by Canadian designer Jesse Dorsey and Bangkok native Wannasiri Kongman, the brand's aesthetic strikes a perfect balance between femininity and masculinity.
Fashion-forward individuals in Singapore can indulge in the allure of BOYY's powdery pastel colors, where sand-colored marble provides a backdrop for a captivating range of leather bags, loafers, and sunglasses in a multiple hue.
#4: KLOSET
Since its establishment in 2001, Kloset has held a special place in the hearts of countless women, evident from the long queues that form outside their shops during sales. Under the management of Mollika "Kam" Ruangkritya, Kloset has earned a reputation as a celebrated designer brand that embraces and exalts femininity. Customers of all ages can discover collections tailored to suit their specific occasions.
Beyond offering fashionable and feminine clothing, the brand goes the extra mile by providing accessories, stationery, shoes, and other items under the name Kloset & Etcetera. Kloset shops can be conveniently found in prominent locations such as Siam Center, Siam Paragon, and more, ensuring easy access to their offerings.
#5: GREYHOUND
Shop: greyhound.co.th
Attention, fashion-forward Singaporean trendsetters! Prepare to be captivated by Greyhound.
Would you believe that Greyhound started back in 1980? The name itself was chosen to evoke an image of elegance, drawing inspiration from the graceful and loyal Greyhound dog, known as man's best friend. As a renowned Thai brand, Greyhound has gained international recognition for its minimalist and edgy designs. Even their website exudes an undeniable coolness!
Greyhound's sophisticated apparel predominantly embraces blacks, whites, and greys. With the use of creative fabrics, daring cuts, and a refined color palette, Greyhound's contemporary collections showcase sleek silhouettes and experimental designs, making a bold statement in the fashion world.